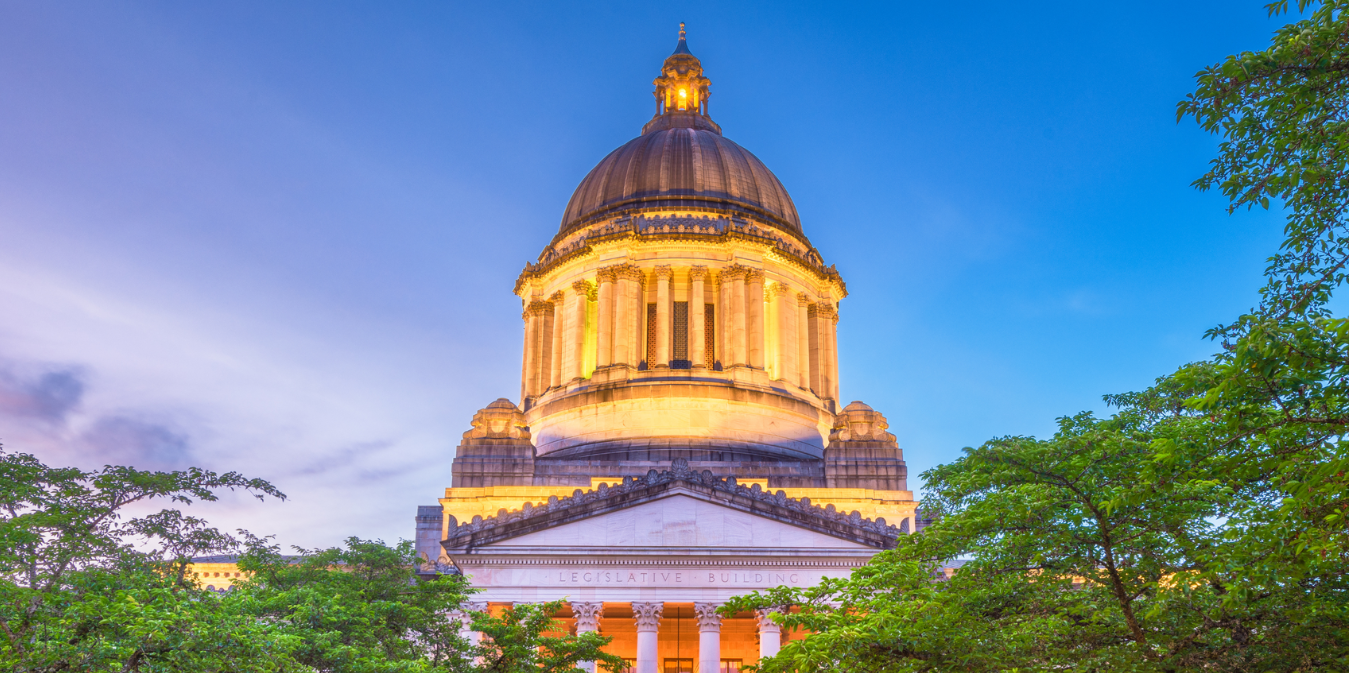 Legislative Session Recap
2023 Legislative Session Recap
July 10, 2023
Overview
States around the country are wrapping up their legislative sessions after what has been another momentous year for bold and equitable environmental policies. In the wake of consequential midterm elections and a divided U.S. Congress, states continued their leadership on policy solutions for combating climate change, conserving biodiversity, and protecting communities against environmental harm in 2023.
This recap highlights some of the most noteworthy policy trends and bills to pass during the 2023 state legislative sessions. Each section also contains a link to a full list of related bills that were introduced and passed.
Jump to a Section: General Trends | Utilities and the Grid | Electric Vehicles | Building Decarbonization | Just Transition | Land, Water, and Habitat Conservation | Biodiversity | Wildlife Agencies | Outdoor Engagement | Plastic Pollution | Toxic Chemicals | Sustainable Agriculture and Water | Offshore Wind
Most of the sections in this recap contain non-exhaustive lists of enacted legislation. Additionally, not all states have completed legislative sessions at the time of publishing (July 2023). You are encouraged to follow the link at the bottom of each section for more extensive and up-to-date bill information.
---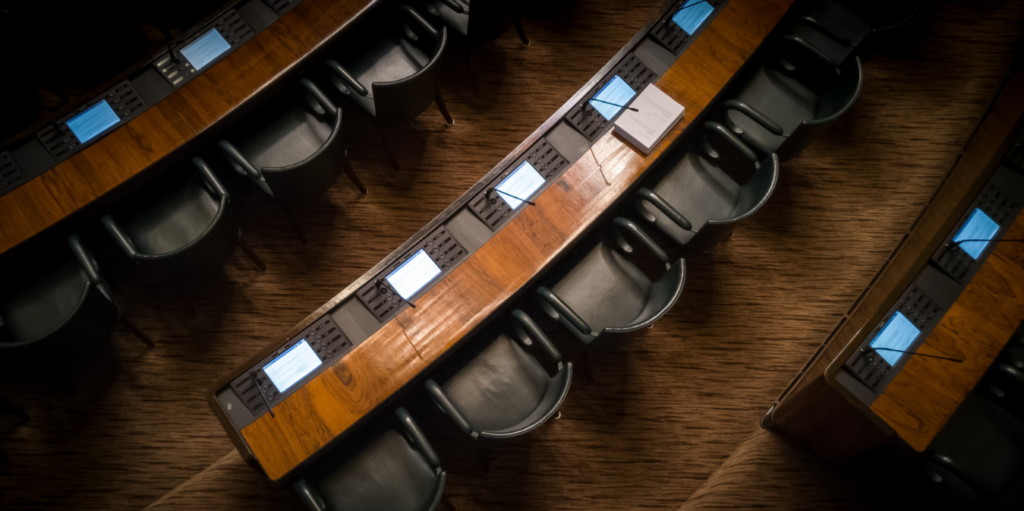 General Trends
States Going Big on the Environment
Longer sessions combined with new legislative makeups and 1,500 newly elected state legislators resulted in higher volumes of environmental bills introduced in 2023. Some states also increased their ambitions to pass even more comprehensive policy packages. These states include, but are not limited to, Colorado (which committed to net-zero emissions and passed a host of measures related to climate and pollution protection), Maryland (which enacted one of the nation's largest offshore wind goals, many sustainable transportation laws, and the comprehensive 'Maryland the Beautiful Act') and Minnesota (which committed to 100% carbon-free electricity and enacted a historic $2 billion environmental omnibus bill).
State-Federal Engagement
In the past year, the federal government has launched various programs to help U.S. states secure federal funds for environmental priorities including 30×30 conservation goals and wildlife crossing projects. States have also been working to sustainably and equitably incorporate funding from the historic Inflation Reduction Act (IRA) and other new federal legislation for green banks, building decarbonization, offshore wind, hydrogen energy, and much more. Minnesota passed legislation to establish its first green bank, the Minnesota Climate Innovation Finance Authority, with an initial allocation of $45M to advance clean energy and greenhouse gas reduction projects.
---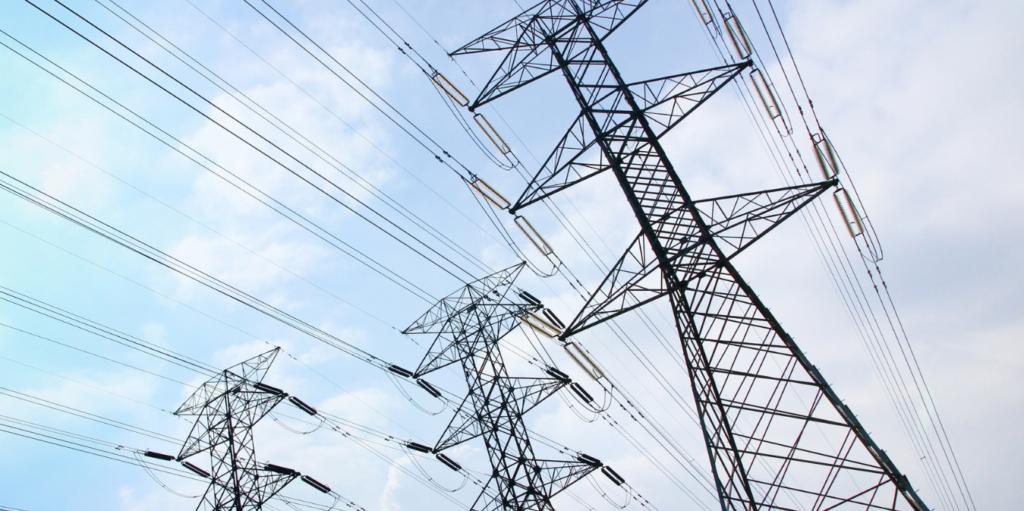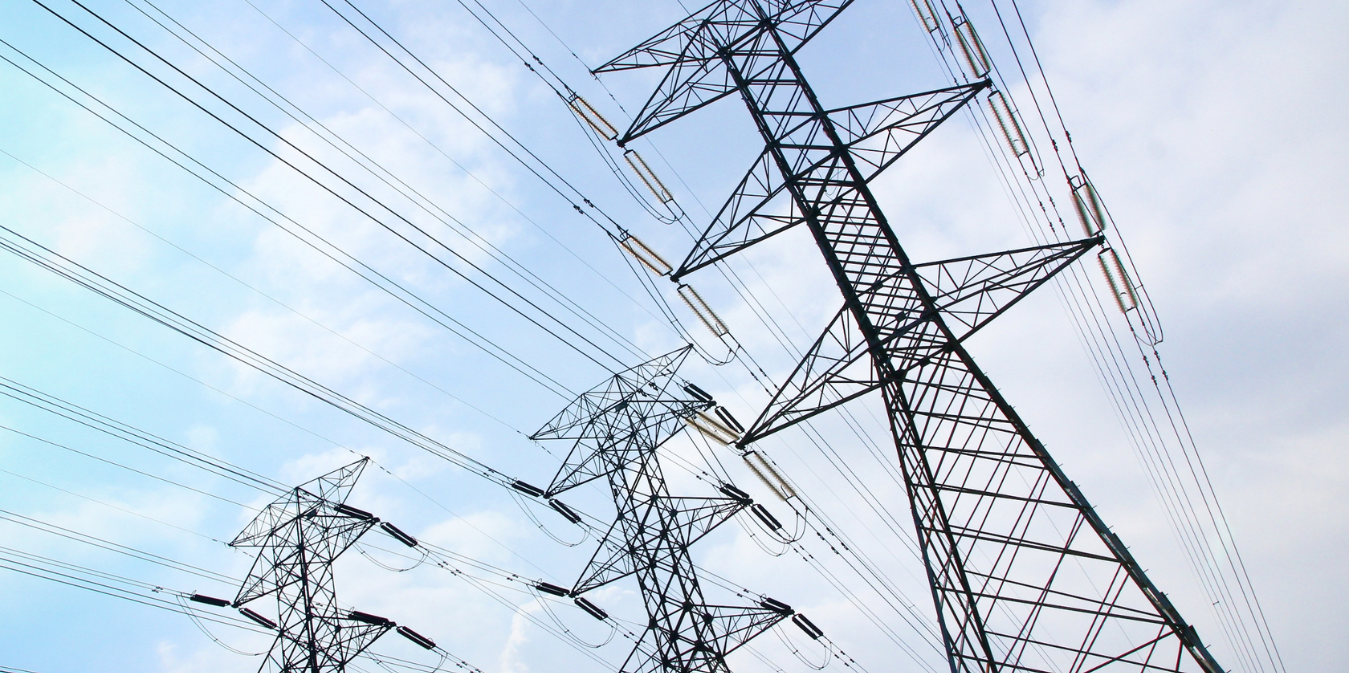 Utilities and the Grid
As states and the federal government work to decarbonize the economy and transition to renewable energy, a growing number of states have increased their focus on modernizing utility policy. State legislators are working to update outdated utility regulations that often keep fossil fuels online, energy costs high, and the permitting process for new energy projects inefficient. States such as Washington and Colorado took targeted action in 2023 to better equip utilities and transmission systems for the renewable energy transition.
2023 Policy Impact: At least 28 states introduced 99 bills to modernize utilities and the energy grid for the renewable energy transition. A total of 13 bills were enacted across 10 states.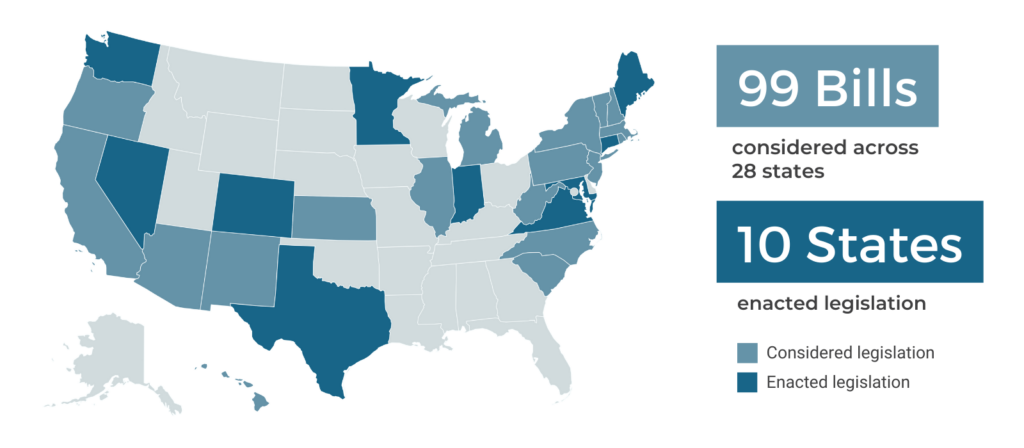 ---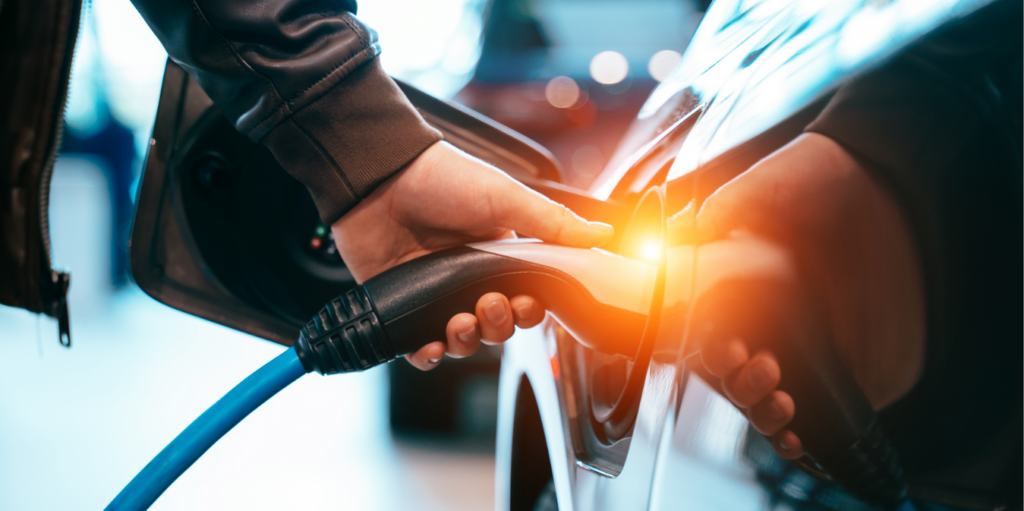 Electric Vehicles
Transportation remains the leading source of climate-harming pollution in the United States, but states are continuing to advance solutions such as the deployment of electric vehicles. 2023 continued the trend of states focussing heavily on the adoption of electric vehicles and related infrastructure with states such as Hawaii and Illinois passing far-reaching zero-emission vehicle legislation.
2023 Policy Impact: At least 40 states and territories considered over 259 bills related to the deployment of electric and zero-emission vehicles. A total of 31 bills were enacted across 15 states.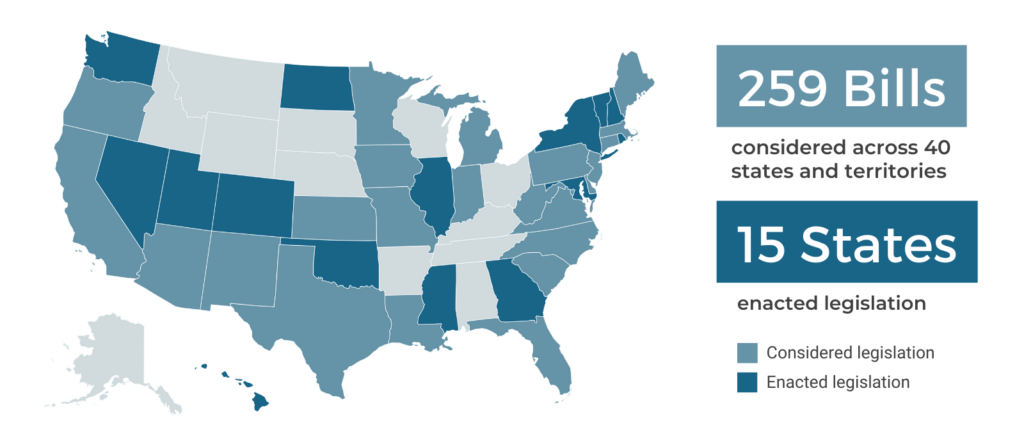 ---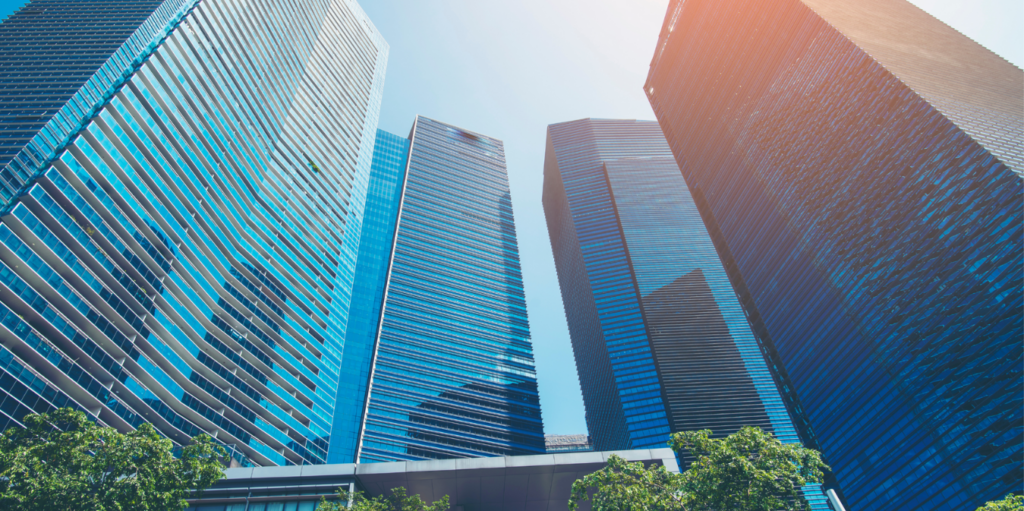 Building Decarbonization
A focus on electrifying and making energy-efficient upgrades to buildings has gained traction in recent years among climate-committed states. Accounting for 13% of national greenhouse gas emissions, residential and commercial buildings are a necessary target for statewide and national decarbonization efforts. New York and Vermont are among the states to pass strong building decarbonization legislation this year.
2023 Policy Impact: At least 27 states introduced 157 building decarbonization bills. A total of 16 bills were enacted across 10 states.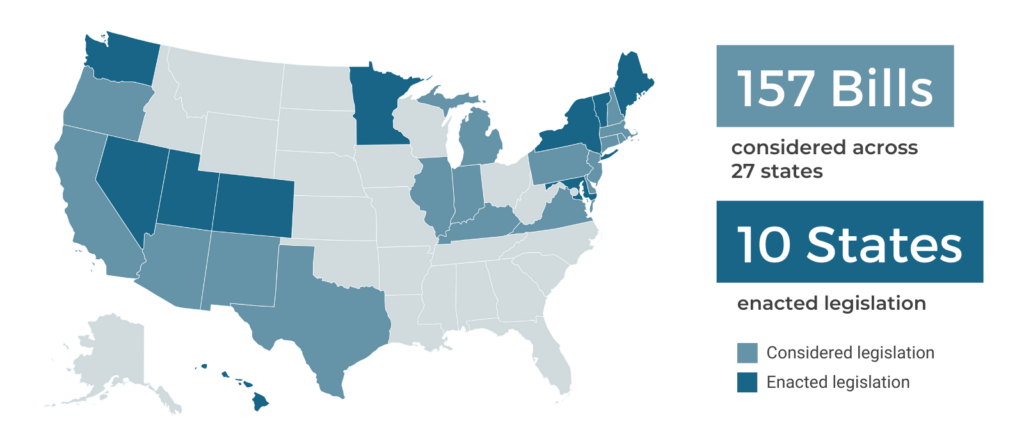 ---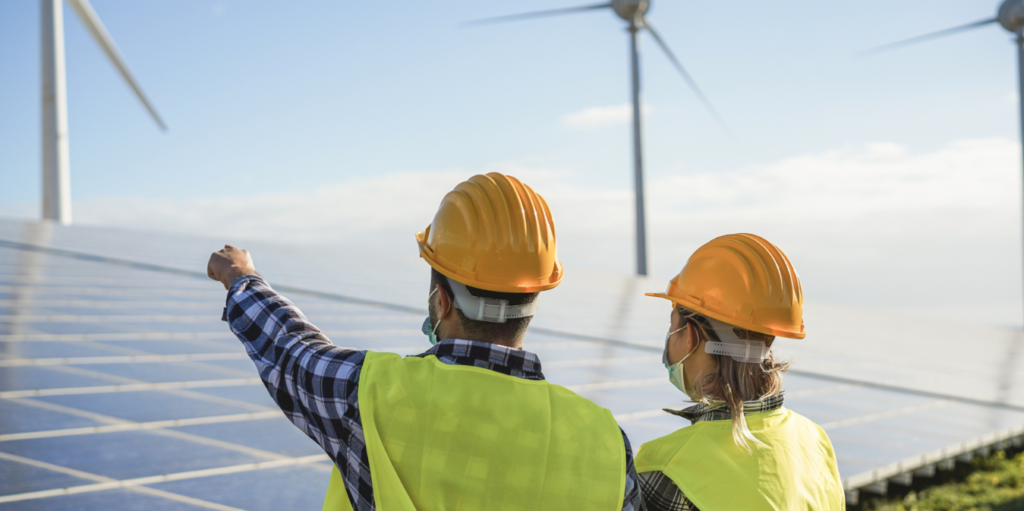 Building the Clean Energy Workforce – Just Transition
As states continue their transition to renewable energy and work to leverage federal investment, an increasing share took action in 2023 to ensure that their energy transition will be just, inclusive, and equitable. States are advancing a just transition to renewable energy by centering environmental justice and fossil fuel communities, establishing fair and inclusive labor practices, and supporting community-driven solutions.
2023 Policy Impact: At least 24 states and territories introduced 138 pieces of legislation supporting a just energy transition. A total of 15 bills were enacted across seven states and territories.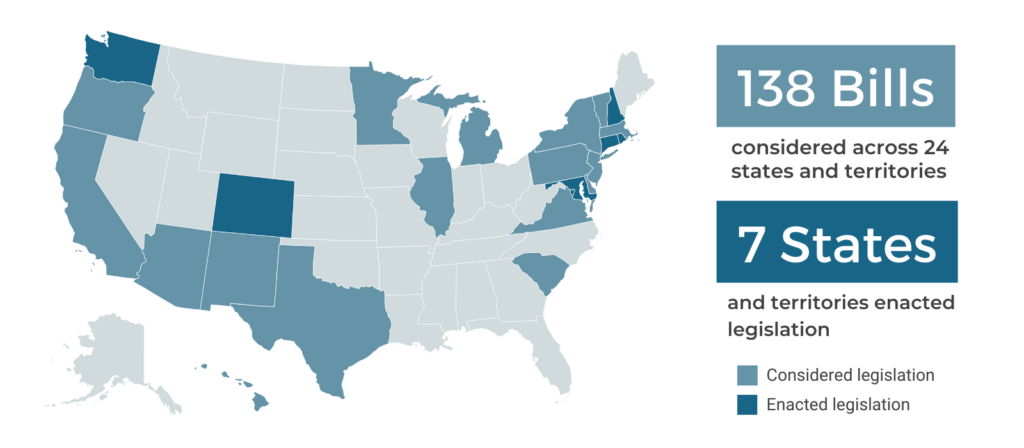 ---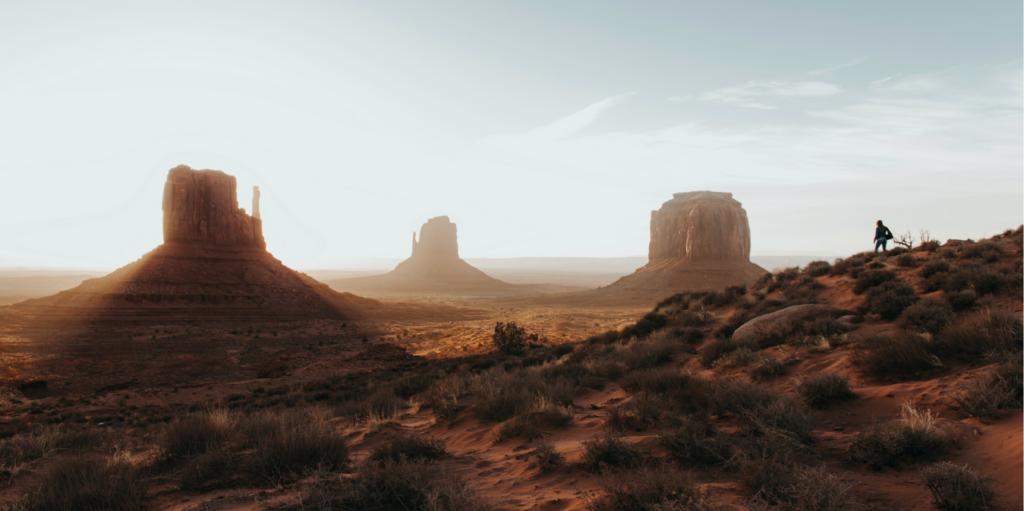 Land, Water, and Habitat Conservation
States are leading comprehensive solutions to conserve land, water, and wildlife habitats. More states, such as Maryland, are establishing goals to conserve 30% of land and water by 2030 (30×30), and working with the federal government to achieve the national 30×30 goal (America the Beautiful). Alongside 30×30 and other biodiversity protections, states such as Pennsylvania and Nevada worked in 2023 to reconnect wildlife habitats that have been fragmented by roadways and other human-built infrastructure.
2023 Policy Impact: At least five states introduced seven bills related to establishing a 30×30 goal in 2023; a total of three bills were enacted across three states – Maryland, New York, and Vermont. Additionally, at least 18 states introduced 30 bills to reconnect fragmented wildlife habitats via wildlife corridors and crossings; a total of eight bills were enacted across seven states.
30×30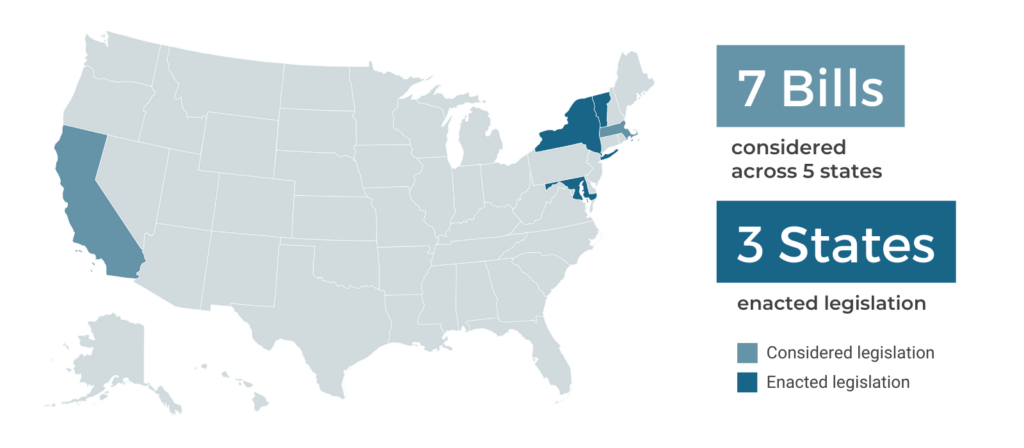 Habitat Connectivity
---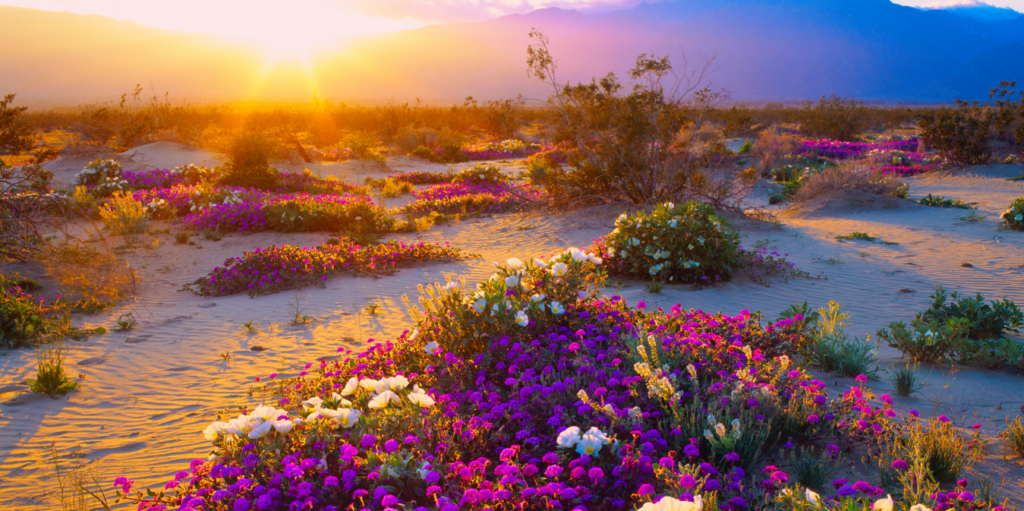 Biodiversity
The United States remains one of the only nations without a national strategy to combat the worsening biodiversity crisis, but state legislators have maintained a leadership role on biodiversity by introducing their own policies and advocating for more federal action. In addition to broad level biodiversity protections advanced by states such as New Hampshire, a large share of legislatures considered bills to increase protections for critical wildlife species and habitats that are facing extinction.
2023 Policy Impact: At least seven states have introduced 12 policies to explicitly protect biodiversity; two bills were enacted across two states – New York and Washington. Additionally, at least 22 states introduced 66 bills to protect certain wildlife species (27 bills were enacted across 16 states) and at least 25 states introduced 85 bills to protect wildlife habitats (12 bills were enacted across 10 states).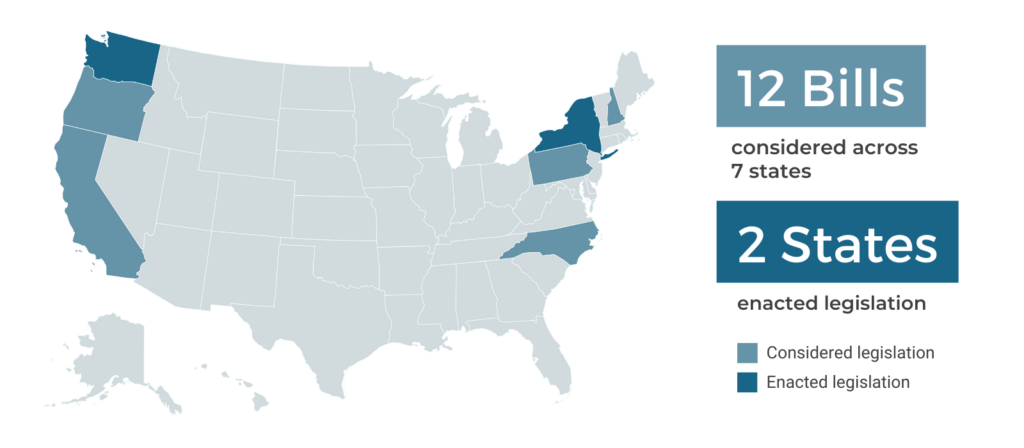 ---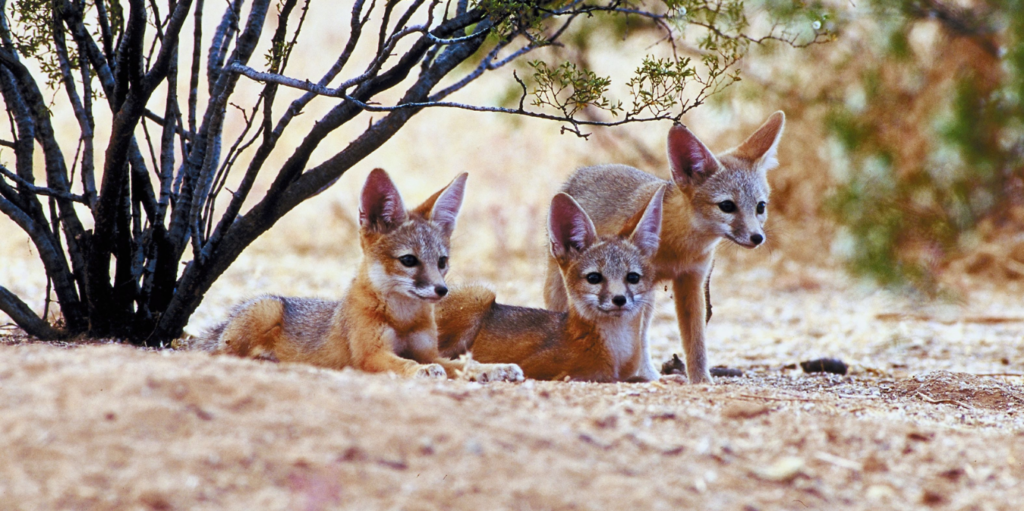 Wildlife Agencies
In the face of intersecting environmental issues – including biodiversity loss and climate change – the demand on state wildlife agencies is increasing despite commonly being underfunded, under-representative of the general public, and lacking authority to manage all wildlife. To better equip state wildlife agencies with the tools they need to address the biodiversity crisis, states like Maryland and Washington are taking legislative action, including revising the funding structure of wildlife agencies, increasing diverse representation on state wildlife commissions, and strengthening the protections for nongame and endangered species.
2023 Policy Impact: At least seven states have introduced 13 bills to increase state wildlife agency funding and relevance. A total of five bills were enacted across four states.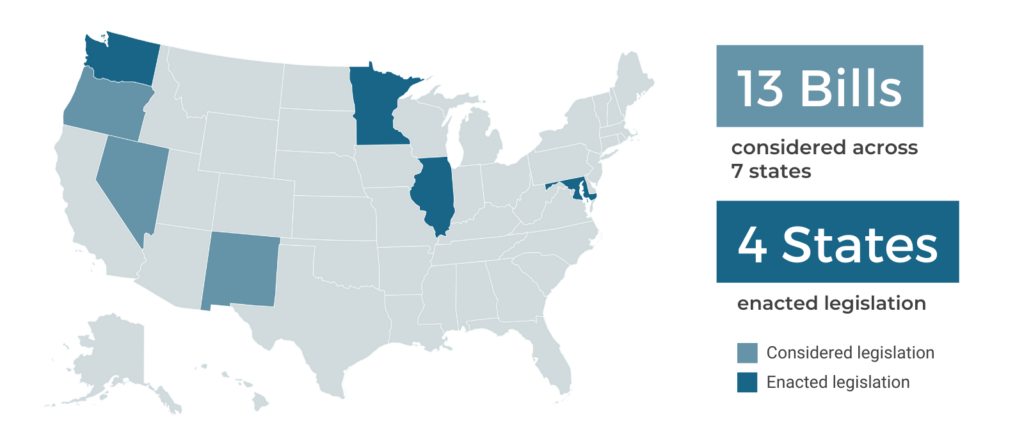 ---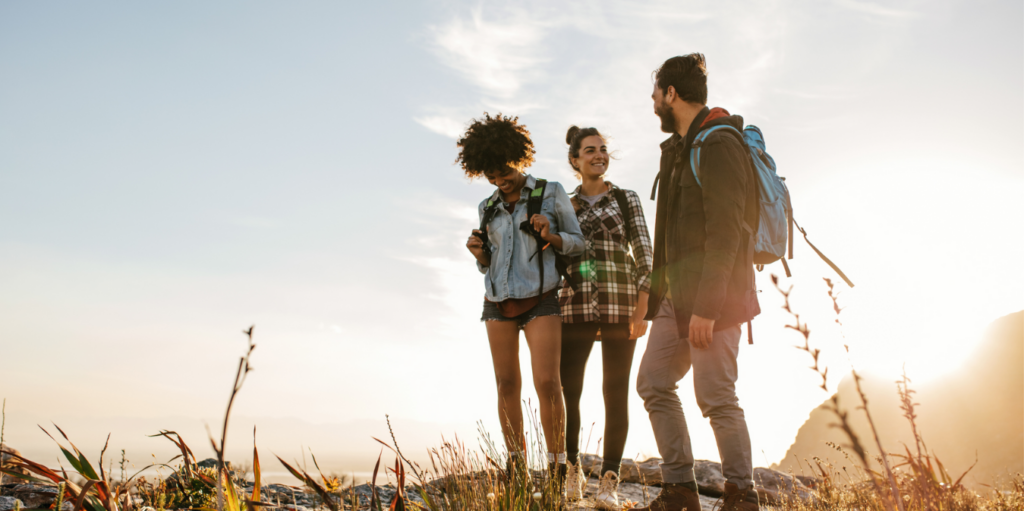 Outdoor Engagement
Access to outdoor spaces and recreation opportunities provide a range of mental and physical health benefits, while also supporting local economic development and opportunities to build human-nature relationships for long-term sustainability. A majority of states, from New Mexico to West Virginia, continued to lead efforts to make outdoor spaces abundant and accessible to all communities this year.
2023 Policy Impact: At least 41 states and territories have introduced 208 bills to improve outdoor engagement via policy solutions to advance outdoor education, recreation, access, and equity. A total of 57 bills were enacted across 26 states and territories.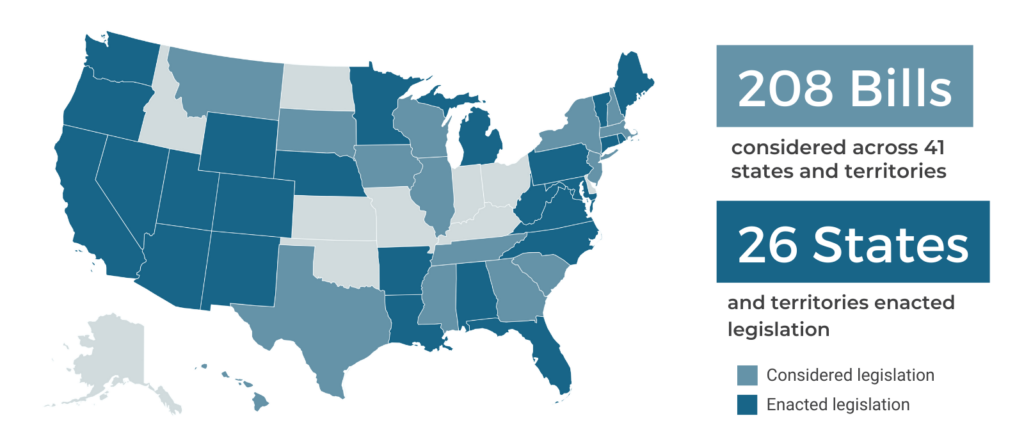 ---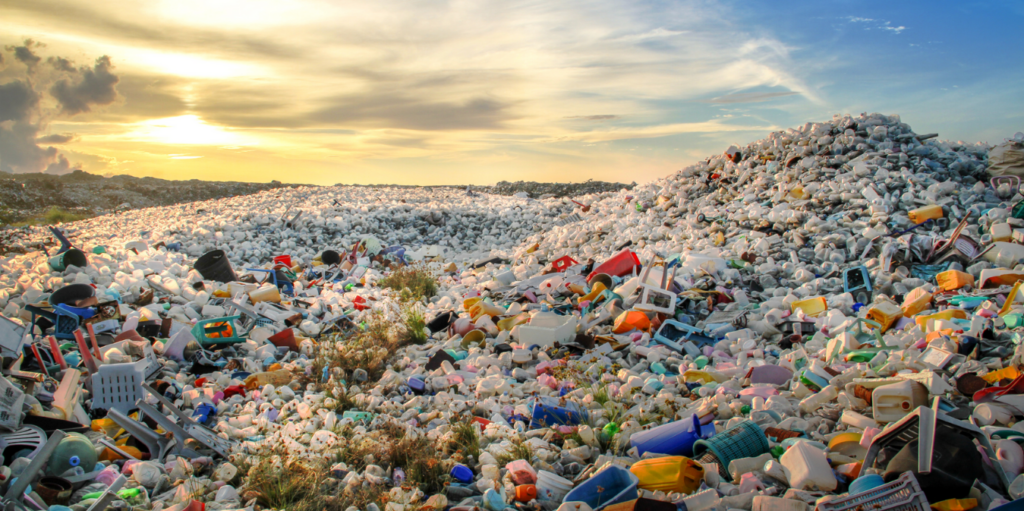 Plastic Pollution
Reducing plastic pollution and advancing zero-waste solutions remained a central focus for states in 2023. Some of the primary zero-waste policy approaches advanced by states this year – such as Washington and Hawaii – included banning single-use plastic products, improving recycling and waste management systems, and protecting communities against plastic incineration and other false solutions.
2023 Policy Impact: At least 23 states have introduced 117 bills to address plastic pollution in 2023 specifically around Extended Producer Responsibility (EPR), polystyrene bans, truth in labeling, single-use plastic bans or fees, and bottle bills. A total of six bills have been enacted across five states.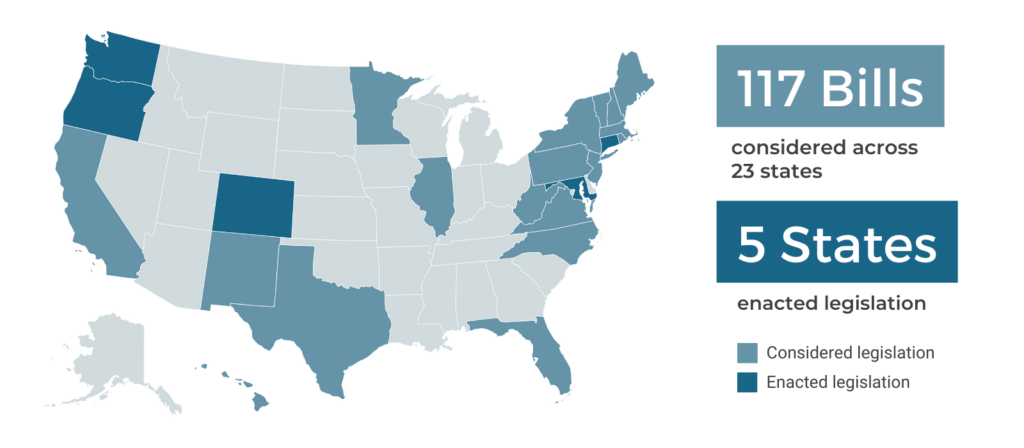 ---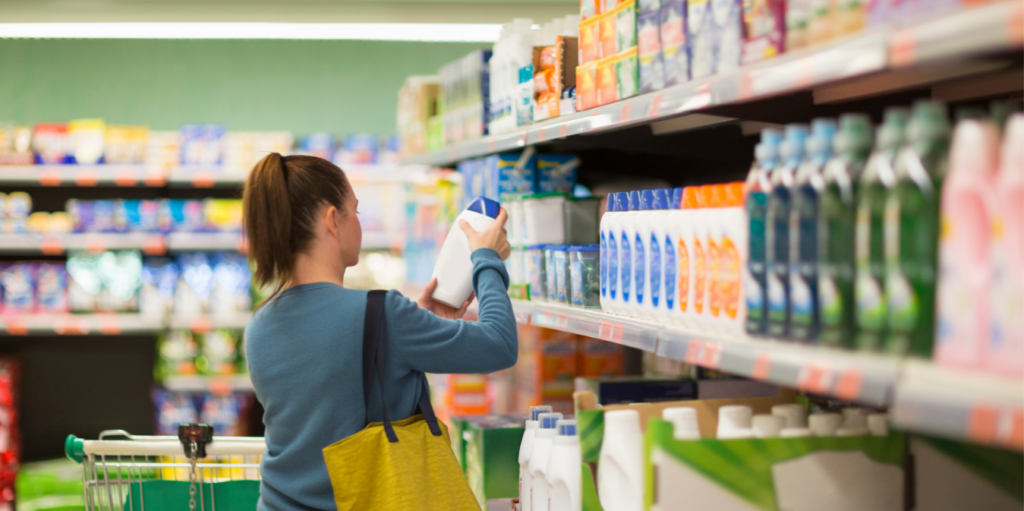 Toxic Chemicals – PFAS
Research continues to show the environmental and health threats posed by PFAS "forever chemicals" – a group of chemicals used in a variety of consumer products that persist in the environment and human bodies for years. In 2023, state legislators called on the federal government to set stronger drinking water standards for PFAS in addition to enacting strong policy solutions of their own, like in Oregon, to phase out and increase protections against PFAS chemicals.
2023 Policy Impact: At least 33 states have introduced 204 pieces of legislation to ban or limit the use of PFAS. A total of 22 bills were enacted across 16 states. At the federal level, the Relief for Farmers Hit with PFAS Act (S.747) was reintroduced in Congress in addition to other federal PFAS legislation.
---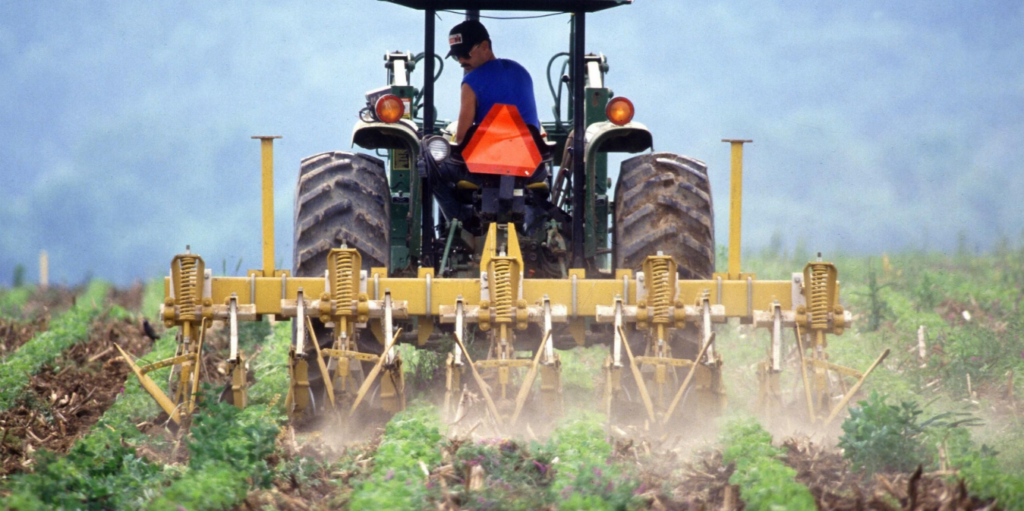 Mississippi River – Sustainable Agriculture and Water
The Mississippi River is a vitally important natural resource that supports biodiversity, agriculture, recreation, and much more. By working to improve the health of this iconic American waterway, states are also addressing intersecting environmental issues that impact agriculture, soil health, and resiliency against worsening flooding events. The Mississippi River Legislative Caucus (MRLC) organizes legislators in river districts who are committed to advancing these solutions in order to provide support and learning opportunities that can assist in their legislative efforts.
2023 Policy Impact: At least nine Mississippi River states introduced 37 pieces of legislation to improve soil health, reduce nutrient pollution, promote sustainable agriculture, and increase flood resilience. A total of three bills were enacted across two Mississippi River states – Minnesota and Mississippi.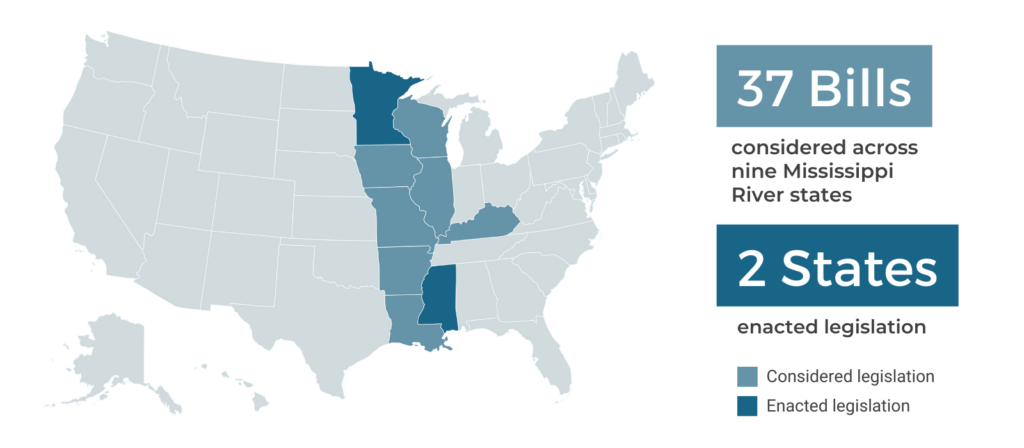 ---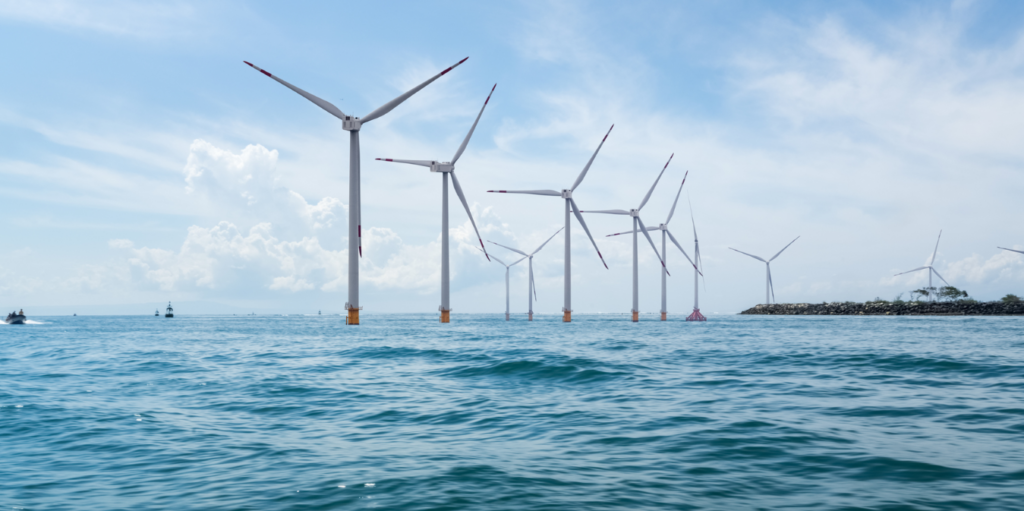 Offshore Wind
U.S. offshore wind energy has the potential to generate nearly double the nation's current electricity use, create thousands of jobs, and support local economic development, all while producing renewable energy for years to come. With the Biden Administration's goal of deploying 30 gigawatts of offshore wind by 2030, states have proven to be crucial partners in the offshore energy transition. In 2023, states such as Maryland, Illinois, and Virginia took action to make the offshore energy transition more efficient and equitable.
2023 Policy Impact: At least 13 states introduced 39 policies to advance the offshore wind industry, many with a focus on economic development and equity. Three states – Maryland, New Hampshire, and Virginia – enacted six pieces of legislation.