Policy Update
Virginia Among States Moving Bills to Develop Offshore Wind Energy Sustainably and Equitably
March 1, 2023
This article was updated on May 16, following the enactment of Virginia's bill on May 12.
---
Virginia Among U.S. States, Alongside Federal Government, Working to Develop Offshore Wind Energy Sustainably and Equitably
Virginia has enacted S.B.1441 which will help the state transition to offshore wind energy in a way that spurs local economic development and minimizes environmental damage. The passage of S.B.1441 comes at a time when more states are ramping up support for offshore wind legislation and the Biden-Harris Administration is taking steps to expand investments in offshore wind development.
Why it matters: U.S. offshore wind could generate more than 7,200 TWh per year, nearly double the nation's current electricity use. With the right policy drivers and a robust stakeholder engagement process, states can harness the economic potential of offshore wind to create thousands of jobs, support local economic development, and produce clean, renewable energy for years to come.
Key Components of S.B.1441
S.B.1441 will improve Virginia's transition to offshore wind (OSW) energy, in line with the state's 100% renewable energy mandate, by doing the following:
Increasing Consideration of Offshore Wind's Economic Potential – Requires Virginia's State Corporation Commission (SCC) to account for the positive economic impacts of OSW projects when reviewing certain investor-owned utilities' requests for cost recovery on these projects.
Local Economic Benefits – When constructing offshore wind facilities, public utilities will be required to submit plans to the SCC to showcase the project's local economic and workforce development opportunities.
Ensuring Sustainability – All public utilities and some investor-owned utilities (those responsible for constructing or purchasing an offshore wind project) will be required to submit plans to the SCC regarding strategies to mitigate harm to the environment and fisheries.
Setting a New Timeline – The deadline for public utilities to construct or purchase at least one offshore wind generation facility will be accelerated from 2034 to 2032.
Bill Sponsors: The primary sponsor of S.B.1441 is Virginia State Senator Mamie Locke, NCEL's 2023-2024 Virginia State Lead.
The 2023 State of Play – Other States Moving Offshore Wind Bills
Virginia is one of at least 10 states considering offshore wind legislation this year. California, Illinois, Massachusetts, New Hampshire, and Oregon are some of the other states that have introduced legislation thus far in 2023. Like Virginia, most of the 10 states' bills include provisions to ensure the offshore energy transition is done so equitably and sustainably.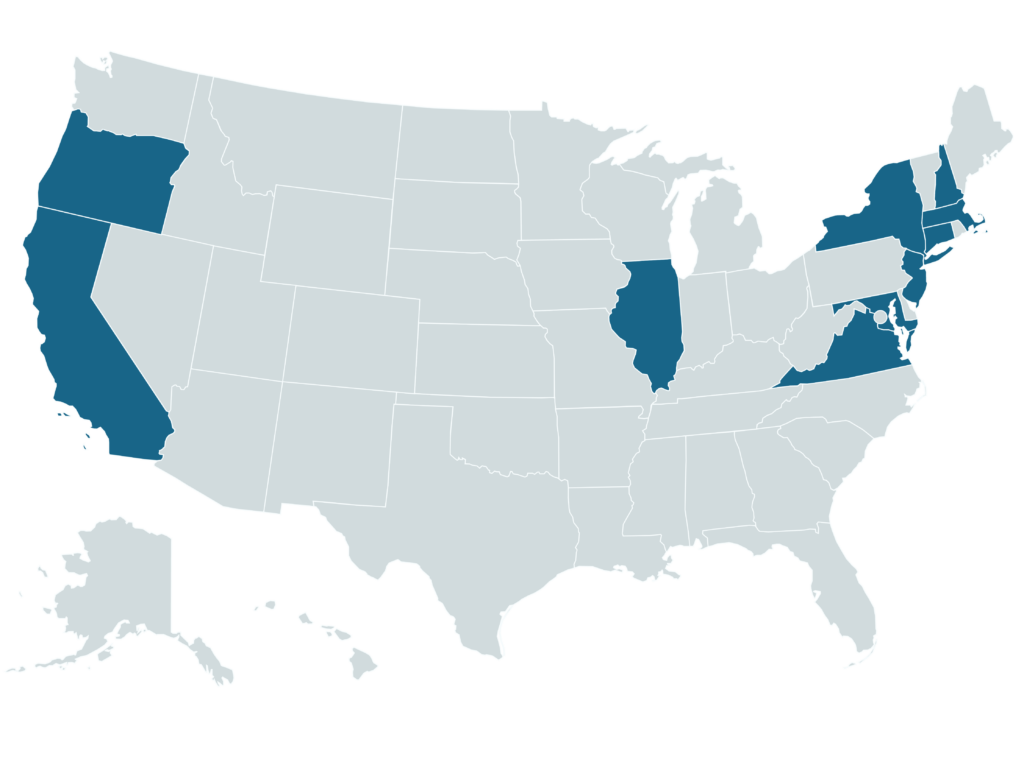 What the Federal Government is Doing on Offshore Wind
The Biden-Harris Administration has set a target of deploying 30 gigawatts of offshore wind by 2030 which could power over 10 million homes yearly and create over 75,000 direct and indirect offshore wind jobs. The Inflation Reduction Act, Bipartisan Infrastructure Law, and other new federal funding are important pieces of reaching the 2030 goal by providing investments for states to advance offshore wind projects.
More recently, the U.S. Department of Interior completed an offshore wind lease auction along the California coast and announced its first proposed offshore wind lease sale in the Gulf of Mexico. States will play a crucial role in ensuring future offshore wind projects supported by these federal initiatives are implemented effectively and efficiently.

To learn more about offshore wind policy for your region and state, visit NCEL's Offshore Wind Issue Page.