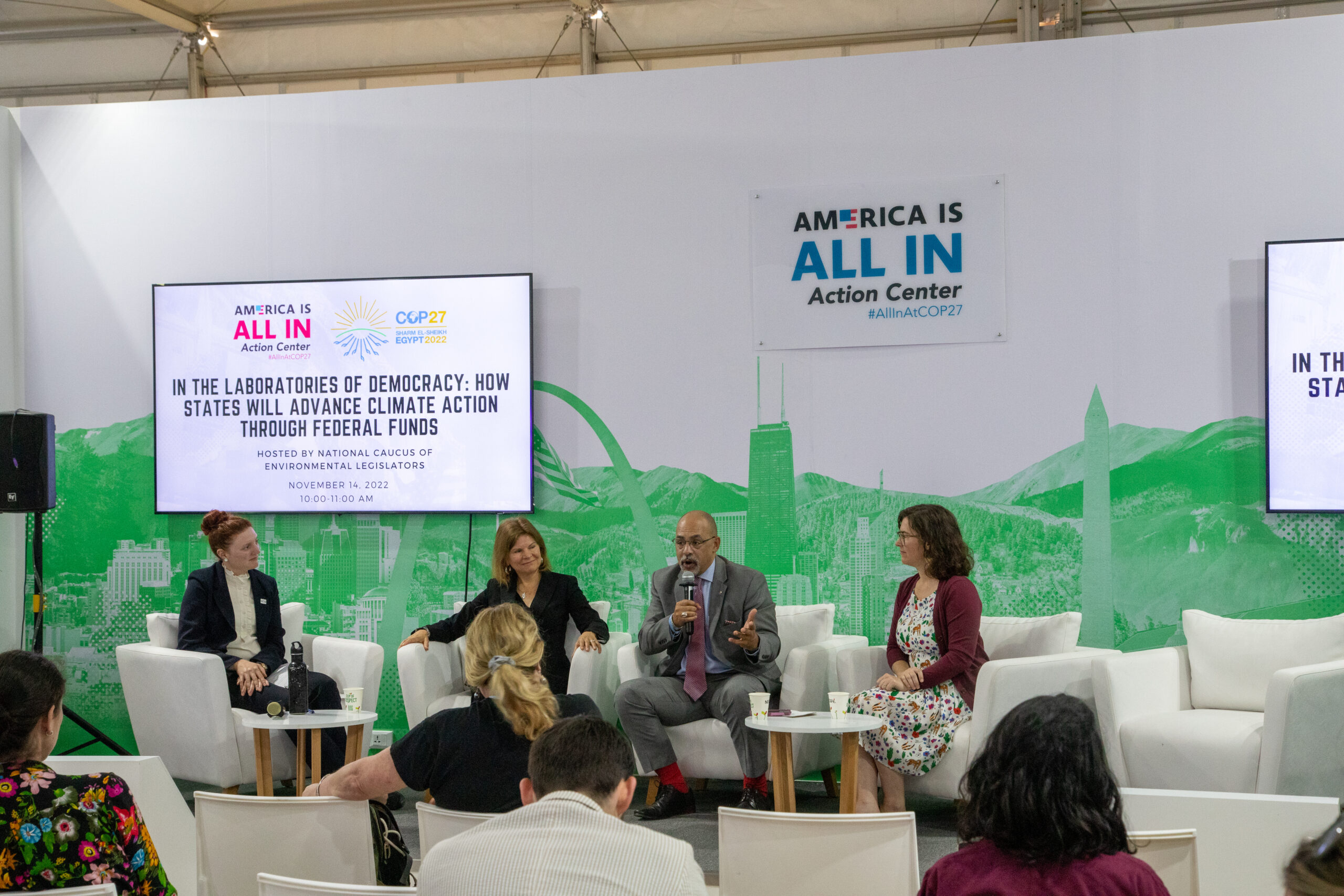 NCEL Blog
Reflections from COP27
December 5, 2022
NCEL Delegation of Staff and State Legislators Travel to COP27 to Showcase U.S. State Leadership on Climate
In November, a delegation of NCEL state legislators joined leaders from across the world at COP27 where they exchanged ideas and highlighted state climate leadership.
After weeks of international negotiations, there were two notable takeaways: efforts to create a new fund for loss and damage succeeded, but increased ambition failed.
Key COP27 Takeaways
New Loss and Damage Fund
For many developing countries, the climate conversation has moved past mitigation to loss and damage. Loss and damage is the concept that developed countries should pay for the costs of current and ongoing climate disasters (i.e. losses and damages) sustained by countries that did little to create the climate crisis. By the end of COP27, all the parties agreed to a new finance mechanism, the details of which will be worked out at a subsequent COP.
Lack of Increased Ambition
Another major point of contention in negotiations was whether to scale up ambition from last year's meeting in Glasgow. Last year, all parties agreed to "phase down" coal. This year, India led an effort to "phase out" all fossil fuels, not just coal. While the US came to support the stronger language, the changes were blocked by other oil-heavy countries.
On the one hand, it is amazing what international cooperation has done in the face of a changing climate. On the other hand, agreements are nothing without implementation. COP27 had many names, including the "COP of implementation," but the final agreement does not clearly reflect that.
Importance of States on the International Stage
The importance of implementation is where states come in. As we learned from conversations with the northern Argentinian delegation, the power of US states to set climate policy is fairly unique. And it truly has an impact: many US states have populations, landmasses, economies, and emissions greater than many other countries party to the negotiations. Meeting with administration officials like National Climate Advisor Ali Zaidi and CEQ Chair Brenda Mallory, as well as a delegation of mayors and county officials from ICLEI, highlighted the need for increased cooperation to ensure that all levels of government—as well as the private sector and civil society—advance a cohesive climate agenda.
The final text of COP 27 identified the need for action in the following areas, among others. Fortunately, states have many of the tools necessary to respond:
Looking Ahead to COP28
As members of the NCEL delegation shared during their time in Sharm el-Sheikh, all of their states are different. They have different needs, different political realities, and are pursuing different policy strategies. The beauty of something like COP is that it reflects this diversity, but finds consensus—however limited—despite it. The final text of COP27 reflected shared strategies that countries, and by extension states, can implement. Going into the 2023 legislative session, there's a chance for all states to find a way to address the climate crisis and set us on the path for COP28 to truly be the "COP of implementation."
---
Meet NCEL's State Legislator Delegation