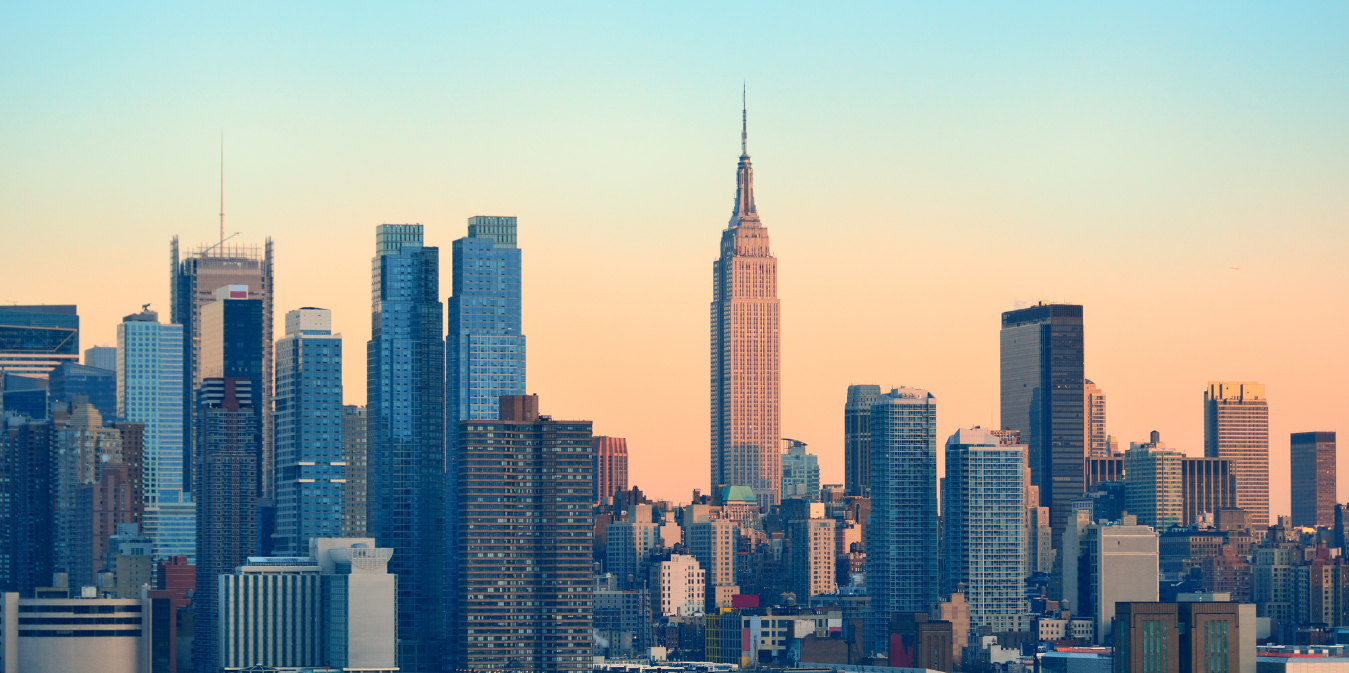 NCEL Blog
NCEL at New York Climate Week 2023
September 26, 2023
When I went to my team a few months ago to talk about our plan for New York City Climate Week, I had one objective: bring state climate action into the conversation. So much of Climate Week revolves around national, international, and corporate solutions, and I was determined to share the amazing wins that states have achieved before, during, and after the passage of the Inflation Reduction Act.
After attending Climate Week for the first time last year just weeks after I had moved to New York City, I was shocked to see how few panels and events focused on states when I knew that their contributions are critical to reducing emissions, ensuring equity, and driving people-centered solutions. Even in the past year, with states entering the spotlight through IRA implementation, legislators have still not had their moment in the sun for all the work that they have accomplished and need to do to make sure IRA funding gets maximized.
This year, we changed that and sought to highlight our state champions and successes to the Climate Week audience, and we learned that people show up for the states. Hear more about NCEL's presence at Climate Week and help support us so we can do even more next year!
Monday, September 18
I attended an event hosted by the International Alliance to Combat Ocean Acidification entitled "Accelerating Implementation of U.S. Climate-Ocean Policy." This event featured federal government representatives from NOAA and the White House Council on Environmental Quality, state agency representatives including California, Maine, and Maryland, and nonprofit organizations like NCEL and the U.S. Climate Alliance.
NCEL served as the voice for state legislators working on ocean issues as supported by our Coastal Working Group. I highlighted concerns from legislators who support both conservation and climate goals and are worried about marine life and offshore wind. And I noted legislative successes around ocean acidification from states including Massachusetts and Oregon.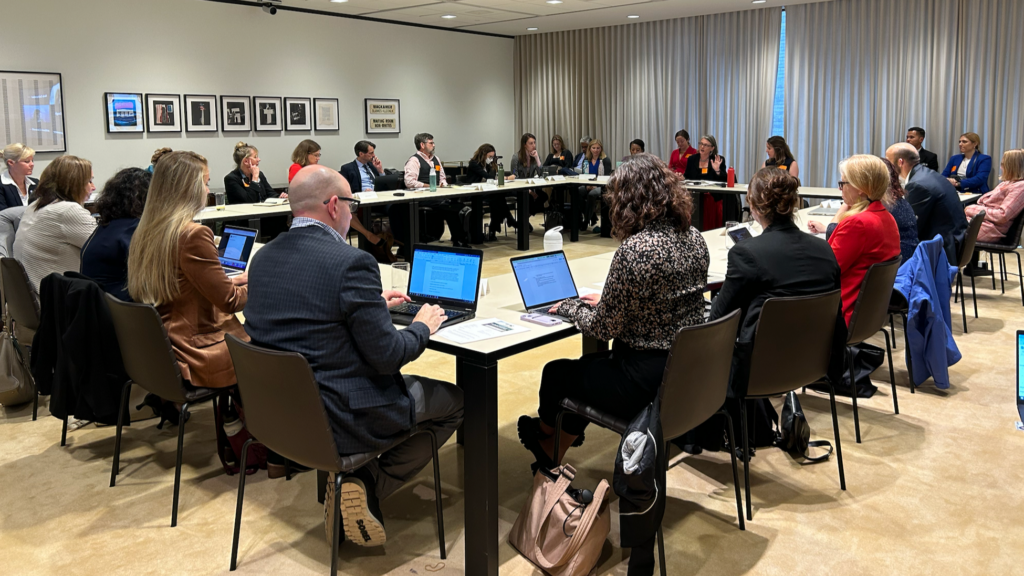 Tuesday, September 19
NCEL hosted its first-ever, in-person Climate Week event, "How to Maximize IRA Funding in the States." Based on a blog post I wrote, The event emphasized the ways state legislatures have acted to ready their state to best receive the multitude of funds flowing down from the federal government. Much attention has been given to state agencies and executive branches, but state legislators have such a key role to play in implementation as well and often have limited to no resources to support that work.
I emphasized three key points:
States have already taken action on climate in the years when the federal government was stalled.
States are critical for ambitious, equitable, and efficient implementation of the Inflation Reduction Act.
More action from states is needed in order for the United States to meet our emissions targets.
I was joined by Juan Gutierrez, Environmental Protection Specialist for the U.S. Environmental Protection Agency (EPA) in Region 2, who shared the major grant programs available to states and how New York and New Jersey have taken advantage of the funds so far.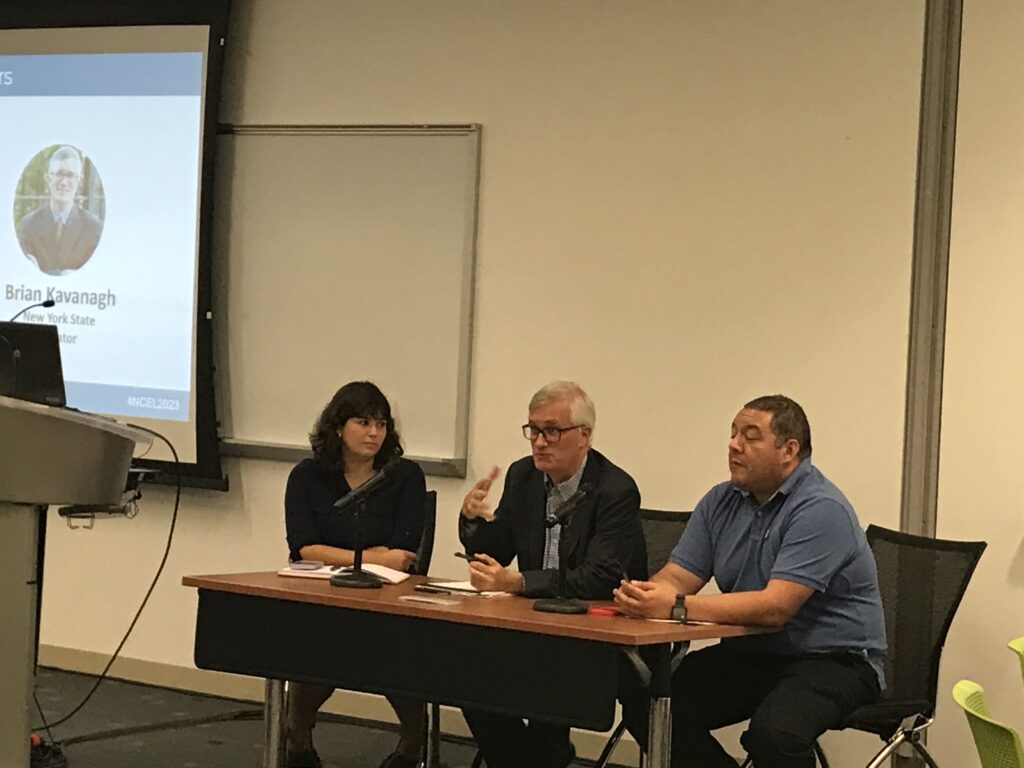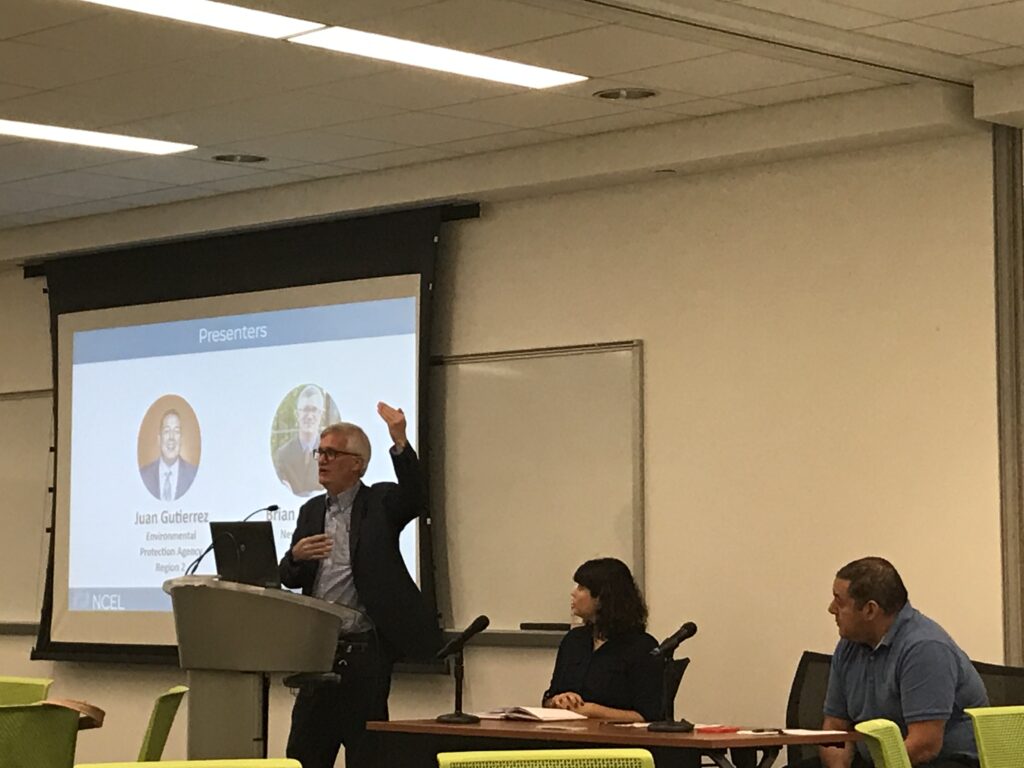 NY Senator Brian Kavanagh joined the panel as well to speak on the All-Electric Buildings Act, a bill he was the lead sponsor on, which passed last session. The All-Electric Buildings Act prohibits most new buildings from using fossil fuels by 2029. Sen. Kavanagh highlighted the leadership NY State has shown in the past several years most importantly through the passage of the ambitious Climate Leadership and Community Protection Act (CLCPA) in 2019. The Inflation Reduction Act buoyed the climate efforts of NY State, but the legislature continues to make large strides on their own with a budding cap-and-invest program and proposed legislation to electrify transit throughout the state.
Wednesday, September 20
NCEL, in conjunction with partners Climate Cabinet Education, Evergreen Collaborative, and Data for Progress, hosted a Sips for State Action Happy Hour, which boasted our biggest turnout of the week. Over 100 people attended to hear from state climate champions including Washington Governor and former presidential candidate, Jay Inslee, and my own state legislator, NY Assemblymember Emily Gallagher.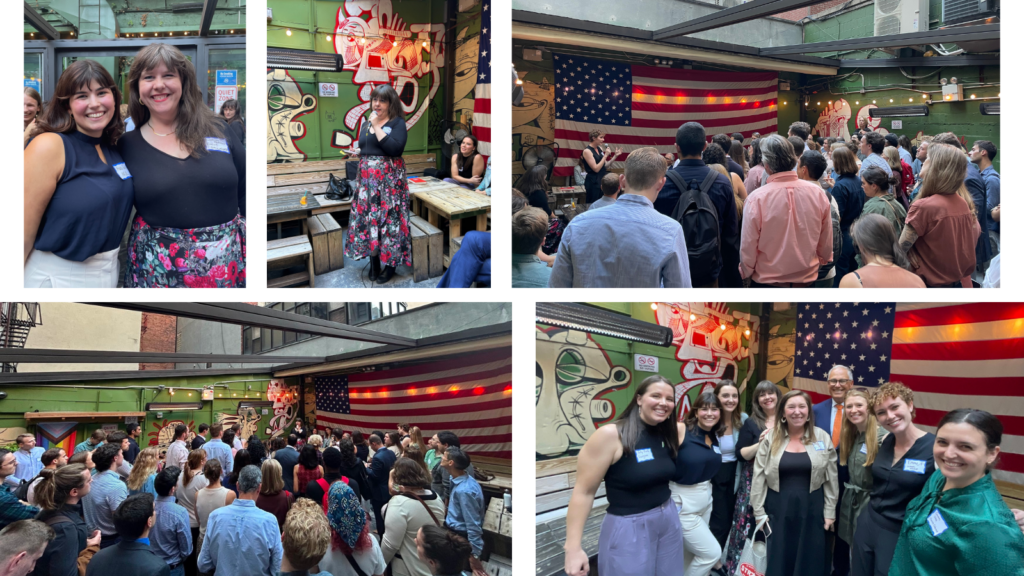 Attendees were invigorated by having a space to engage with partners, policymakers, and funders who understood the urgency of supporting states in this climate moment. I was in awe of how many Climate Week attendees showed up when it came to state climate action, and so happy to give legislators like Assemblymember Gallagher (another sponsor of the All-Electric Buildings Act) the opportunity to celebrate and appreciate the hard work it takes to get climate legislation passed in the state legislature.
Looking Forward
I am so encouraged by the support NCEL received this week and excited to see how we can continue to support state legislators across the country as we head into another legislative session in just a few months.
In the meantime, stay plugged in to where in the country NCEL is through our newsletter and social media, and learn how you can support our work here. Stay tuned on the Climate & Energy team's next endeavor in Santa Fe, New Mexico on transmission in the Southwest.