NCEL Blog
Restoring Biodiversity: How U.S. States are Protecting Life on Earth
October 4, 2022
Overview
The United States and the world are in the midst of a biodiversity crisis. One million species face extinction, and on our current trajectory of habitat loss and climate change, scientists project that nearly 40% of all species will face extinction by the end of this century. While these trends are deeply concerning for the well-being of our planet's wildlife, they also directly impact the health, economy, security, and well-being of human communities everywhere. The scale and risk of the biodiversity crisis demand a unified response. 
Defined: Biodiversity refers to the variety of life in the world or in a particular habitat or ecosystem. The five main drivers of biodiversity loss worldwide are habitat destruction, overexploitation of wildlife, climate change, the introduction of invasive species, and pollution.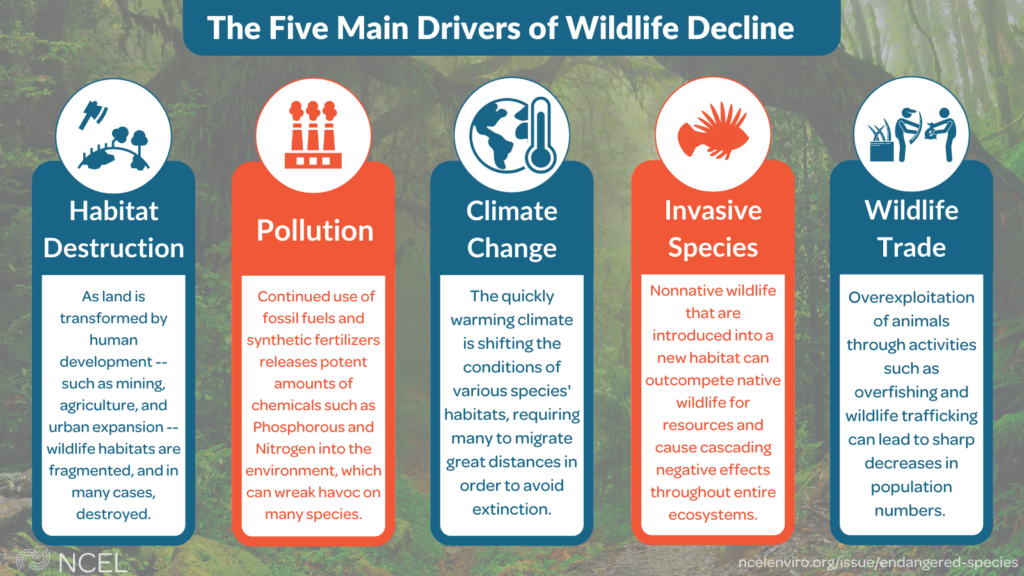 Due to the many overlapping drivers and impacts of the biodiversity crisis, most countries throughout the world have established their own National Biodiversity Strategy (NBS) to ensure a broad-based federal approach to addressing the rapid decline of wildlife and nature. The United States is one of the only nations currently without such a plan.
State Action on Biodiversity
While the United States is currently lacking a National Biodiversity Strategy, U.S. states have stepped up recently to advance biodiversity conservation and restoration efforts. States such as California, New York, Utah, Vermont, and Washington took steps this year to establish or strengthen goals to conserve at least 30% of the nation's land and oceans by 2030, otherwise known as 30×30. Oregon and California both passed legislation to comprehensively address the spread of wildlife diseases which are increasing as the biodiversity crisis worsens. States such as Georgia and Maryland also enacted legislation to limit wildlife trafficking.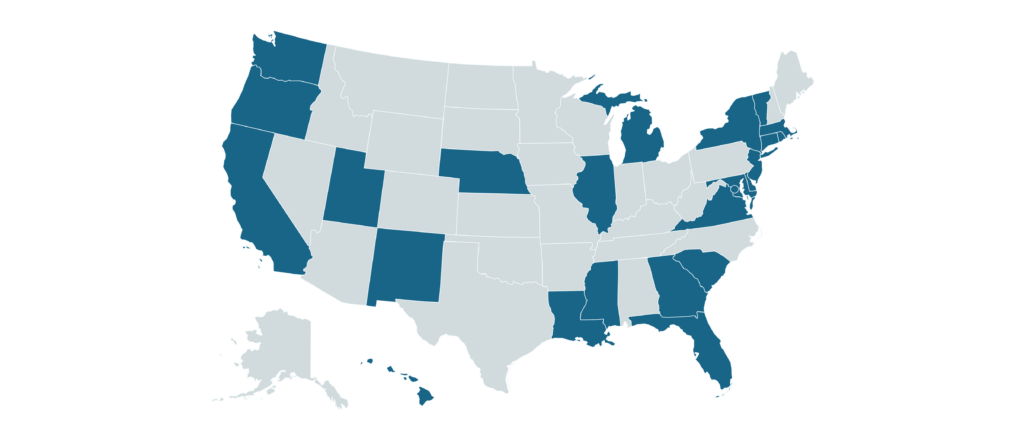 Legislative Champions
Explore the map below to hear from state legislators on why protecting biodiversity for future generations is crucial and how they are working in their states to achieve this vision.
States Call for a Unified Approach to Address Biodiversity Loss
While states continue to lead the movement to protect land, water, and wildlife, state action alone is not enough to restore our nation's biodiversity. Comprehensive and unified federal action is necessary to meet the urgency of the biodiversity crisis. In May, 365 legislators representing 48 states and territories endorsed this sentiment by sending a letter to the Biden Administration requesting the creation of a National Biodiversity Strategy. This letter follows the introduction of H.R.69 in 2021 by U.S. Congressman Joe Neguse [D-CO] which calls on the federal government for the same goal.
States across the country have also worked this year to codify their own requests for comprehensive biodiversity protections into law. During the 2022 legislative session, legislators in New York introduced a resolution (J.2820) urging the New York Congressional delegation to establish a strategy for protecting biodiversity for current and future generations. In addition to New York, several other states considered similar legislation this session. Hawaii, New Mexico, and Washington introduced resolutions calling for a National Biodiversity Strategy, and Colorado State Representative Alex Valdez delivered a tribute in support of biodiversity protection and conservation.
---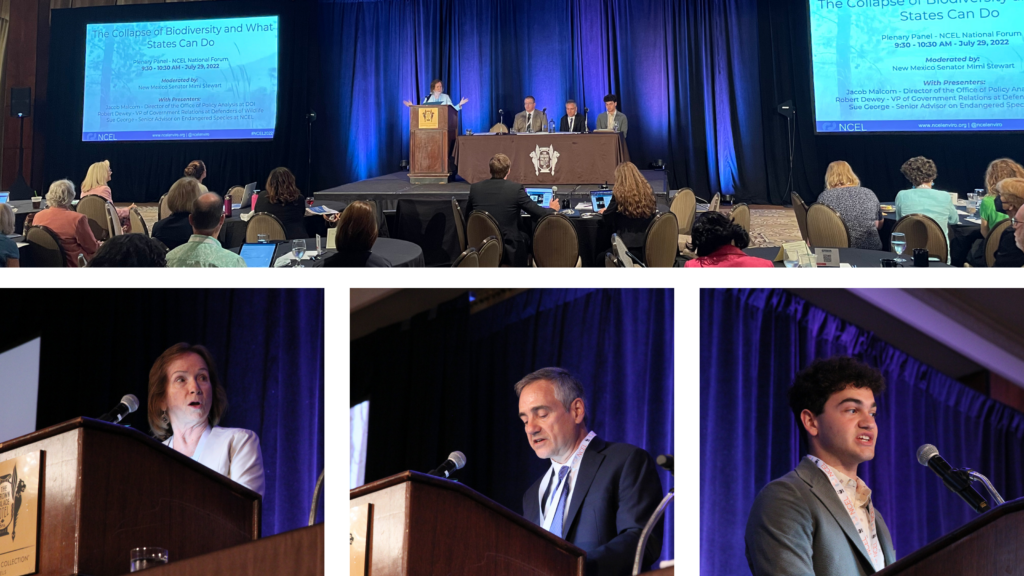 State Legislators Learn from Biodiversity Experts at the 2022 NCEL National Forum
In July, 2022 NCEL convened over 100 legislators from 35 states for the annual National Forum, which consisted of a plenary panel on the biodiversity crisis and what states can do to address it. The panel served as a means for legislators from across the country to consider new biodiversity conservation strategies they can pursue during the upcoming state legislative sessions. In addition to laying out the scale and impact of the current biodiversity crisis, the panel of experts highlighted how states can strengthen their own endangered species acts and push for the establishment of a National Biodiversity Strategy.
In their words: "Biodiversity loss isn't just a wildlife issue, or a federal issue. It's a people issue and a local one too. What happens to biodiversity matters greatly for those who live and work in our states, counties, towns and neighborhoods. Addressing the extinction crisis is a solvable issue. There is still time to protect biodiversity. But we have to act now. We need to step up our game in each state and nationwide if we are to respond to biodiversity loss. All of us need to do our part." –Robert Dewey, Vice President, Government Relations & External Affairs, Defenders of Wildlife
Looking ahead
Heading into the 2023 legislative session, states will continue to push for a National Biodiversity Strategy while also advancing state-level conservation policies. We expect to see more states introducing legislation with an increase in interstate collaboration on the issue. NCEL is committed to supporting the work of these legislators to slow the catastrophic decline of biodiversity.
To learn more about biodiversity policy solutions, visit NCEL's biodiversity webpage, or contact Kate Burgess, NCEL's Conservation Manager
---
Read More on Biodiversity
"State Lawmakers Ask Biden to Form National Biodiversity Strategy" – Bloomberg Law
Washington State Senator Liz Lovelett: "U.S. needs a national biodiversity strategy to protect plants, animals" – Seattle Times
Indiana State Representative Maureen Bauer: "Viewpoint: Biodiversity has immeasurable value for Indiana, but we need a plan to save it" – South Bend Tribune