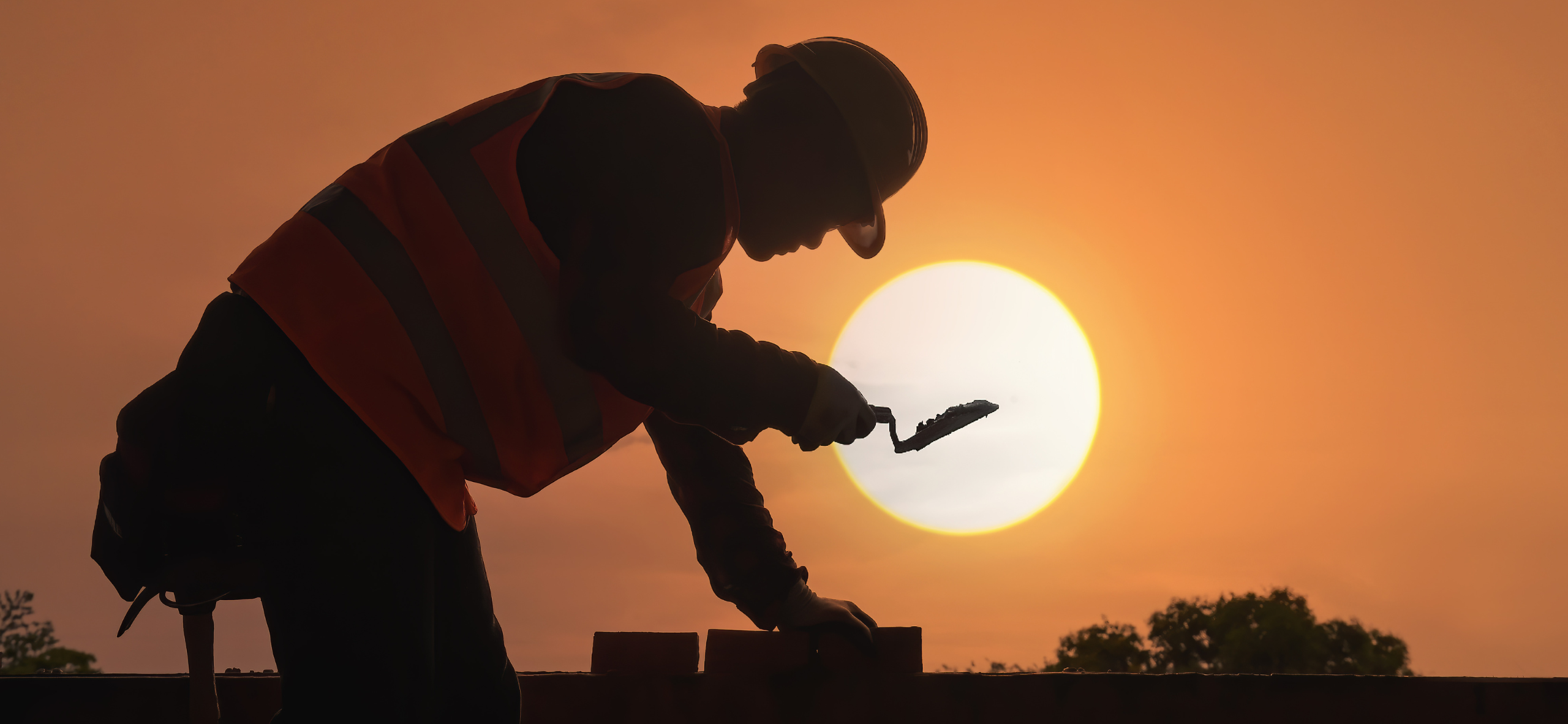 NCEL Blog
State Action on Extreme Heat and Worker Protections
November 9, 2023
Overview
Climate change is leading to more intense and frequent heat waves, which is the deadliest form of extreme weather in the United States. As our climates warm, deaths from heat hazards are expected to increase. And the people who experience the greatest impacts from extreme heat are often communities of color and low-income communities.
However, compared to other environmental hazards, heat often doesn't receive the same level of attention in policy-making. There is a lack of comprehensive planning and policies for extreme heat at every level of government. While the Occupational Safety and Health Act of 1970 (OSH Act) made strides in protecting workers from heat-related hazards, it is critical for states to take action above and beyond the federal level as heat conditions become more dire. States have an opportunity to fill crucial gaps left by federal policy.
State Action on Extreme Heat & Workers
Five states have enacted occupational heat standards: California, Colorado, Minnesota, Oregon, and Washington, and 5 states have active legislation or are in rulemaking.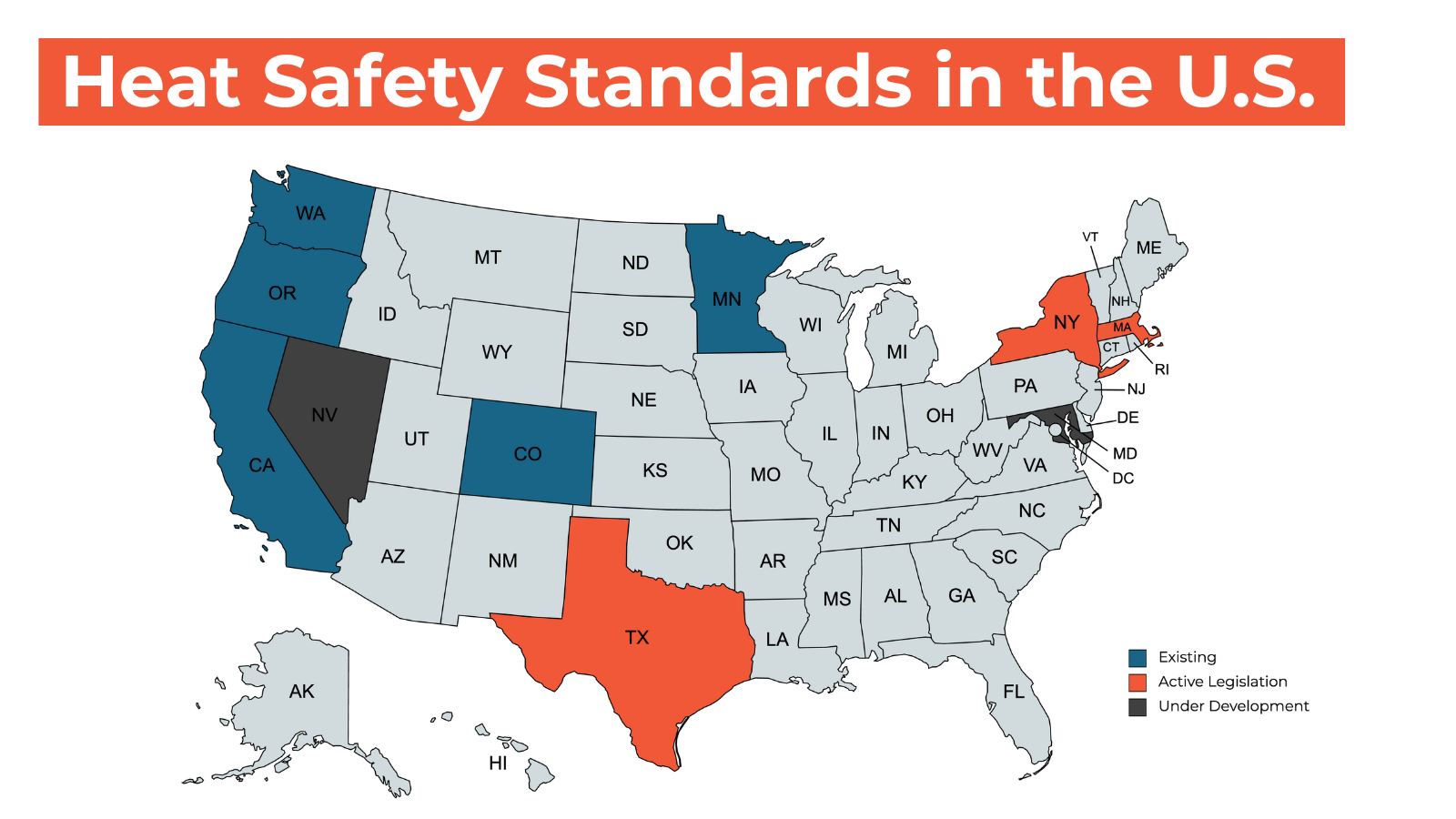 Colorado SB 21-087 (2021) serves as an important example of effective heat legislation. Chiefly an agricultural worker's rights bill, SB 21-087 incorporated key protections for agricultural workers, perhaps the industry most affected by outdoor heat stress. The legislation requires employers to develop safety procedures and implement training measures for all employees when the temperature at a worksite is, or is forecasted to be, at least 80 degrees.
Lessons learned from this rulemaking include:
Input from workers and work advocates is essential for the creation of an effective heat stress rule.
Outreach and monitoring by state agencies is critical for employer education and compliance.
Workers need to be educated about their rights, the risks of heat stress, and the benefits of hydration, shade, and rest breaks.
California is also a key example. The state has existing outdoor heat stress standards, but legislation was passed in 2016 requiring Cal-OSHA to create indoor heat standards. These standards are still in development.
Looking Ahead
As temperatures continue to rise, there are other kinds of policies that can lessen the effects of extreme heat, including investments in green infrastructure and nature-based solutions, cooling infrastructure, and emergency planning.
State legislators can also help protect workers by directing state agencies to develop new rules or improve existing rules for workplace heat hazards. Legislators can also work to boost the capacity of worker protection agencies, which tend to be underfunded and understaffed.
Additionally, the White House recently announced new federal-level measures to protect workers from extreme heat.
The Department of Labor will create the first hazard alert for heat and increase enforcement to protect workers from heat.
The National Oceanic and Atmospheric Administration will invest up to $7 million from the Inflation Reduction Act to improve weather forecasts in relation to heat.
The Department of the Interior will invest $152 million from the Bipartisan Infrastructure Law to increase water storage capacity and improve climate resilience in California, Colorado, and Washington.
To learn more about extreme heat policy solutions, contact NCEL's Climate and Energy Program Manager, Ava Gallo.
Learn More About Extreme Heat