NCEL Blog
The Real Cause Behind the Texas Blackouts
April 9, 2021 | This is a guest blog written by Baindu Idriss, NCEL's Climate and Energy Intern. Baindu is a recent Environmental Science and Policy graduate of the University of Maryland, College Park.
Overview
Two days prior to the winter storm, Texans were warned to brace themselves as they would for the hurricanes that frequent the region. The state's power grid operator, the Electric Reliability Council of Texas, or ERCOT, notified its customers to expect rolling blackouts. But nothing could have prepared Texans for what was to come.
As temperatures dropped, multiple forms of energy infrastructure froze, triggering Texas's demand for electricity to increase exponentially just as supply was decreasing. This pushed utility companies to implement rolling blackouts that ultimately left 4.4 million without access to electricity, heat, and clean water for days.
A confluence of factors led to this frigid and perilous situation for many Texans, including Texas's deregulated energy grid, environmental racism, and a lack of resilient grid infrastructure in the face of increasingly extreme weather events.
Who's to Blame?
As images of frozen wind turbines circled the internet, renewable energy became the political scapegoat for the mass outages. While Texas is a leading producer of renewable energy, renewables make up 21%of electricity generation, a relatively small percentage of Texas's energy supply. The truth is that energy infrastructure across the board – including natural gas — was unable to withstand the extreme weather.
This begs the question: Why wasn't Texas's energy system up to the challenge?
Texas's Deregulated Energy Grid
The source of the crisis can be traced to Texas's unregulated and independent energy market that lacks diversification and weather resilience. In 1999 state officials decided to relinquish control of the state's entire electricity delivery system to a market-based system composed of private generators, transmission companies, and retailers. The cost-cutting initiative gave energy providers no incentive to invest in maintenance and winterization. Unlike in the Dakotas, Texas wind turbines are not equipped with defrosting equipment and powerlines lack insulation infrastructure. The lack of preparedness for such an event is summed up by a Federal Energy Regulatory Commission (FERC) report following a 2011 winter storm in which they found Texas's grid operators to be "reactive as opposed to being proactive in their approach to winterization and preparedness."
Environmental Racism
With inadequate infrastructure and state energy failures, low-income households faced a compounded threat of power outages and astronomically high utility bills that reached up to $9,000, due to the deregulated nature of Texas's grid. The rolling blackouts hit marginalized communities especially hard, as they were the first to lose power and the last to be reconnected. This is alarming because as hotel rates reached $999 per night, low-income households lacked the resources to escape to safety or to recuperate after such extreme disruptions.
Texas resident and NCEL staff Ava Ibanez reports lack of transportation as an alarming issue that was highlighted during the winter storm. "If you didn't have a good winter car or access to a car you were stuck at home. There were many abandoned cars around Austin [that belonged to residents] who tried to drive somewhere, got stuck, and had to quite literally abandon their cars."
According to environmental justice expert Robert Bullard, "Checking into a hotel to ride out the emergency is not a practical option for people living on a fixed income with limited access to transportation, who also lost power during the rolling blackouts."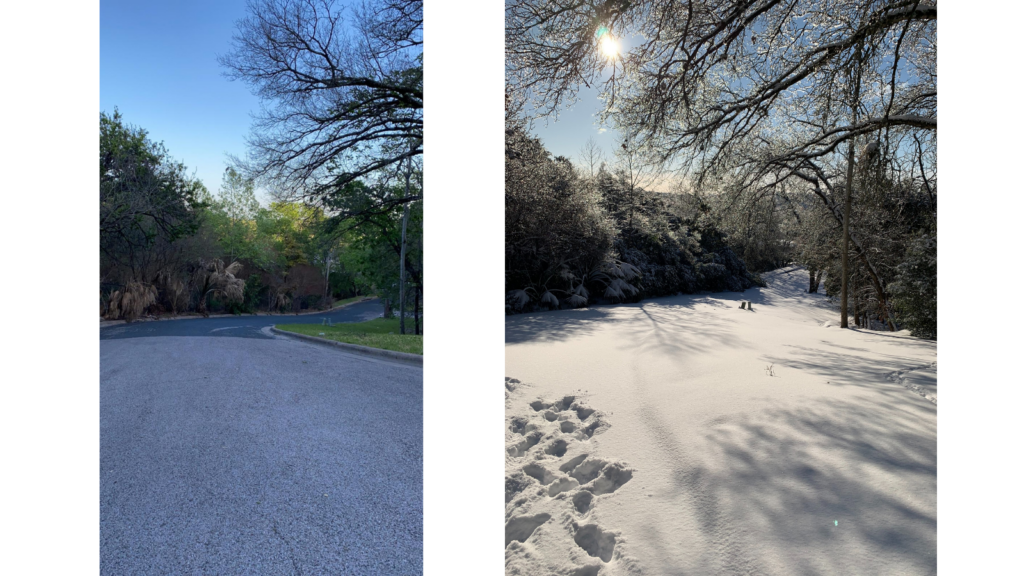 Winterization: Ensuring Resilient Grid Infrastructure
As of late February, Texas governor Greg Abbott has pledged to mandate and fund the winterization of the Texas power infrastructure. As the blackouts have demonstrated, the costs of inaction far outweigh the long-term benefits of grid infrastructure improvements, especially when considering the human and societal cost of major outages. Following the winter storm, Texas tallied tens of billions in damage and economic losses from blackouts along with a $50 billion dollar electricity bill that fell on consumers. This could have been avoided through preemptive measures. According to the 2011 FERC report, it would have cost energy suppliers around $306 million – $2.3 billion to winterize Texas's 123,000 gas wells. In contrast, wind turbines can easily be winterized; energy experts report additional expenses to be under 10% of the total cost of the turbine.
Ross Baldick, professor at the University of Texas at Austin, estimates that "assuming an extreme weather event such as the winter storm might happen once every 10 years, the average disbenefit of failing to winterize might be $500 million per year." In the face of climate change, extreme weather events will only increase in intensity and frequency. The blackouts that took place in Texas are not an anomaly, but part of a trend of increasing climate-induced stress on electrical grids, as we saw last summer in California's heatwave.
Looking Forward: Avoiding Future Blackouts
The winterization of the Texas energy grid is one of the primary strategies to prevent such a large-scale grid failure from repeating. Outside of Texas, energy suppliers in much colder states such as Iowa and New York have incorporated defrosting technology in their pipelines and turbines. The North American Electric Reliability Corporation is currently developing mandatory standards for winterizing energy infrastructure. Winterization of low-income households is being practiced in states such as Missouri and New York to decrease energy rates and make homes more resilient to extreme weather events.
Texas would also benefit from the decarbonization and diversification of its energy market to mitigate climate change. Improving transmission by linking rural areas with ample sunlight and wind to highly populous areas will be critical in decarbonization efforts. Also, greater coordination with neighboring states that allow power to be transferred across long distances during times of uncertainty could help prevent future blackouts. Increased focus on energy efficiency and storage would also improve grid resiliency.
Improving statewide infrastructure is no easy task and state legislators have the opportunity to play an active role in mitigation efforts. Through unified legislative efforts and more coordination between grid operators and policymakers, Texas can create a resilient and equitable electrical grid that is prepared for the future.