Press Release
States Working To Prevent Spread of Wildlife Diseases
March 31, 2021
Legislators from Five States Pursue Policies to Prevent Future Pandemics Caused By Wildlife Diseases
Washington, D.C. – Today, state legislators from five states shared steps they are taking to protect against future pandemics caused by wildlife diseases. States included California, New Hampshire, New York, Oregon, and Washington. As a result of the COVID-19 pandemic, each of these states has introduced bills to better monitor or regulate the threat associated with the emergence of infectious diseases stemming from native and imported wildlife.
Approximately one-quarter of global human deaths are caused by infectious diseases, 60% of which originate in wildlife. But infectious diseases originating in wildlife are exponentially increasing due to humans' outsized impact on the natural environment and wildlife populations. Through deforestation, development, and wildlife exploitation, including the international wildlife trade, humans are putting themselves into closer proximity with disease-carrying wildlife while a warming climate has been expanding the range of some of these animals. All of this has led to 75% of new infectious diseases now originating in animals.
In order to prevent one of these diseases from creating another global pandemic, as was the case with COVID-19, states know they have a vital role to play in ensuring better disease tracking and heightened regulation of the animal trade. Policy approaches vary among the six states, but all aim to increase awareness and preparedness for the eventual emergence of new infectious diseases from animals.
"States are going to continue to be at the forefront of this battle against the emergence of novel, zoonotic viruses like COVID-19 and we will all benefit if we can work together cooperatively and proactively to both share information and, hopefully, take a united approach when it comes to setting standards for importing animals to prevent the spread of wildlife-based infectious diseases," said California State Senator Henry Stern, the chairman of the Senate Natural Resources & Water Committee. "It's terrific to see five states working on this now, and I'm particularly excited to have Oregon and Washington involved, given that we share the same coastline and many of the same environmental and regulatory challenges."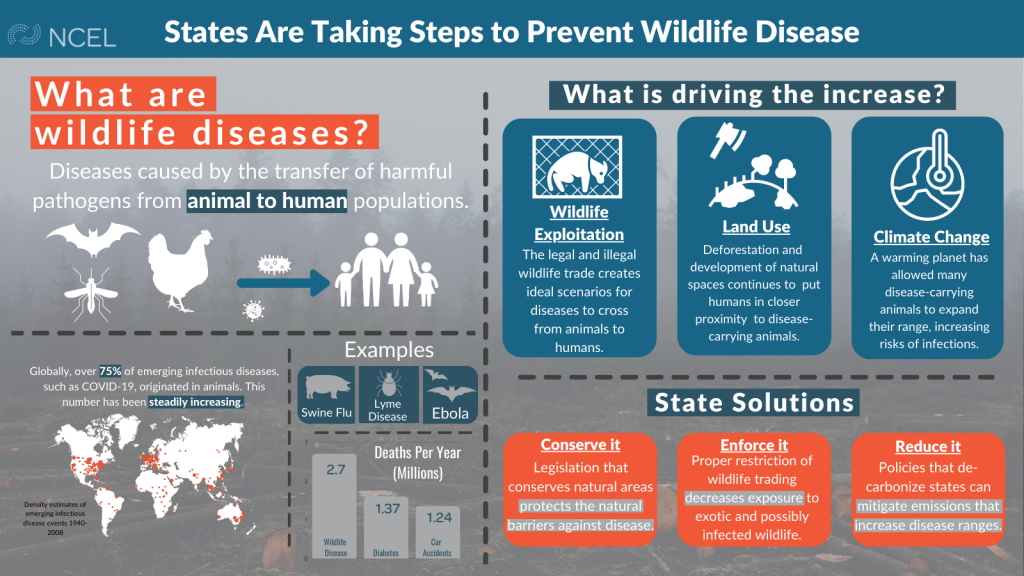 While the types of legislation vary among states, each of these legislators is introducing bills that will create heightened safeguards against the emergence of infectious wildlife diseases into human populations. In total, six states have introduced legislation this year to increase wildlife disease prevention. States with legislation include California, New Hampshire, New Jersey, New York, Oregon, and Washington.
California, New Hampshire, and New York are considering legislation that would implement new restrictions on the in-state trade of wildlife by banning the importation of species that pose elevated risk of disease transmission, as well as creating new restrictions on the operation of live animal markets. COVID-19 highlights the potential effectiveness of this policy approach, as the disease was likely first transmitted to humans in an open-air animal market that was selling many imported species.
"New Hampshire has to be prepared for zoonotic disease prevention for public health and for the safety of our food supply," said New Hampshire State Senator David Watters. "That's why we need monitoring, food market inspections, and the capacity to act quickly in an emergency. By coming together with these other states through NCEL, we are able to better protect the public health of our individual states and the country."
"It is undeniably the responsibility of governments to protect the public health," said New York State Assemblymember Jo Anne Simon. "75% of emerging infectious diseases are zoonotic and originate in animals; COVID-19, HIV, malaria, Ebola, and Lyme disease are some examples. Almost all started with wildlife exploitation through trade or hunting. We must put firm controls in place to regulate the operation of live animal markets. I'm proud to work with the National Caucus of Environmental Legislators to better protect us all against the emergence of infectious wildlife diseases."
Oregon is working on legislation that in addition to restricting the import and trade of wildlife that pose an elevated risk, would also produce a report on the current state framework for preventing wildlife disease transmission.
"The current pandemic has underscored the urgent need for greater emphasis on public health in wildlife management," said Oregon State Representative Ken Helm. "Ongoing collaboration and coordination will be needed at all levels to improve our shared capacity to monitor, prevent and respond to infectious diseases that can spread from wildlife to humans."
Washington is considering a budget provision that would dedicate funds for a wildlife disease center at the University of Washington.
"Globalization of commerce has resulted in massive increases in cargo shipments worldwide," said Washington State Senator Jesse Salomon. "Only a small percent of these shipments can be inspected, and that is a goldmine for international smugglers. This budget provision would dedicate funds for a center that develops comprehensive tools to combat the illegal wildlife trade and its associated hazards. This includes increased tracing to prevent contraband from entering into transit and more efficient tools to detect these products at ports of entry. The center is also developing monitoring techniques to test seized products for diseases that can lead to pandemics."
New Jersey is considering the creation of a one health intergovernmental task force to identify and prevent potential disease outbreaks.
By convening and working together on these diverse policy approaches, state legislators are learning from one another on how to better track and prevent wildlife diseases while raising awareness about the urgent need to act.
"One of the many lessons from COVID-19 was that its escalation into a global pandemic could have been avoided," said Jeff Mauk, Executive Director of the National Caucus of Environmental Legislators. "By communicating and sharing policy ideas with one another, these state legislators are strengthening our defenses against the emergence of a new pandemic. They are signifying that this is an increasingly pressing issue which transcends state and federal boundaries, and an issue which requires collaboration between all decision-makers."
Created by and for state legislators, the National Caucus of Environmental Legislators is a 501(c)(3) nonprofit that organizes over 1,000 environmentally-committed state legislators from all 50 states and both parties. NCEL provides venues and opportunities for lawmakers to share ideas and collaborate on environmental issues.
###
Contact: Taylor Anderson, NCEL Communications Manager, tanderson@ncel.net