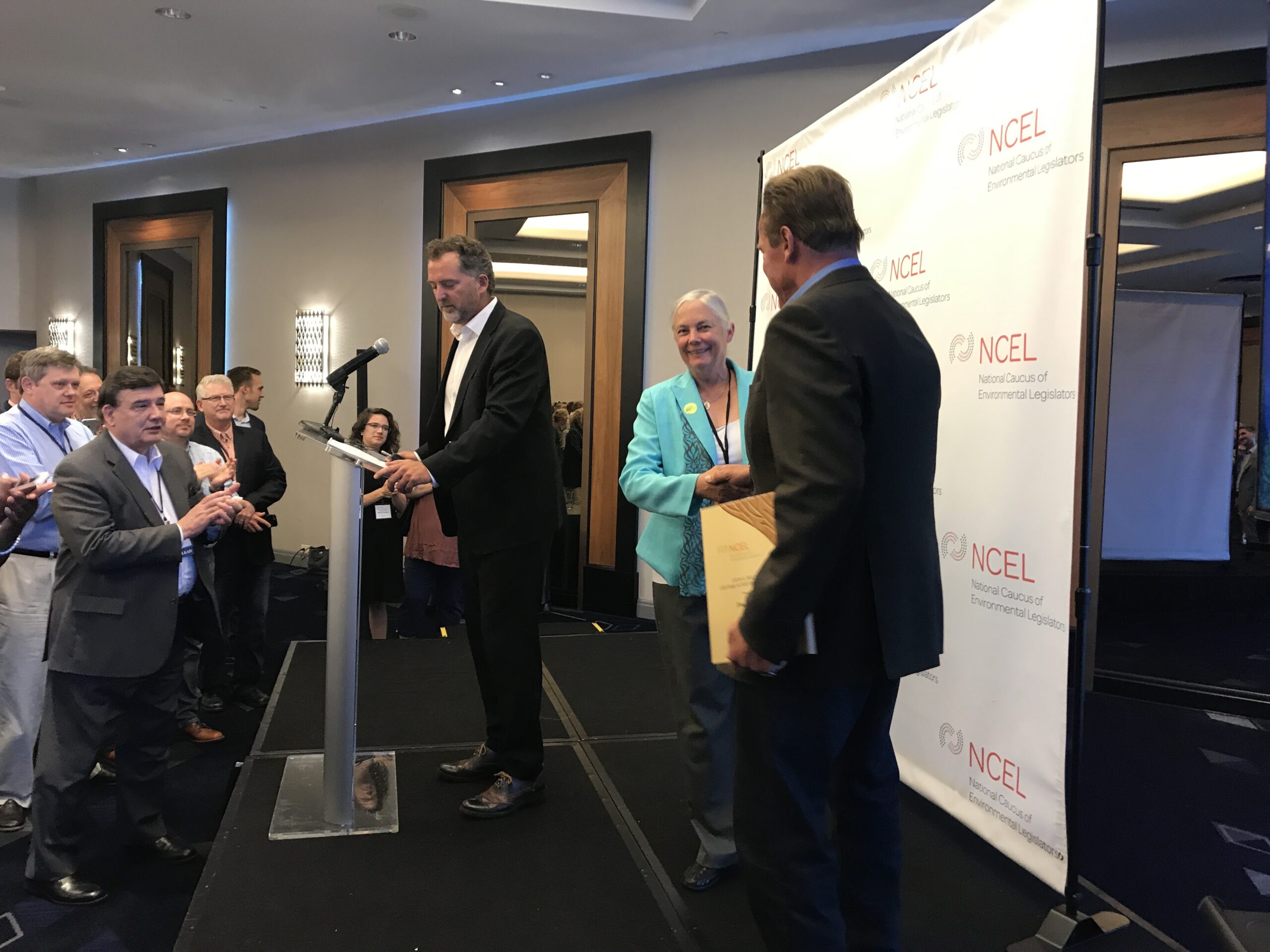 Policy Update
State Lawmakers Recognized for Outstanding Environmental Leadership
On August 4th, 2017, the National Caucus of Environmental Legislators (NCEL) recognized two state lawmakers for outstanding accomplishments on environmental issues. NCEL staff presented Nevada Assemblymember Chris Brooks with its "Rising Environmental Leader" award, and former California Senator Fran Pavley received the "Leon G. Billings Lifetime Achievement Award." The awards were announced at NCEL's fourth annual National Issues Forum, which took place August 3rd-5th in Boston, attended by 128 legislators from 36 states.
Award recipients were selected by the NCEL Board of Directors, which is comprised of a majority of sitting state legislators. Criteria included bipartisan support for awardee legislation and impact of policies that they had passed. Brooks' recognition was in reference to his work in the 2017 legislative session on expanding access to solar energy. His solar rights bill restores net energy metering and makes changes to state energy policies, such as ensuring solar-power contracts are easier to understand, essentially paving the way for solar energy to flourish in a state where that industry has experienced setbacks.
NCEL board members named the Lifetime Achievement award as a memorial to the organization's founder, former Maryland Delegate Leon Billings, who first organized NCEL in 1996. Billings is also widely known as the U.S. Senate staffer responsible for writing the Clean Air Act and Clean Water Act in the 1970's. He passed away in November 2016. Pavley, the awardee, was recognized for a string of landmark achievements during her time in office, including the state's Clean Car standards and AB 32, which established California's cap-and-trade program.
NCEL Executive Director Jeff Mauk highlighted the benefits of state legislators sharing information across state lines, as Senator Pavley had worked with Billings and other NCEL members on exporting the clean car standards to other states, of which 13 had adopted.
"In an era where the federal government is shirking its responsibility to safeguard Americans from pollution and climate change, state action is more important than ever," said Mauk. " I applaud Assemblymember Brooks and Senator Pavley for their extraordinary leadership and their willingness to share lessons learned with their colleagues across the country."
The National Caucus of Environmental Legislators is a nationwide network of more than 1,100 state legislators from both parties and all 50 states. The organization serves as a resource on environmental issues by empowering state legislators committed to environmental issues and connecting them across state and party lines.