NCEL Events
NCEL COP27 Events
November 10-16
Overview
From November 10-16, NCEL will join climate scientists, advocates, and policymakers from around the world for COP27 in Sharm El Sheikh, Egypt. For the second year, NCEL is sending a delegation of staff and state legislators to bring attention to the work and leadership of U.S. states on climate action. These legislators will be taking part in a range of events to share the climate solutions they are advancing in their states. Learn more about NCEL's state legislator delegation and the events they will be participating in below. Jump to event schedule. You can also keep up with NCEL at COP27 by subscribing to our COP27 newsletter below for the latest updates and takeaways for U.S. states.
NCEL State Legislator Delegation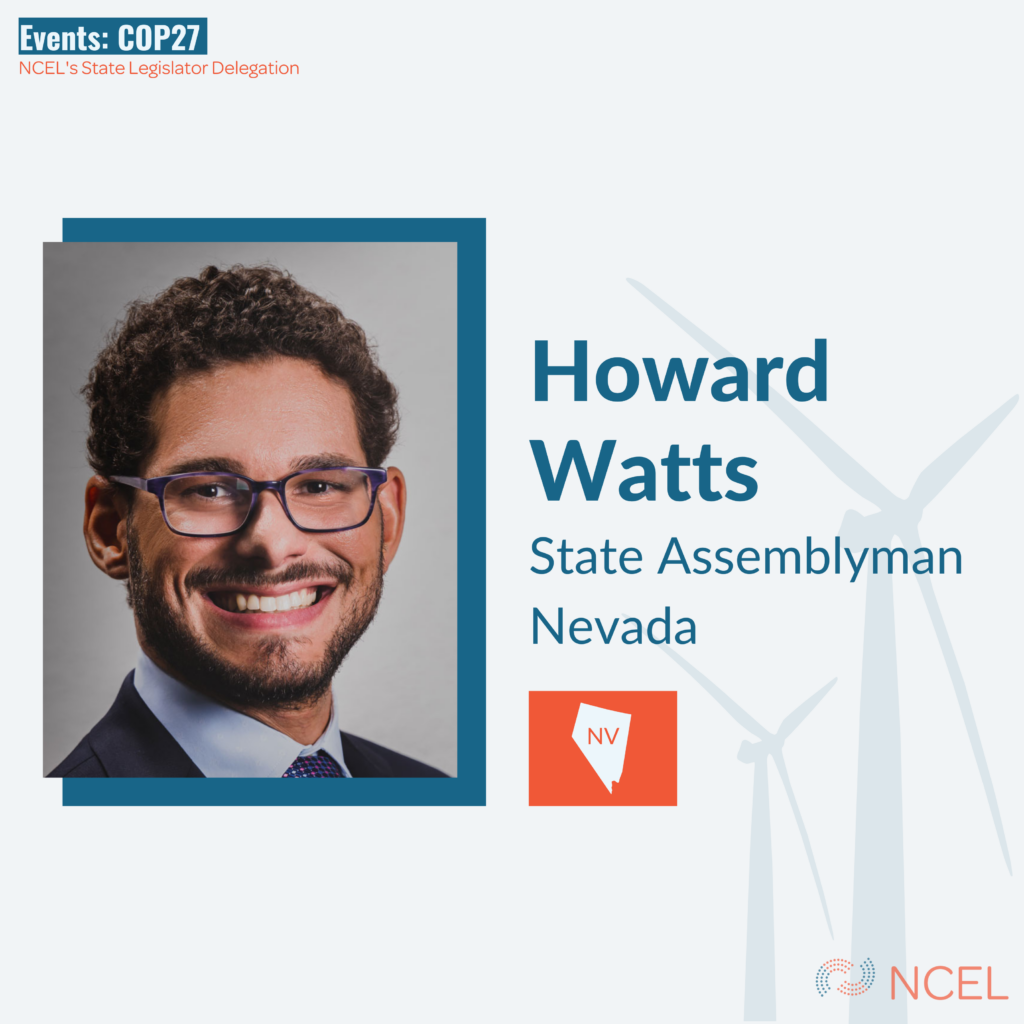 Nevada State Assemblymember Howard Watts
Elected in 2018, Assemblymember Watts recently became Chair of the Natural Resources Committee and was named one of NCEL's Rising Environmental Leaders in 2021. He has played a central role in passing legislation related to climate-friendly transportation, appliance efficiency, and climate adaptation. He is particularly interested in ways climate policy can be designed with explicit justice and equity components. Learn more.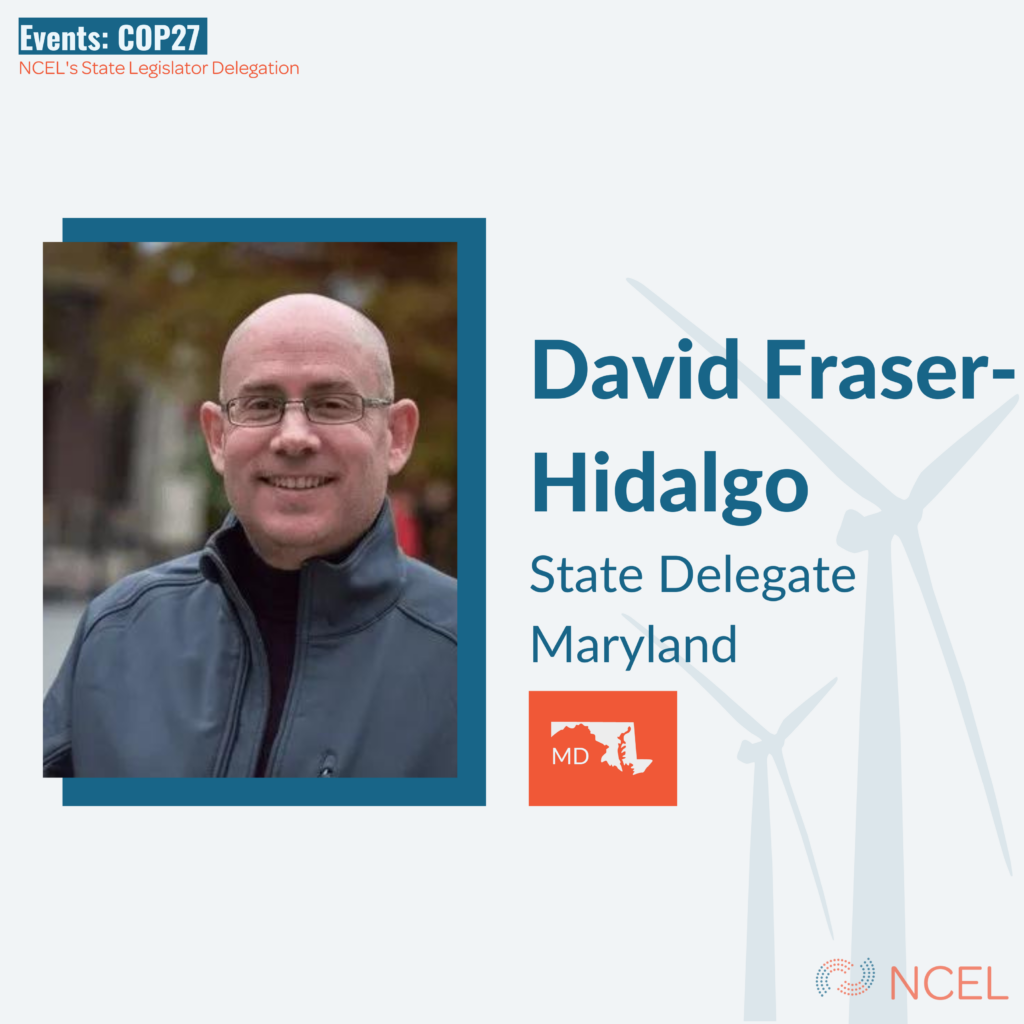 Maryland State Delegate David Fraser-Hidalgo
Since joining the Maryland House of Delegates in 2013, Del. Fraser-Hidalgo has played a leading role in some of Maryland's landmark climate legislation. He was the primary sponsor of bills that ban fracking in Maryland, provide tax incentives for electric vehicles, and help transition to electric vehicle fleets. Building on his role as an environmental champion, Del. Fraser-Hidalgo also recently joined the NCEL board. Learn more.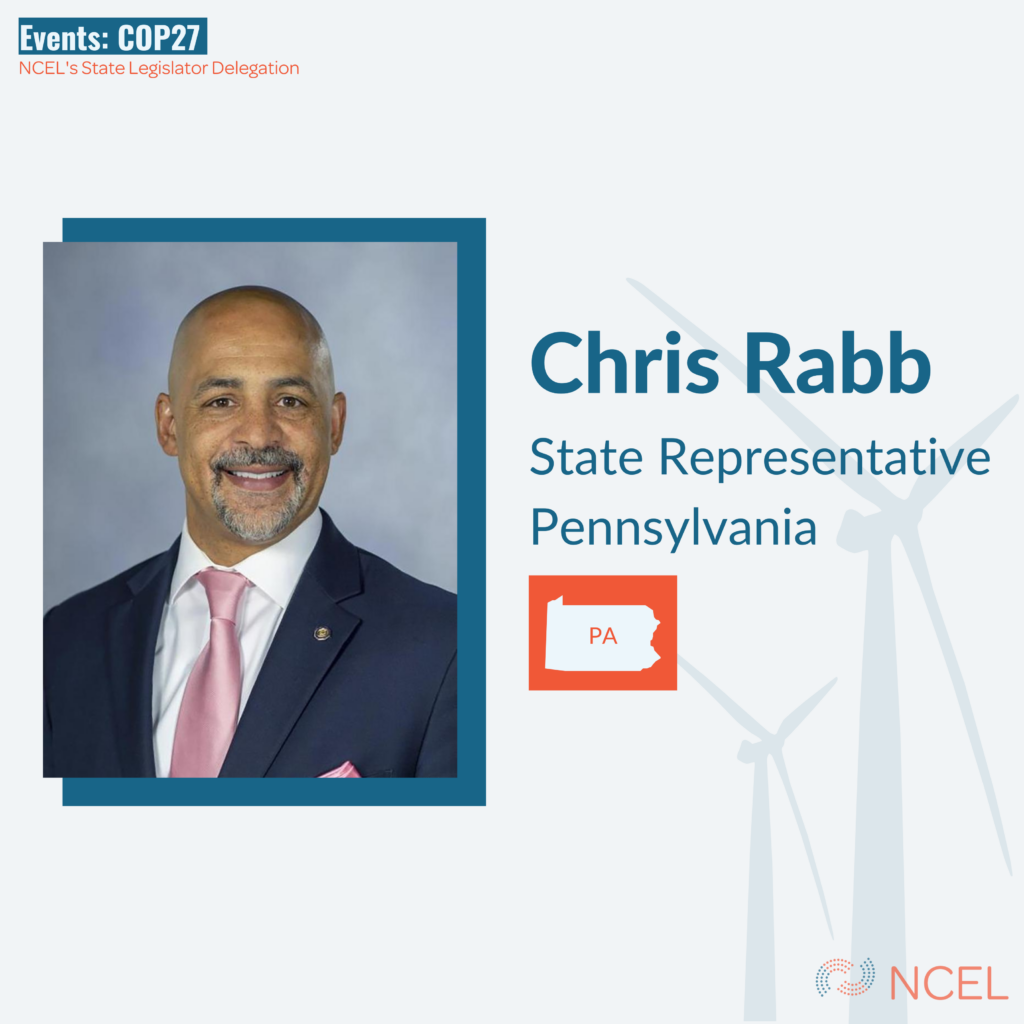 Pennsylvania State Representative Chris Rabb
As an NCEL board member and state Representative, Rep. Rabb centers climate action and environmental justice in much of his work. Rep. Rabb was the primary author of a bipartisan 100% renewable energy bill, as well as a host of bills relating to environmental justice, clean energy, and protections against fracking. Learn more.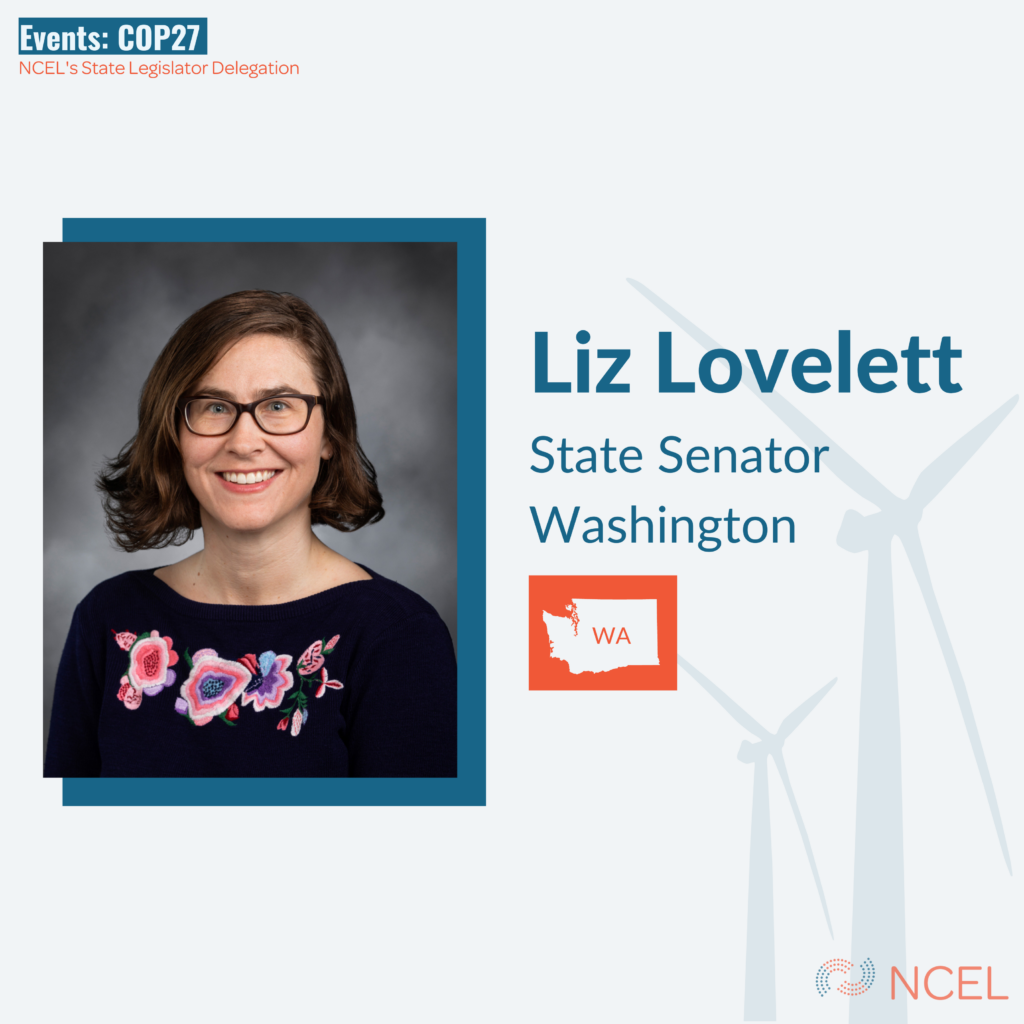 Washington State Senator Liz Lovelett
Appointed to the Washington Senate in 2019 and since winning reelection in 2020, Senator Lovelett is deeply interested in the ways climate policy can be embedded in transportation, land use, and environmental justice. The policy areas she focuses on include maritime decarbonization, renewable energy with an emphasis on offshore wind and transportation fuels, and forest and marine conservation that protects biodiversity and aids in the prevention of wildfires and flooding. Learn more.
Events
Thursday, November 10
Achieving Measurable Climate Benefits Through Innovative Infrastructure Investments in North America
North American subnational leaders will describe recent infrastructure projects for water, transportation, buildings, and clean energy within their jurisdictions that measurably and transparently contribute to the goals of greenhouse gas mitigation, climate resilience, and equity for a net-zero future.
Time: 11:30 AM – 1:00 PM EET (Eastern European Time)
Location: Osiris room
Hosts: US Green Buildings Council, Georgetown Climate Center, the Climate Registry
NCEL Panelists: Maryland State Delegate David Fraser-Hidalgo will speak on the State Government Panel
---
Friday, November 11
The Business of Changing the Trajectory to 2030 and Beyond
The time for solutions is now. Join a discussion with U.S. companies and local governments that bring technology, finance, business solutions that advance the energy transition and increase resilience. Hear how public-private partnerships, meeting customer needs and addressing supply chain emissions and risks, and engaging communities are the building blocks of meeting our 2030 mitigation goals.
Time: 11:30 AM – 12:30 PM EET
Location: America Is All in Pavilion
Host

: Business Council for Sustainable Energy

NCEL Panelist: Assemblymember Howard Watts, Nevada
---
Saturday, November 12
Dialogue between US and Argentinian subnational leaders
Subnationals from the US and Argentina will convene to share experiences, exchange best practices, and learn from each other.
Time: 11:00 AM – 12:00 PM EET
Host:

NCEL and Argentinian delegation

Participants: Assemblymember Howard Watts and Delegate David Fraser-Hidalgo
Multi-Actor Partnerships for Renewable Energy
Last year's COP26 ended with ambitious commitments for Just Energy Transition Partnerships (JET-Ps) to accelerate the deployment of renewable energy in countries such as South Africa, India, Vietnam, the Philippines, and China. Multi-actor partnerships (MAPs) have proven to be an effective tool for advancing the energy transition, especially at the local level, with solutions tailored to the specific circumstances of each region. This year, the focus of COP27 is on how governments can deliver on their promises to take action towards 1.5C and build a just, sustainable and resilient future for all. Against this background, it is crucial to bring together Members of Parliament with stakeholders from different sectors to share knowledge and ideas on MAPs and JET-Ps and identify further opportunities. This joint event aims to exchange experiences of successful multi-actor partnerships and explore further options for scaling up these efforts, particularly in G20/G7 countries as well as in climate-vulnerable countries.
Time: 2:00 – 4:00 PM EET
Location: Area B of the Blue Zone, stand number P 22
Host: IRENA (International Renewable Energy Agency)
Attendees: Delegate David Fraser-Hidalgo, Maryland and Assemblymember Howard Watts, Nevada
U.S. State and Local Leaders Roundtable
This will be an opportunity for US state and local governments to talk about how to better coordinate between levels of governance for maximum climate impacts. Attendees will also discuss the best use of federal funds.
Time: 4:00 – 5:30 PM EET
Location: America is All In
Host: ICLEI and NCEL
Attendees:

Assemblymember Howard Watts, Nevada
Delegate David Fraser-Hidalgo, Maryland
Mayor Sam Liccardo, San Jose CA
Mayor Frank Cownie, Des Moines, IA
Mayor Elizabeth Kautz, Burnsville, MN
Mayor Errick Simmons, Greenville, MS
Meghan Tare, University of Texas Sustainability Director (ICLEI USA board member)
Councilmember Kelly King, Maui HI
---
Monday, November 14
In the Laboratories of Democracy: How States Will Advance Climate Action Through Federal Funds
States are often referred to as the "laboratories of democracy" and have pioneered innovative climate policies. With the historic investment provided through the federal Bipartisan Infrastructure Law and Inflation Reduction Law, states and the federal government will work as partners to advance decarbonization and equity. Hear from state legislators on how their states have been responding to the climate crisis and how they plan to implement the new federal funding.
Time: 10:00 – 11:00 AM EET
Location: America is All In
Host:

NCEL

Panelists: Washington State Senator Liz Lovelett, Pennsylvania State Rep. Chris Rabb, Indiana State Rep. Carey Hamilton, and California State Senator Henry Stern