NCEL Blog
Impacts of 2020 Election on State Environmental Policy
December 1, 2020
Overview
The 2020 elections brought changes to the federal landscape but left most state legislative majorities remain relatively unchanged. Given this new landscape, NCEL outlines state legislature makeups, the election's impact on state environmental policy, and why states matter.
Broad Trends Across the States
Overall, most state legislative majorities remain relatively unchanged. Following the 2020 election, partisan control of the nation's 98 partisan state legislative chambers is as follows:
Republicans will hold 60 state legislative chambers.
Democrats will control 37 state legislative chambers.
While Republicans won a plurality of seats in Alaska's House and Senate, control of the chambers depends on establishing a governing coalition. These are still yet to be determined leaving the control of Alaska still unknown.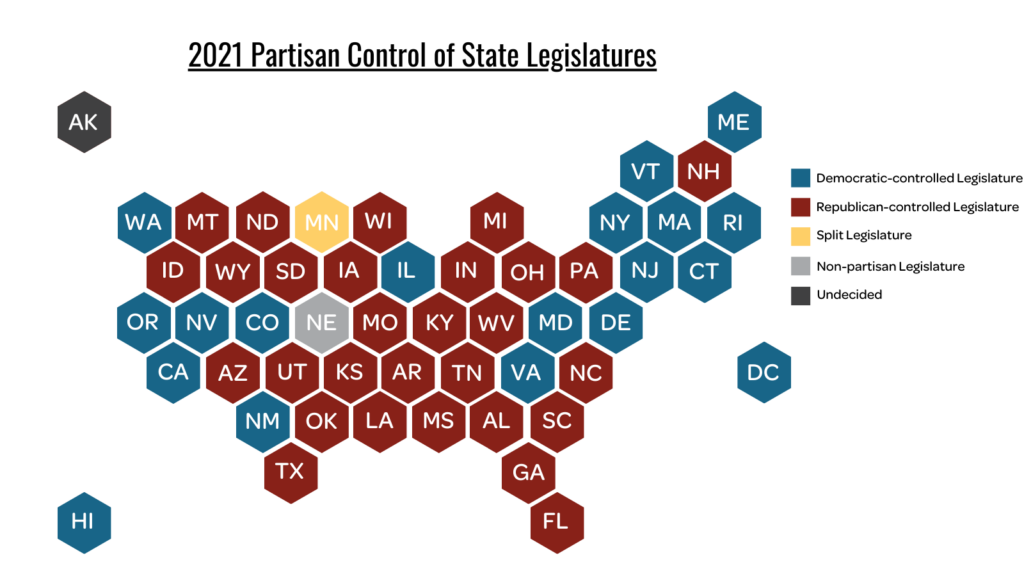 Overall party control of the states — holding the House, Senate, and Governorship — is as follows:
Republicans fully control 22 states. This is two more states than before the election.
Democrats fully control 15 states. This is the same amount as before the election.
11 states have divided governments with split control between legislatures and the governorship.
Minnesota is currently the only state with split party control of the legislature.
Control in Alaska is still to be determined due to unknown coalitions.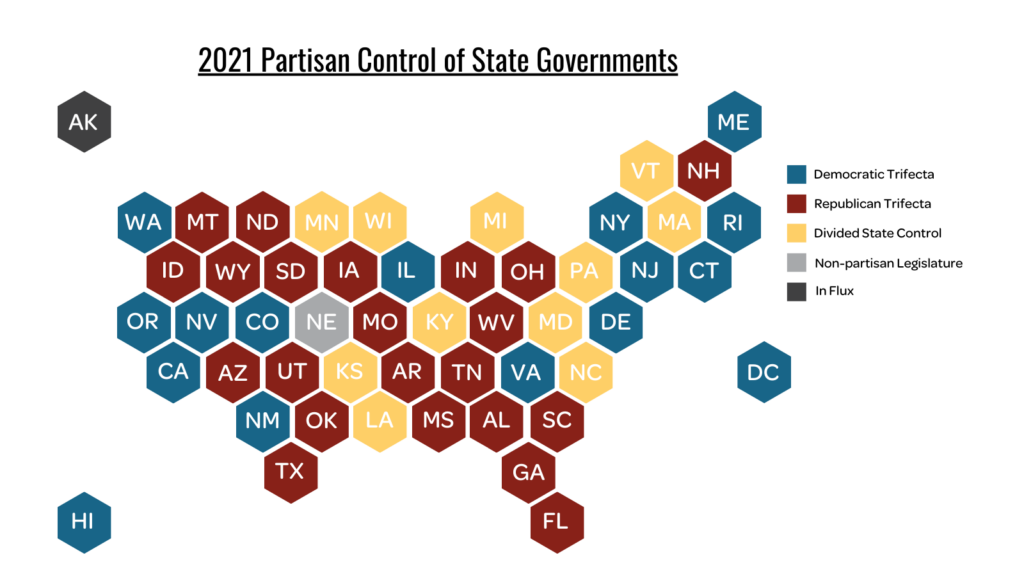 Impacts on State Environmental Policy
NCEL staff have identified a few of what we believe to be policy opportunities in the states. For more information on what legislation is moving in the states, visit ncel.net.
In the coming year, bold decarbonization, clean energy jobs, and carbon pricing will be primary focuses for many states. As states balance budget shortfalls with the need to spur economic activity, we anticipate a greater focus on job creation in the clean energy sector. The pandemic, along with climate disasters and racial injustice, has also spurred conversations in states about how to comprehensively address climate in policies that intertwine decarbonization, equitable job creation, and environmental justice. As climate receives increased attention on the federal level through regulations and Executive Orders, states will be crucial partners.
Wildlife and land and water protections will continue to be a focus in 2021. The pandemic has brought attention to the issue of wildlife diseases and ways that states can address/prevent the spread of future wildlife diseases through policy options, including wildlife trafficking bans. Land and water protections include a growing movement to preserve 30% of land and water by 2030. As state interest grows, the 30×30 movement presents a great opportunity for federal and state collaboration.
States have led the way the past few years on addressing single-use plastic pollution and PFAS contamination. When COVID-19 hit, many states were forced to shift focus or pause some of their work on banning single-use plastics. We expect to see renewed energy on this topic in 2021 and the potential for multiple state policy successes as lawmakers and advocates center their efforts on the plastic lifecycle and its detrimental effects on health.
Events of 2020, such as the Black Lives Matter movement and COVID-19's disproportionate impacts of communities of color, refocused national attention on racial and environmental justice issues. NCEL staff expect to see a greater state policy focus on environmental justice and equity in 2021.
States Matter
With the continued Congressional gridlock, most environmental action at the federal level will be done through regulations or executive actions. State legislation is stronger and has a more lasting impact than regulations and executive orders which can be overturned by other administrations. This makes a focus on state action will remain crucial for continued progress and action on climate and the environment.
The 2021 state sessions will face enormous challenges from the pandemic and the need for economic recovery, but environmental champions in the legislatures remain committed to action, and their ranks have grown. Ongoing investment and focus on the states will continue to yield tremendous environmental successes in the years ahead.
Read the full election analysis memo for a full breakdown of legislative makeups, diversity in state legislatures, and the impacts on state environmental policy.