NCEL Blog
Earth Day 2021: States Are Key to Restore Our Earth
April 22, 2021
As we celebrate another Earth Day amidst a historic pandemic, we're reminded of the importance of a healthy planet for the well-being of us all.
The outdoors has served as an escape for many during the pandemic, offering a place to safely recreate and enjoy time with one another. But we have also seen the need to restore our Earth for future generations with a focus on equity and justice. The pandemic has been a clear example of how low-income and communities of color are disproportionately impacted by environmental injustices. As a result, our efforts to rebuild after this crisis must focus on restoring our Earth to ensure a healthier environment for all.
While the federal government is showing a renewed focus on environmental protections and climate action, states have remained a consistent leader on these issues for years. From addressing pandemics at the source, to reducing plastic pollution, and taking bold steps to address climate change, states across the country are leading the way on how to Restore Our Earth in 2021.
States are restoring our Earth through wildlife and land protections.
Over 75% of newly emerging infectious diseases, such as COVID-19, originate in wildlife. Their spread is exacerbated by deforestation, wildlife exploitation, and climate change. The costs of wildlife diseases to public health are enormous and tend to fall disproportionately on low-income and minority communities, stemming from poor health care access and structural discrimination.
By preserving land and protecting wildlife, states are working to prevent future pandemics. In 2021, six states introduced legislation to regulate wildlife trade and exploitation. States include California, New Hampshire, New Jersey, New York, Oregon, and Washington.
Protecting land and water will not only help to prevent future wildlife diseases, but can also help to mitigate climate change. That's why many states support a national 30×30 conservation goal in an effort to avoid a catastrophic nature crisis. 30×30 is a conservation goal of protecting 30% of land, water, and oceans by 2030. This year at least four states are considering legislation to further this goal. States include Hawaii, Michigan, Nevada, and New York.
States are restoring our Earth through climate action.
A crucial component of restoring our Earth is addressing climate change. In order to avoid the worst effects of warming, we must completely decarbonize before midcentury. States have led on climate action and advancing bold environmental protection that have set national precedents.
This year has been no exception, with Rhode Island and Massachusetts passing bold net-zero emissions policies, Virginia adopting clean car standards, and Delaware passing a 40% Renewable Portfolio Standard.
Addressing climate change is especially challenging because heat-trapping climate pollutants come from many sources, such as the power sector, transportation, industry, buildings, and land use. However, that means that there are many ways to approach emissions reductions, whether that's by passing offshore drilling bans, promoting energy efficiency, or supporting reforestation. With so many opportunities for decarbonization, each state has a role to play in addressing the climate crisis.
States are restoring our Earth through plastic pollution reduction.
States have led the charge on addressing the growing plastic pollution crisis, in which the U.S. generates the most plastic waste but recycles just 9%. From implementing task forces, source reduction strategies, passing comprehensive bans, and considering extended producer responsibility (EPR) models, states have introduced landmark bills and inspired action at the Federal level.
This year, legislators from nine states announced a coordinated effort to hold producers responsible for the end-of-life management of plastic packaging.
By working together, these states are also addressing the environmental injustices from incinerators, packaging contents, and landfills. Each of these has disproportionate impacts on low-income and communities of color resulting in increased air pollution and toxic chemical exposure.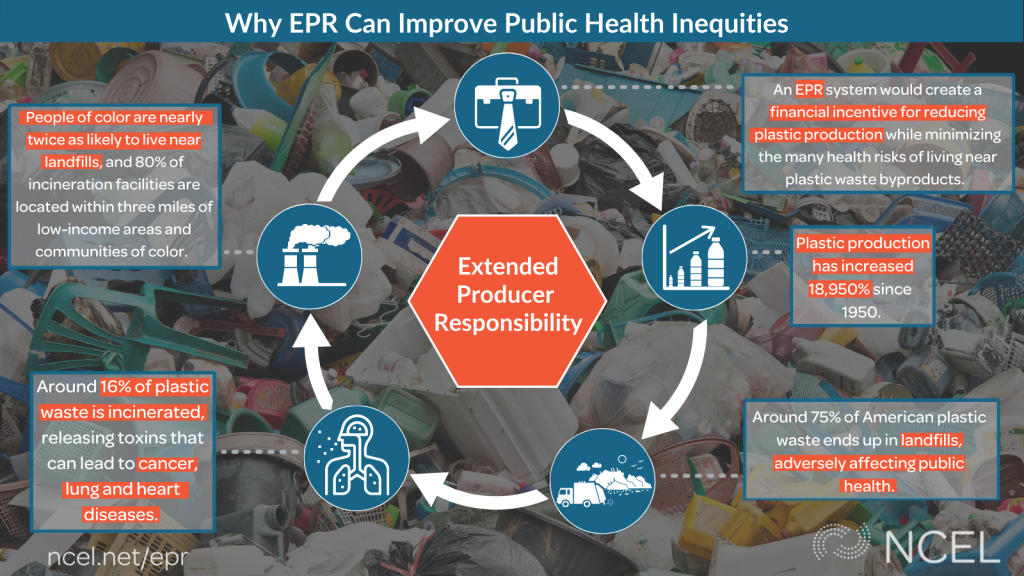 States are restoring our Earth through equity and environmental justice.
In addition to ensuring equity in all their policies, legislators across the country are also pursuing comprehensive environmental justice legislation.
In 2020, New Jersey passed a landmark bill to protect low-income communities and communities of color from the disproportionate health impacts of pollution. This bill requires that a new or expanded facility that plans to be located in or near an "overburdened community" prepare an environmental justice impact statement.
In 2021, Colorado introduced a bill that would create an EJ task force & require increased state outreach to impacted communities in order to minimize their environmental burdens.
Through ensuring equity in environmental legislation, states have committed to restoring Earth to a more just and sustainable version of itself as we collectively recover from a historic pandemic.