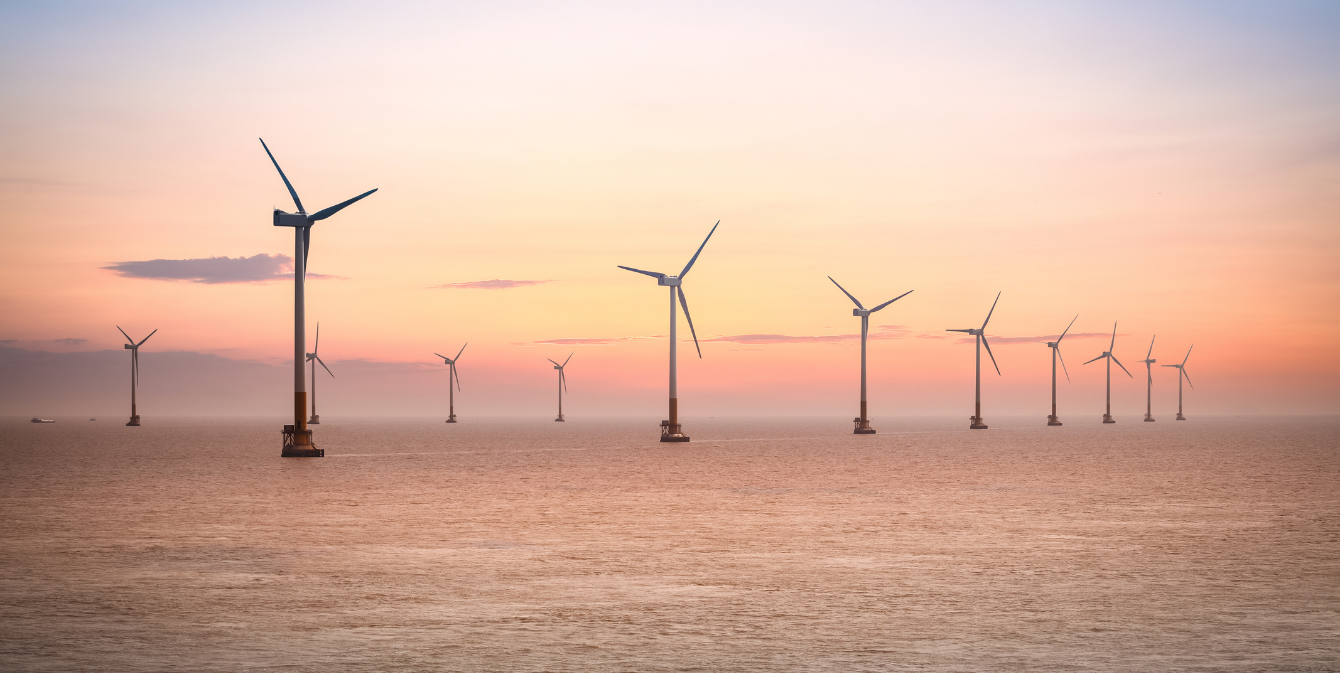 NCEL Blog
Deepwater Horizon Anniversary and the Future of Ocean Energy
April 20, 2022
This piece was written by Olivia Amitay, NCEL Communications Intern. Olivia is a recent graduate from Boston University where she earned a B.S. in Public Relations and a minor in Environmental Analysis & Policy.
12 Years After Deepwater Horizon, States Look Towards the Future of Offshore Wind
Today marks the 12th anniversary of the BP Deepwater Horizon Oil Spill, one of the worst environmental disasters in American history. The accident killed 11 crew members and released more than 200 million gallons of oil into the Gulf of Mexico over 87 days.
The spill harmed or killed about 82,000 birds, 6,165 sea turtles, 25,900 marine mammals, and an immeasurable number of fish. On top of the environmental consequences, the spill caused a loss of more than $500 million to the recreation industry, $1 billion to the seafood industry, and a five-year price decline of 4% to 8% in the regional housing market.
Even without major spills making the headlines, spills from platforms, pipelines, tankers, and coastal facilities release 157,000 barrels of oil every year. Day-to-day offshore drilling operations also release toxic pollution and greenhouse gasses into the air and water, which accelerates climate change and ocean acidification.
Offshore Wind Solutions
After the Deepwater Horizon spill, elected officials of coastal states pushed the federal government to issue stronger regulations for offshore drilling and have continued to advance legislative protections for their shoreline communities. One solution to combat offshore drilling is the transition to clean and renewable offshore wind.
U.S. waters contain an estimated two terawatts of offshore wind capacity, which is enough energy to power roughly 1.6 billion homes. Beyond the environmental benefits, full deployment of offshore wind could provide $440 million in annual lease payments, $680 million in annual property tax payments, and up to 160,000 jobs. With the right policy drivers and a robust stakeholder engagement process, coastal and Great Lakes states have the opportunity to move away from the threats of offshore drilling in favor of a clean energy future.
State Action
In 2022, at least 10 states are working on offshore wind legislation, with states establishing nearly 45,000 Megawatts of offshore wind procurement targets to date.
States in the Northeast also came together this year to highlight the need for coordination and healthy competition in offshore wind development.
Reflections from State Legislators
Members of the Coastal Working Group reflect on how their states are preventing future disasters like Deepwater Horizon and what the future of offshore wind could look like.
Representative David Michel, Connecticut
"In this transition time it is crucial to do all we can to reverse our contribution to climate change and prevent devastating events from happening. We have an opportunity with offshore wind to raise strict environmental standards, and ensure we limit to the most of our abilities any damages to the marine environment, while creating new careers in New England."
Representative Julie von Haefen, North Carolina
"North Carolina's coastline has tremendous clean energy potential and capitalizing on our offshore wind capacity would bring thousands of good-paying jobs to our state. I am excited about the future of offshore wind in North Carolina and its potential to uplift our economy and provide our communities with a cleaner, healthier, and more independent energy system."
Representative Pricey Harrison, North Carolina
"North Carolina is committed to offshore wind development, with the goal of producing enough energy by 2040 to power 2.3 million homes. In addition to the economic benefits for North Carolina, offshore wind development will help achieve the North Carolina Clean Energy Plan goal of a 70% reduction in power sector greenhouse gas emissions by 2030 and carbon neutrality by 2050. In partnership with Maryland and Virginia, North Carolina is ready to lead the way in promoting, developing, and expanding offshore wind energy in the Southeast and Mid-Atlantic regions."
Representative Vicki Doudera, Maine
"In 2019, the Maine Legislature recognized that oil drilling in the Gulf of Maine posed a real threat to our state's tourism and fishing economies, and we acted to protect our coastal economy, environment, wildlife and health by passing a ban on offshore oil and gas drilling and exploration in Maine's ocean waters. It was signed into law by Governor Mills that June. That same month, Maine began exploring opportunities for thoughtful development of offshore wind energy in the Gulf of Maine. We've always aimed to balance this industry development with our state's maritime heritage and existing marine uses, because ensuring sustainable preservation of the natural resources in the Gulf of Maine is paramount."
Senator Julian Cyr, Massachusetts
"Oil drilling will continue to alter our fragile ocean ecosystem and contribute to the climate crisis in irreversible ways if we do not transition away from fossils fuels immediately. In Massachusetts, we have introduced legislation to ban offshore drilling, expansion, exploration, and development in state waters. Offshore wind is a cleaner and greener alternative that will help us protect our environment and invigorate our blue economy."
Delegate Mark Keam, Virginia
"To prevent such disasters from happening off the coast of Virginia, I was proud to author a bipartisan bill that bans new state permits that continue offshore drilling in the Outer Continental Shelf Planning Area of the Atlantic Ocean. I was also pleased to support legislation to use Virginia's coast for offshore wind in place of drilling for fossil fuels." 
Senator Liz Lovelett, Washington
"In Washington state, we have taken bold steps toward decarbonizing our economy. From passage of the Clean Energy Transformation Act which puts our electricity sector on a pathway to carbon neutrality by 2045 to enacting a Clean Fuel Standard, we are targeting the sectors that are contributing most to climate change. With regard to offshore wind, I believe it has the potential to unlock opportunities to not only transition away from fossil fuels, but to stimulate our economy, provide clean reliable power, and well-paying jobs. In consultation with our Tribal partners and stakeholders focused on ecosystem preservation, we can ensure these technologies are installed with utmost care and concern for our shared natural environment. Together we can create new energy systems to benefit our communities and future generations."