NCEL Blog
Asian American & Pacific Islander Heritage Month
May 2021
In celebration of Asian American, Native Hawaiian, and Pacific Islander (AANHPI) Heritage Month, NCEL is recognizing state legislators across the country. NCEL strives to base its environmental work in environmental justice and racial equity.
NCEL strongly condemns the anti-Asian harassment and violence that has been increasingly observable during the last year, particularly towards women and elders of Asian descent. We recognize that this racism has been present for much longer than it has been in the public eye, and we are committed to doing our part to uplifting environmentally and socially just policies in an effort to combat the ongoing xenophobia, violence, and systemic structures of oppression.
Throughout the month of May, we lift up Asian American, Native Hawaiian, and Pacific Islander legislators for their commitment to environmental issues. Throughout history, AANHPI communities have made significant contributions to preserving the United States' natural resources. A recent example includes a group of Native Hawaiians who led a successful grassroots campaign resulting in the protection of two of the world's largest marine protected areas, the Northwestern Hawaiian Islands and Papahānaumokuākea. Organizations like Asian Pacific Environmental Network and Chicago Asian Americans for Environmental Justice also play leading roles in advancing bold climate legislation or remediating polluted soil.
Asian Americans have been critical to the advancement of environmental justice in the United States. Charles Lee, a Chinese-American and now a Senior Policy Advisor for the Office of Environmental Justice at EPA, was the primary author of "Toxic Wastes and Race in the United States." Published in 1987 by the United Church of Christ, the groundbreaking report used national data to demonstrate that race is the most predictive factor for where toxic infrastructure is located.
For these efforts, among many others, NCEL is thankful and aims to support future work of its kind.
Reflections from the NCEL Board
State Representative Maria Robinson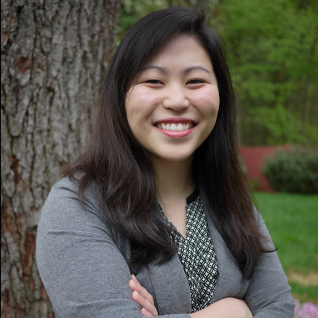 As we celebrate AAPI Heritage Month, I've been reflecting on the similarities between the AAPI movement in America and the environmental justice movement. Although both groups have long, storied histories in our country, although it has taken devastating tragedies for those stories to come to the forefront over the recent past. AAPI-identifying people are often assumed to be educated and wealthy, yet Southeastern Asian American and Pacific Islander groups are among the fastest-growing ethnic groups into poverty and are likely to be living in environmental justice communities. As we at NCEL continue to work to improve air and water quality and improve environmental conditions through state policy across the United States, there is a natural alliance to be made with underrepresented communities, including AAPI groups, to partner and work towards our shared goals of a cleaner and brighter future.
---
Legislator Spotlights
Delegate Mark Keam – Virginia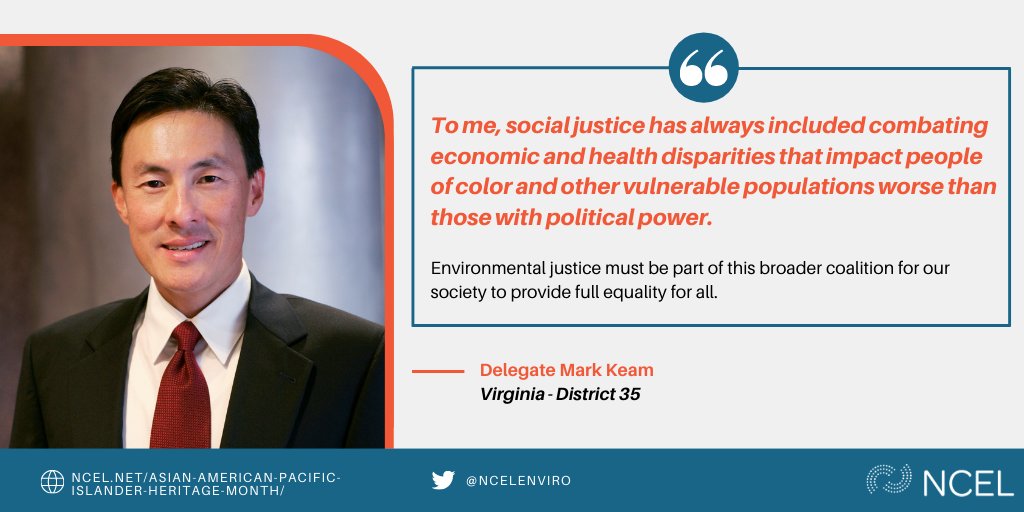 Why are environmental justice and centering anti-racism in your environmental work important to you?
"I was a civil and human rights activist long before I ran for office, and to me, social justice has always included combating economic and health disparities that impact people of color and other vulnerable populations worse than those with political power. Environmental justice must be part of this broader coalition for our society to provide full equality for all."
What is a piece of environmental legislation that you are proud of that addresses justice and equity issues?
"In 2019, I introduced the first bill in Virginia to address environmental justice. The next year, I was successful in passing HB 704, the "Virginia Environmental Justice Act," into law which declares as policy the promoting and carrying out environmental justice in Virginia. This year, we are working to expand the specific responsibilities that state agencies must follow to review their actions for environmental justice impacts."