NCEL Blog
A History of Offshore Drilling and Where States Are Today
April 19, 2019
Noah Schulman was a contributing author to this blog. Noah is NCEL's 2019 spring intern. He is studying Environmental Science and Sustainability at Cornell University.
In 1969, the Santa Barbara Oil Spill became the first major oil spill in US history. Since then, the US has had at least 44 oil spills, each spilling more than 420,000 gallons of oil.
The 2010 Deepwater Horizon disaster spilled over 130 million gallons of oil into the Gulf of Mexico. The disaster killed 11 people and left the Gulf coast and economy scarred for years to come. In the weeks following the blowout, the threats from offshore drilling were the leading environmental issue in the US.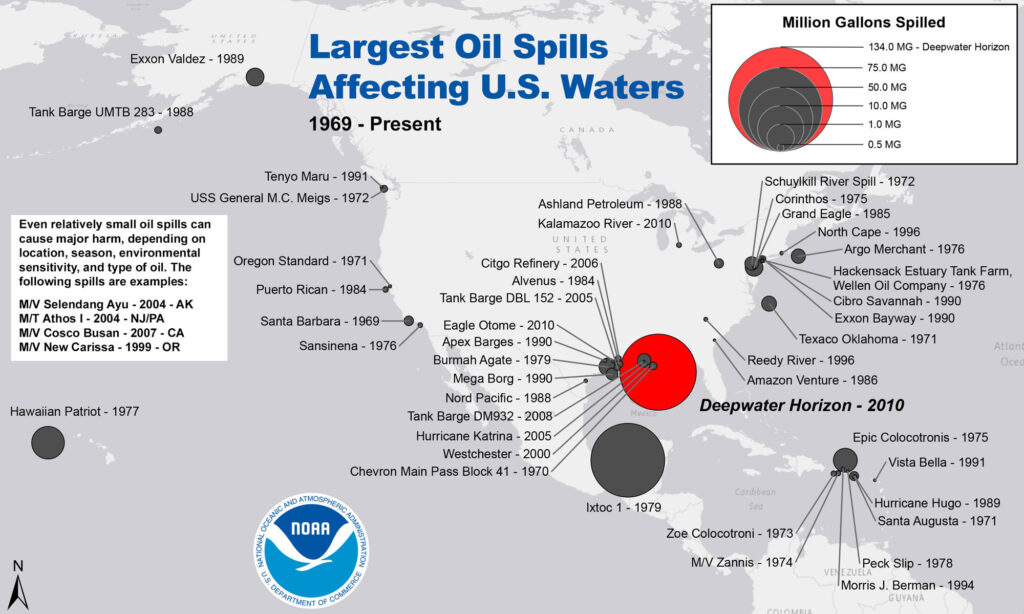 Almost 10 years later, the Department of Interior is pursuing a massive expansion of offshore drilling. This expansion would increase the chances of another oil spill. In January 2018, the Bureau of Ocean Energy and Management (BOEM) released its draft 2019-2024 National Outer Continental Shelf Oil and Gas Leasing Program. The plan proposes expanding offshore drilling and exploration to more than 90 percent of US waters. More than 340 coastal communities, many environmental and business groups, and elected state officials have come out in opposition to this proposal.
Risks from Offshore Drilling
Areas included in BOEM's 2019-2024 plan include the Atlantic Coast, Pacific Coast, and Eastern Gulf of Mexico. Many of these have not been available for drilling in 30 years. Studies show projections for recoverable oil or natural gas in these areas are often overestimated by the offshore industry and there is almost no infrastructure in place for drilling. Pursuing offshore drilling in these areas would require large amounts of onshore infrastructure including pipelines, powerlines, and refineries. All of these bring their own environmental and economic hazards.
Coastal industries such as fishing and tourism have historically been hurt or eliminated by new offshore drilling projects. According to Oceana's Offshore Energy by the Numbers Report, drilling in the Atlantic would risk 1.4 million jobs that depend on healthy oceans. These jobs include fishing, tourism, and recreation. By comparison, offshore drilling is projected to provide only 127,682 jobs to the region. To further contrast this, developing offshore wind energy in the Atlantic would create 218,640 jobs.
State Action
Many states have taken strong positions against offshore drilling along both coasts.
California (AB 1775), Delaware (SB 200), New Jersey (A 839), New York (A 2572), and Oregon (SB 256) have passed bans prohibiting offshore drilling within state waters. In addition, there are seven other states considering similar bans this year.
States' ability to regulate state waters – which extend three miles out from shore – as well as land within their state's boundaries, offers a blanket of protection for our nation's coastline. By restricting drilling activities and infrastructure development, such as pipelines and port facilities, states can make drilling costlier and more difficult. Each state that is pursuing or has passed legislation can ensure that not just this Administration, but no future Administrations have the ability to expand offshore drilling within their state waters.
Connecticut (HJ 39) and New Hampshire (HJR 2) are pursuing resolutions which will document their opposition to offshore drilling. These resolutions should be considered by BOEM when developing its leasing plan. Georgia's House of Representatives passed a resolution (HR 48) in opposition to drilling this year.
Last year, Maryland (HB 1456) passed legislation holding offshore drilling operators more responsible for any damages associated with drilling. Massachusetts (H 4857) passed a bill to incentivize alternative forms of offshore renewables, specifically wind energy to decrease its reliance on fossil fuels.
These pieces of legislation are vital in preventing expanded offshore drilling and protecting coastal communities. States are standing strong together, building sustainable environments and economies which will remain protected for years to come.