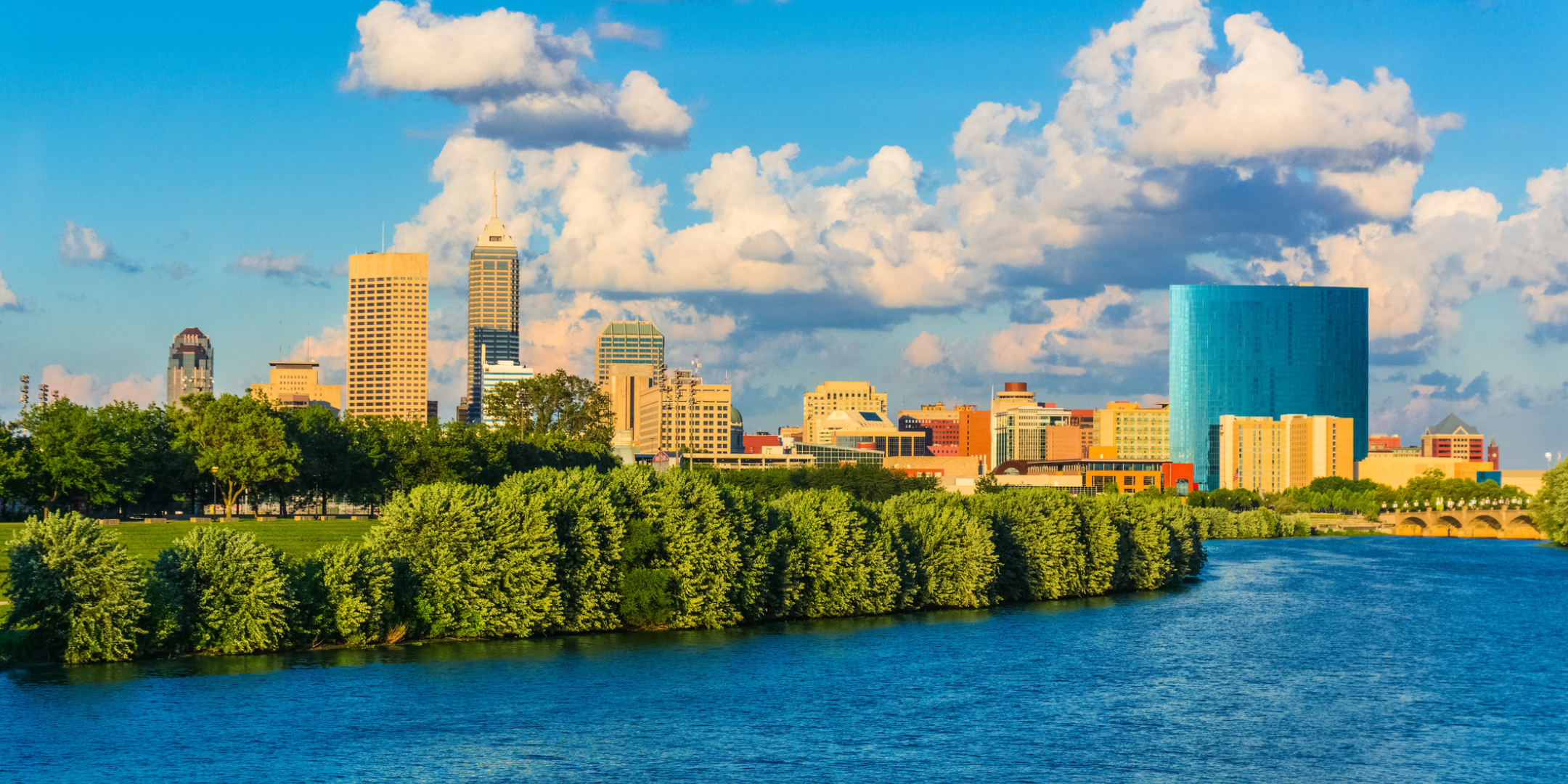 National Forum
2023 National Forum
August 10-12, 2023
More than 100 State Legislators Gather in Indianapolis to Discuss Environmental Policies
Overview: Legislators from across the country convened for two days at NCEL's 2023 National Forum to network, learn about trending environmental solutions, and collaborate for a healthier planet and people.
---
On August 10-12, over 100 state legislators from 39 states and territories convened for NCEL's 2023 National Forum in Indianapolis, Indiana. The event provides lawmakers the opportunity to learn from one another and collaborate on policy solutions related to climate, energy, conservation, and environmental health.
Keynote speakers included Henk B. Rogers, the founder of Blue Planet Alliance and the founder and chairman of the Board for Blue Planet Foundation, and Janet McCabe, the Deputy Administrator of the U.S. Environmental Protection Agency. Legislators also heard from Joel Moffett with Native Americans in Philanthropy during a plenary regarding shared environmental decision-making between state governments and tribal nations.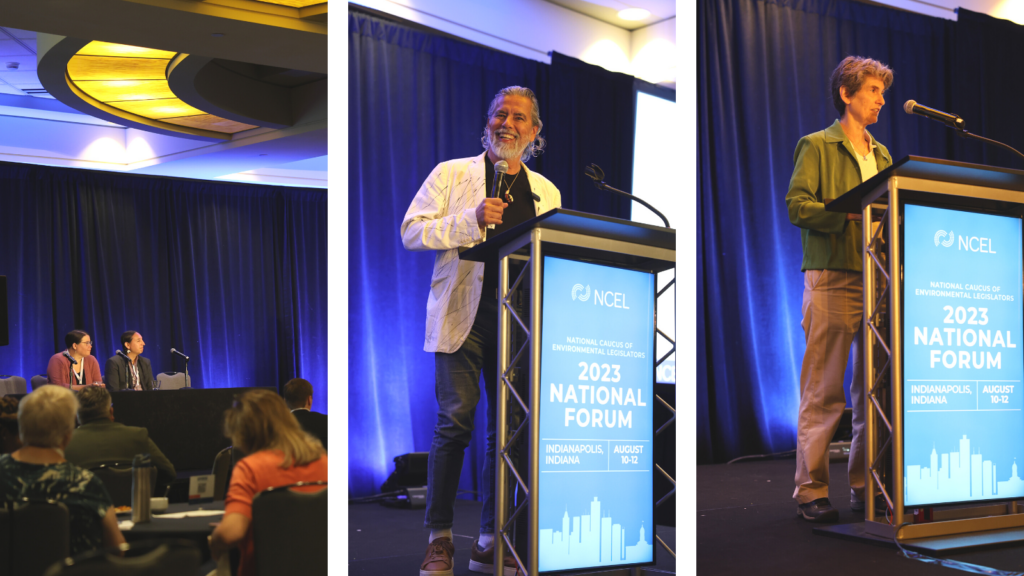 Other session topics included:
a pre-forum session focused on grids and utilities in the PJM and MISO regions
Indigenous leadership and partnership on environmental issues
state policies to address plastic pollution
emerging energy technologies
coastal conservation
cumulative impacts
utility policy
wildlife agencies and endangered species
EV charging
biodiversity threats and policy solutions to habitat loss, invasive species, and wildlife exploitation
reducing dependence on toxic chemicals
Legislators heard from experts from groups such as the Natural Resources Defense Council, Earthjustice, Colorado Energy Office, and the National Oceanic and Atmospheric Administration (NOAA).
2023 NCEL Awards: Recognizing Rising Environmental Leaders, Achievements, and Activism
During day one of the Forum, NCEL recognized six state lawmakers for their work to advance environmental legislation and programs.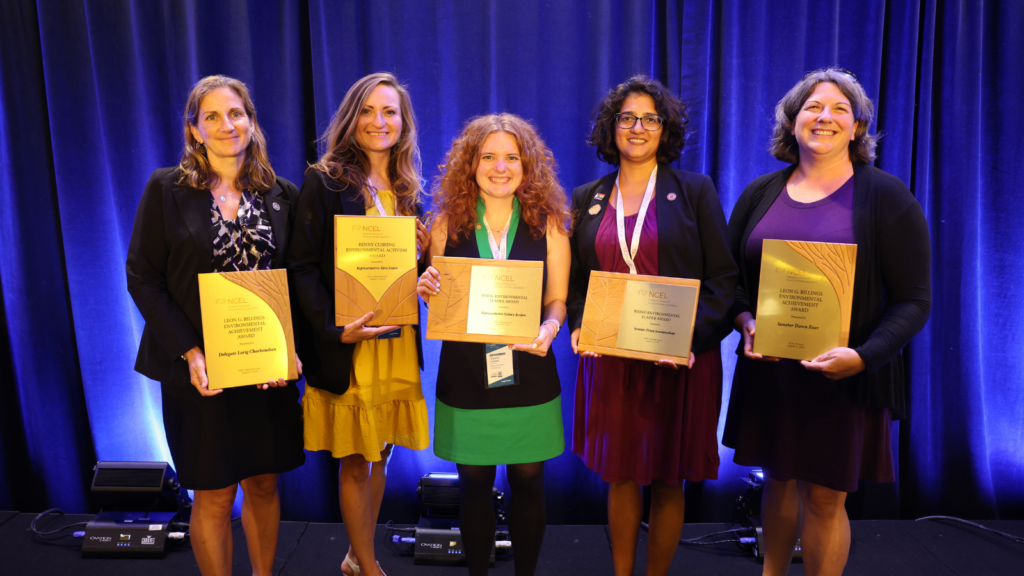 Rising Environmental Leader Award
NCEL presented Minnesota Representative Sydney Jordan and Arizona Senator Priya Sundareshan with the Rising Environmental Leader Awards.
Minnesota Representative Sydney Jordan was recognized for her leadership as Vice Chair of the Environment and Natural Resources Finance and Policy Committee, as well as her work passing the broadest PFAS ban in the country.
Arizona Senator Priya Sundareshan was recognized for her sponsorship of over 15 environmental bills in her first session which addressed transportation electrification, greenhouse gas reduction, groundwater management, and more.
Leon G. Billings Environmental Achievement Award
NCEL presented Maryland Delegate Lorig Charkoudian and Rhode Island Senator Dawn Euer with the Environmental Achievement Award.
Maryland Delegate Lorig Charkoudian is a network leader with her robust knowledge of complex energy and grid issues and her dedication to improving the lives of her community. She has fearlessly taken on PJM and FERC Commissioners alike to advocate for transparency and fair treatment of renewable energy in the energy market.
Rhode Island Senator Dawn Euer was recognized for her leadership in NCEL's Coastal Working Group and her exceptional work on ocean issues as well as her work sponsoring landmark bills such as the Environmental Justice Act.
Renny Cushing Environmental Activism Award
NCEL presented Oregon Representative Khanh Pham and New Mexico Representative Tara Lujan with the Environmental Activism Award.
Oregon Representative Khanh Pham was recognized for her work on environmental justice legislation, including championing a 100% clean energy standard in Oregon.
New Mexico Representative Tara Lujan was recognized for her leadership on environmental issues, such as grid modernization and water scarcity.
Evening Receptions and Post-Forum Outdoor Outing
In addition to the formal sessions, this year's Forum also consisted of various social and networking events. We held two evening receptions and a post-forum outdoor outing.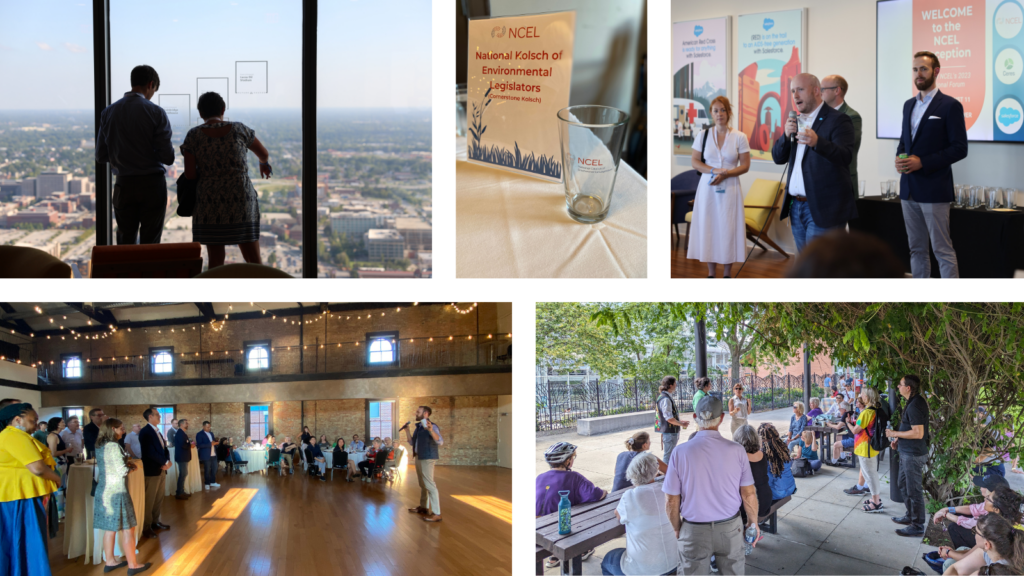 Welcome Reception at St. Joseph's Hall
NCEL hosted an opening reception at St. Joseph's Hall to welcome legislators to Indianapolis. During the evening, attendees enjoyed food, conversation, and legislator-themed beers.
Reception at Salesforce Tower
Following the first day of the Forum, attendees gathered for a reception at Salesforce Tower, the tallest building in Indiana. The reception was co-hosted with Ceres and Salesforce. Legislators socialized and heard remarks from Ceres, Salesforce, and NCEL Board Member Devin Carney.
Outdoor Access as Wellness: Policies, Place, and Pedals
Following the Forum, legislators took a ½ mile walk along the Indiana Cultural Trail for a panel discussion on outdoor policy as access, equity, and climate solutions at the Waterfront Pavilion. Attendees heard from Indiana Representative Cary Hamilton and Dr. Elan Pochedley, 1855 Professor of Anishinaabe Studies. After the panel, the local REI store provided e-bikes for attendees to test out along the Indiana Cultural Trail.
Looking Forward: What 2024 Holds for State Environmental Action
Legislators left the National Forum feeling energized and empowered to continue bold environmental action in 2024. The Forum provides a unique opportunity for legislators to share successes, lessons learned, and inspire each other for the upcoming legislative session. Going into 2024, states are poised to continue leading on environmental action.
Created by and for state legislators, the National Caucus of Environmental Legislators is a 501(c)(3) nonprofit that organizes over 1,200 environmentally-committed state legislators from all 50 states and both parties. NCEL provides venues and opportunities for lawmakers to share ideas and collaborate on environmental issues.
---
Thanks Again to Our Sponsors
Platinum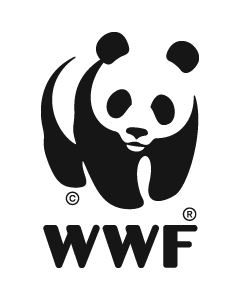 Gold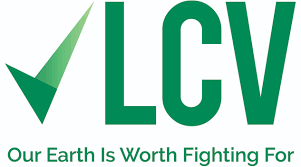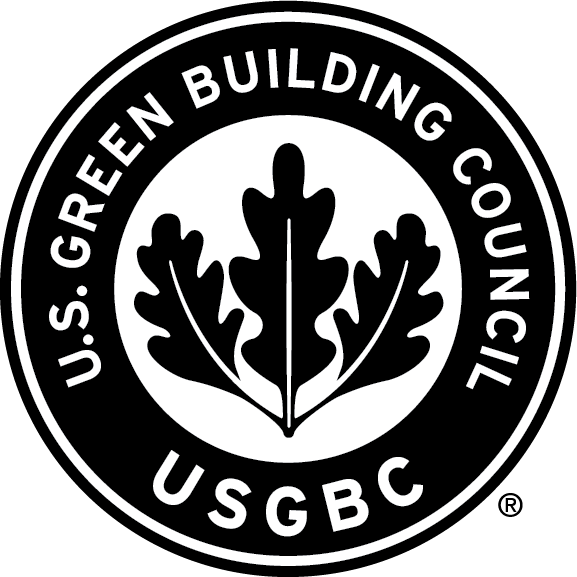 Silver