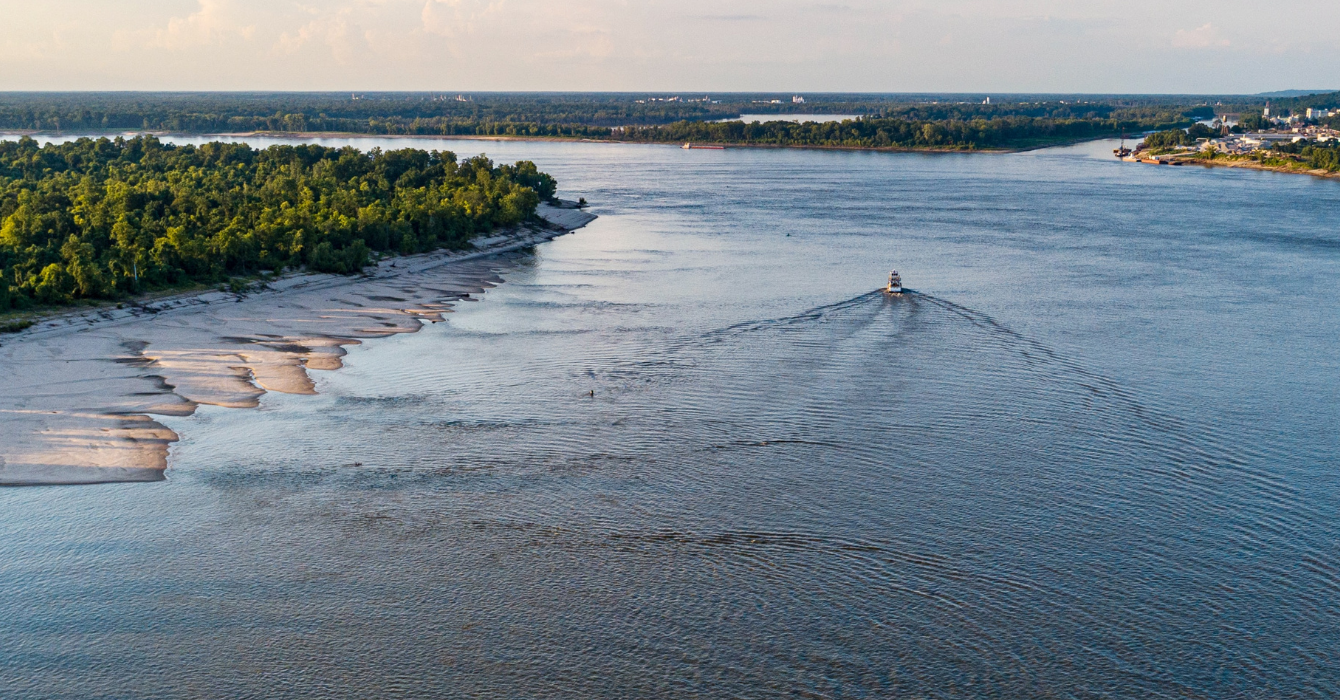 NCEL Events
2022 Upper Mississippi River Tour
June 8-10, 2022
Legislators Learn About a Healthy Mississippi River Through Hands-On Activities
Between June 8-10, MRLC staff traveled from Minnesota to Missouri meeting with state legislators and going on immersive tours to better understand how to protect the Mississippi River. Learn more about each of the stops below.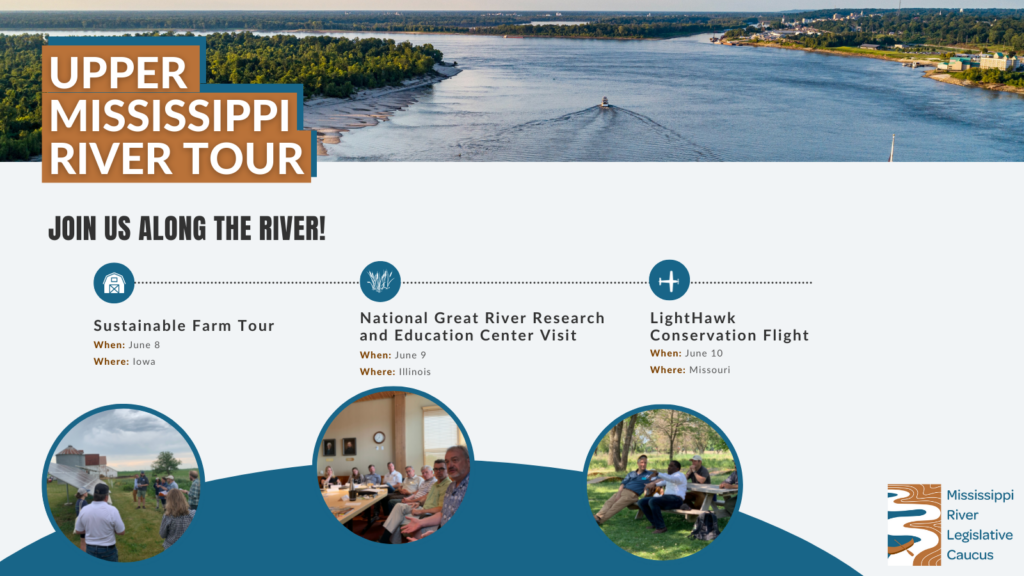 Stop 1: Iowa State University Extension Program Sustainable Farm Tour
June 8
On this tour, attendees heard from researchers about sustainable farming practices. Lead investigators from Iowa State University shared research progress, challenges, and questions. There were three stops on the tour including a look at the "Comparison of Biofuel Cropping Systems (COBS)" long-term research plots, and two edge-of-field drainage research projects: restored oxbows and bioreactors. At the very last stop legislators were able to test the nitrate levels at two different points to gauge the effectiveness of the saturated buffer. Legislators learned more about innovative best management practices, federal resources, and spoke to advocates about opportunities for policy solutions.
"These practices for improving soil sustainability, water quality, and biodiversity also protect the overall environment and keep us connected with nature. Fortunately, there are numerous strategies that are effective. We can thank organizations like MRLC and NCEL that provide opportunities for legislators to experience them first-hand and become better informed about them." – Iowa State Representative Art Staed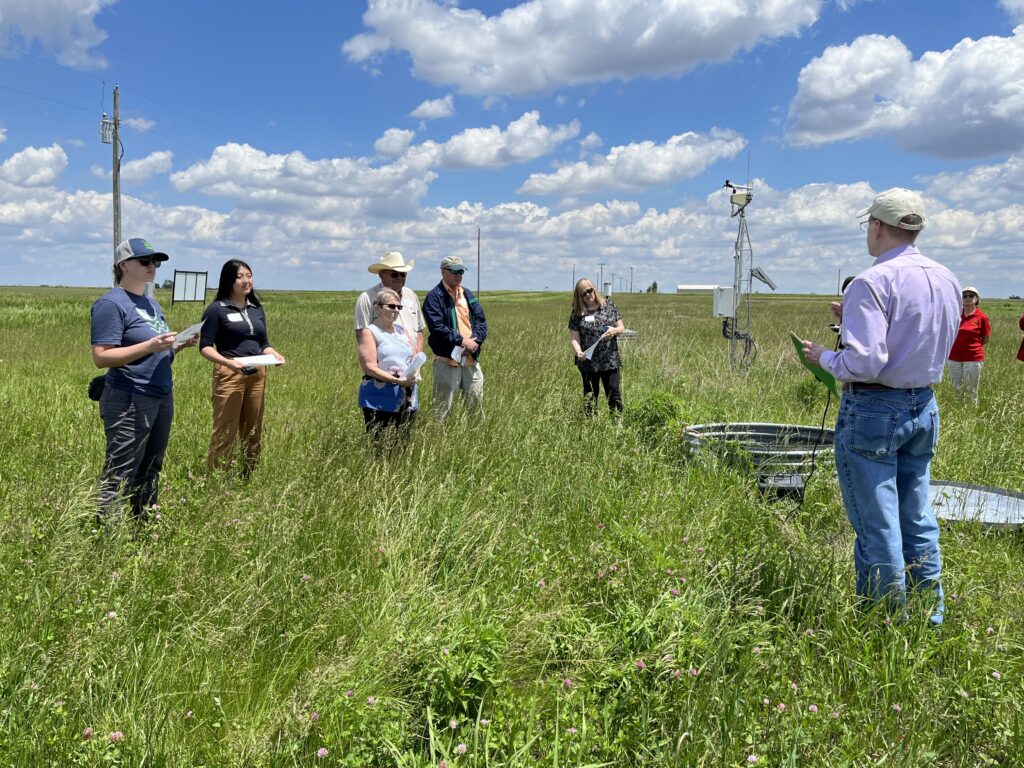 ---
Stop 2: National Great River Research and Education Center
June 9
Attendees learned about water quality and nutrient pollution monitoring from leading scientists working on the issue. They toured the world-class research lab and discussed microplastics, an important emerging contaminant in our water, soil, and air, as well as other threats to the health of the Mississippi River ecosystem such as invasive species. The event was concluded with a roundtable discussion about policy ideas and federal funding opportunities.
"I appreciate bringing other Illinois lawmakers to East Alton to see the outstanding work at the National Great River Research and Education Center, a world-class research center supporting water quality and river health. With ongoing water shortage issues across the globe, it's important to maintain a healthy river system. Our region and the world depend on the success and well-being of the Mississippi River." – Illinois State Representative Amy Elik
"Growing up on the Missouri River in South Dakota, and now living on the Illinois River in Peoria, I understand how rivers are the lifeblood of the nation. Our waterways need to be protected for future generations. I thank all those who work day in and day out to protect our planet's most variable resource." – Illinois State Senator Dave Koehler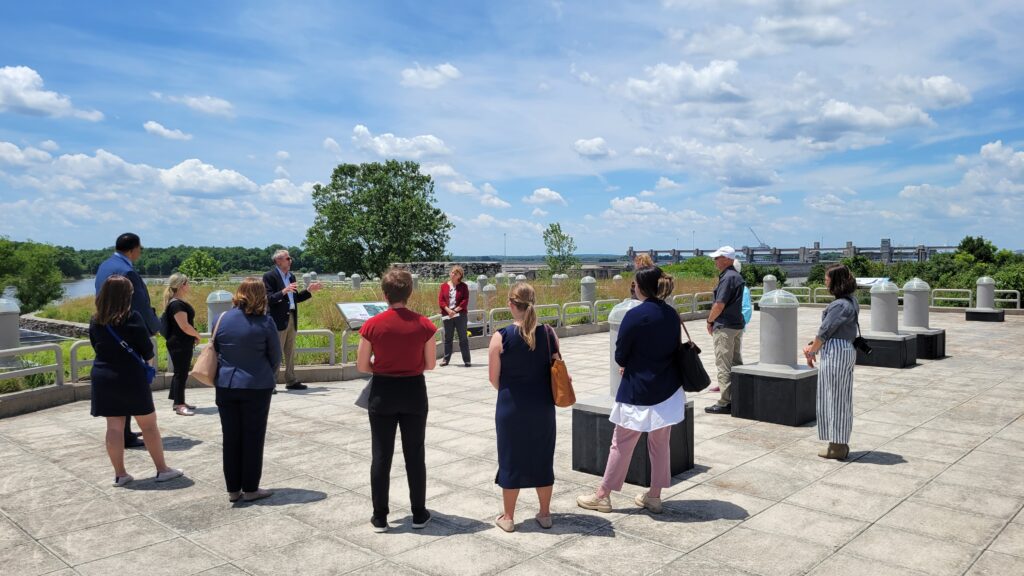 ---
Stop 3: LightHawk Conservation Flight
June 10
On this tour, attendees got the opportunity to fly over the Mississippi River watershed and learn about the history of the floodplain, nature-based solutions to flooding, and policy ideas. We flew over remnants of the old floodplain, dams and levees, and Army Corps of Engineer structures that had unintended flood risk consequences in communities. Legislators also got the opportunity to discuss possible policy solutions and federal funding opportunities with knowledgeable river advocates.