NCEL Events
2021 Mississippi River and Gulf Regional Forum
November 19, 2021
Regional Forum Overview
On November 19, NCEL hosted a forum for legislators in the Mississippi River and Gulf of Mexico region. The event featured a welcome message from Congresswoman Betty McCollum highlighting her Mississippi River Restoration and Resilience Initiative (MRRRI) effort as well as the importance of state action. Legislators then heard from experts about the impacts of Gulf hypoxia and the associated impacts upriver. Finally, legislators learned about policies to enhance water quality and soil health while also ensuring environmental justice is built into policy proposals.
The event featured many opportunities for legislators to share lessons between states and discuss new ways of collaborating. Attendees discussed the importance of building partnerships with educational institutions and organizations along the river as they we identify new policy options. Lawmakers also discussed upcoming federal opportunities, such as effectively deploying federal funds and engaging on the upcoming Farm Bill.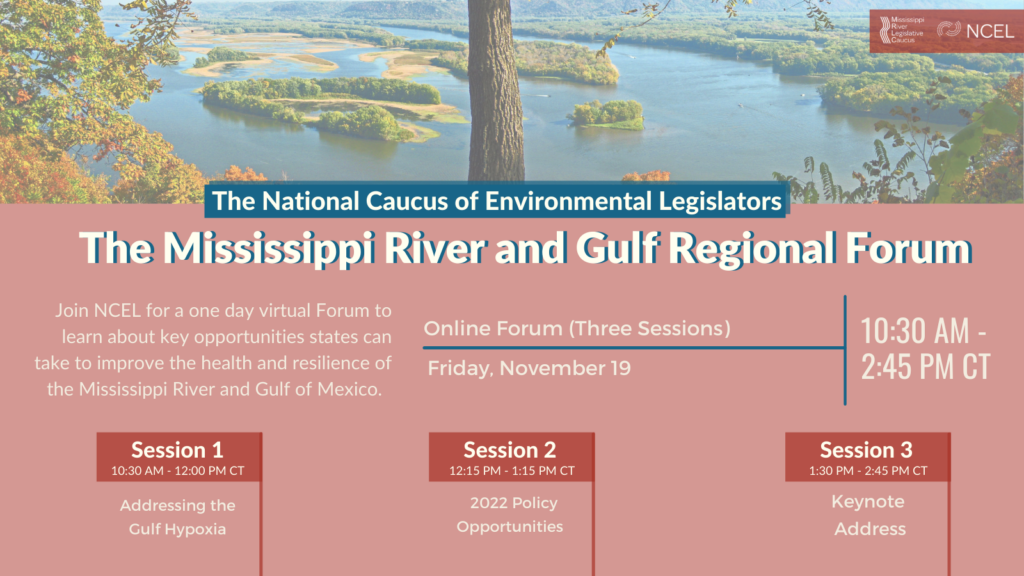 Session 1 – Addressing the Gulf Hypoxia: Opportunities for State Level Action
The oxygen depletion, or hypoxia, in the Gulf of Mexico creates challenges ranging from marine ecological degradation to economic and public health adversities. In this session, attendees will hear the latest on the Gulf hypoxic zone including how the upper, mid, and lower Mississippi River regions contribute to it, and learn key opportunities for state legislators to support a healthier Gulf and a healthier Mississippi River.
Speakers:
Rep. Jerome Zeringue, Louisiana State Representative
Matt Rota, Healthy Gulf
Maisah Khan, Mississippi River Network
Session 2 – 2022 Policy Opportunities
This roundtable discussion will highlight policy opportunities for Mississippi River and Gulf Coast state legislators to create healthier, more just, communities and ecosystems. Attendees will hear from legislators and NCEL staff about innovative state policy approaches from across the region.
Speakers:
Alayna Chuney, NCEL Policy Consultant
Ava Ibanez, NCEL Oceans Fellow
Rep. Chuck Isenhart, Iowa State Representative