NCEL Events
2021 Mississippi River and Gulf Regional Forum
November 19, 2021
Regional Forum Overview
Join state lawmakers from along the Mississippi River corridor states and the Gulf region to network and discuss opportunities to create a healthier Mississippi River and Gulf. This regional forum is made up of three virtual sessions on November 19.
This event is only open to current state legislators and their staff. Please note, each session is a separate registration link.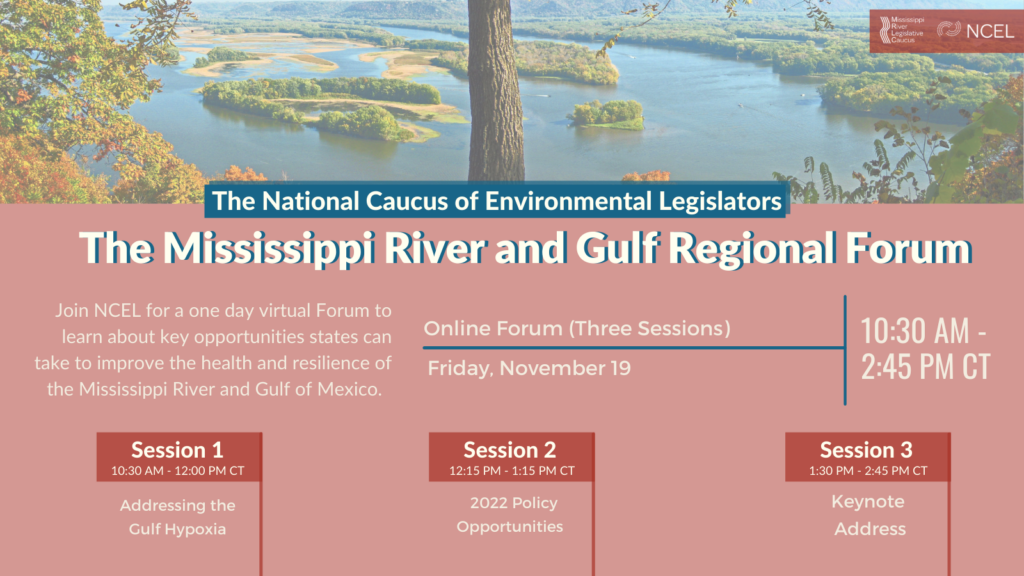 Session 1 – Addressing the Gulf Hypoxia: Opportunities for State Level Action
The oxygen depletion, or hypoxia, in the Gulf of Mexico creates challenges ranging from marine ecological degradation to economic and public health adversities. In this session, attendees will hear the latest on the Gulf hypoxic zone including how the upper, mid, and lower Mississippi River regions contribute to it, and learn key opportunities for state legislators to support a healthier Gulf and a healthier Mississippi River.
Speakers:
Rep. Jerome Zeringue, Louisiana State Representative
Matt Rota, Healthy Gulf
Maisah Khan, Mississippi River Network
Session 2 – 2022 Policy Opportunities
This roundtable discussion will highlight policy opportunities for Mississippi River and Gulf Coast state legislators to create healthier, more just, communities and ecosystems. Attendees will hear from legislators and NCEL staff about innovative state policy approaches from across the region.
Speakers:
Alayna Chuney, NCEL Policy Consultant
Ava Ibanez, NCEL Oceans Fellow
Rep. Chuck Isenhart, Iowa State Representative