National Forum
2021 National Forum
July 29 - 30, 2021
More than 190 State Legislators from 39 States Convene to Discuss Environmental Policies
Legislators joined by EPA Administrator Michael Regan Emphasizing Importance of State-Federal Partnership
On July 29 and 30, more than 190 state legislators from 39 states gathered virtually for NCEL's 2021 National Forum. The event provides state lawmakers the opportunity to collaborate on policy solutions related to climate, energy, conservation, and environmental health.
This year's Forum focused on how states can recover from the COVID-19 pandemic while ensuring a healthier environment for all. This includes addressing the growing threat of global pandemics, building environmental justice and cumulative impacts into environmental policies, and looking at wildlife protections and nature-based climate solutions.
While states have led on environmental policies, partnership with the federal government is crucial to accomplish the actions needed to meet this moment.
EPA Administrator Michael Regan provided a keynote address emphasizing the value of state and federal partnerships and the value of state legislators in the pursuit of sound environmental protections. Administrator Regan drew on his recent trips around the country where he's met with community stakeholders facing climate change and environmental degradation. He reaffirmed the EPA's commitment to incorporating environmental justice into all its policies, working closely with the states, and addressing climate change.
State legislators across the country are pushing the ball forward on climate action and environmental justice," said EPA Administrator Michael S. Regan. "EPA is excited to build on these efforts, support states' forward-looking leadership, and work closely together to accomplish our shared goals. A strong federal and state partnership will help ensure that we create durable policy that improves people's lives."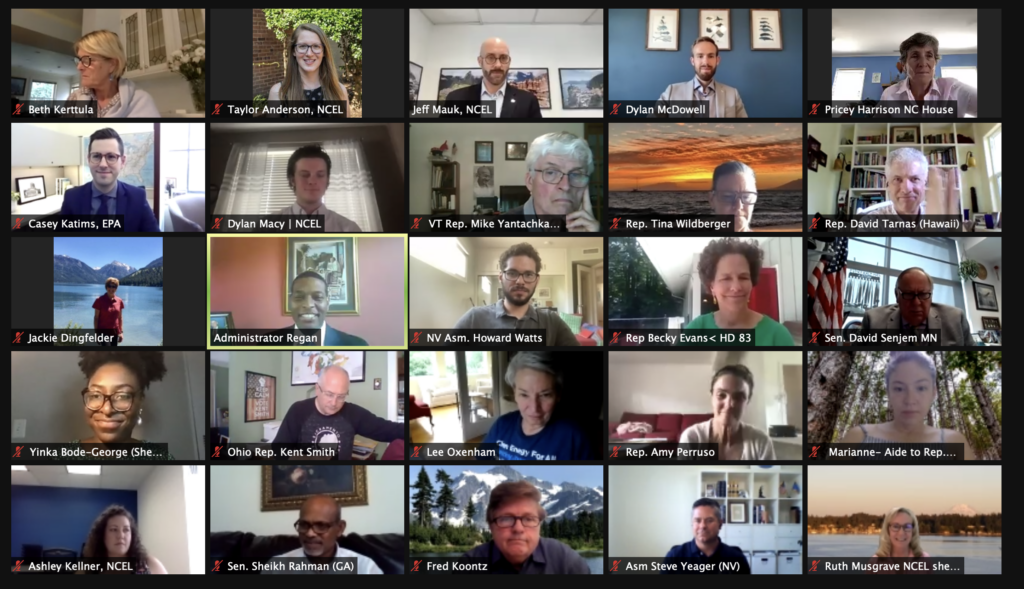 Other sessions at the 2021 National Forum focused on improving water infrastructure, restoring healthy ecosystems, transitioning to a low-carbon transportation future, and more.
During the event, NCEL also recognized nine state lawmakers for their outstanding work to advance environmental legislation and programs.
Rising Environmental Leader Award: Nevada State Assemblymember Howard Watts, Minnesota State Representative Kaohly Her, Georgia State Senator Sheikh Rahman, and Maryland State Delegate Sara Love
Environmental Achievement Award: Colorado State Representative Dominique Jackson, Washington State Representative Joe Fitzgibbon, Washington Senator Reuven Carlyle, and Minnesota Senator David Senjem
Environmental Activism Award: NCEL created the Renny Cushing Environmental Activism Award to recognize leaders who persevere against the odds in the fight for the environment, equity, and justice. The award was presented to New Hampshire State Representative Renny Cushing for his lifetime of environmental advocacy.
NCEL Executive Director Jeff Mauk believes that states are energized and empowered to continue bold environmental action in 2022.
"This year we saw states working to incorporate environmental justice and the cumulative impacts of pollution into legislation, an intensified push to hold producers responsible for the plastic pollution, and successful efforts to expand equitable access to the outdoors," said NCEL Executive Director Jeff Mauk. "By having legislators share strategies and lessons learned, we believe that 2022 will be a year with more precedent-setting environmental legislation passed as we work to recover from the pandemic in a manner that ensures a healthy environment for all."
Created by and for state legislators, the National Caucus of Environmental Legislators is a 501(c)(3) nonprofit that organizes over 1,000 environmentally committed state legislators from all 50 states and both parties. NCEL provides venues and opportunities for lawmakers to share ideas and collaborate on environmental issues.