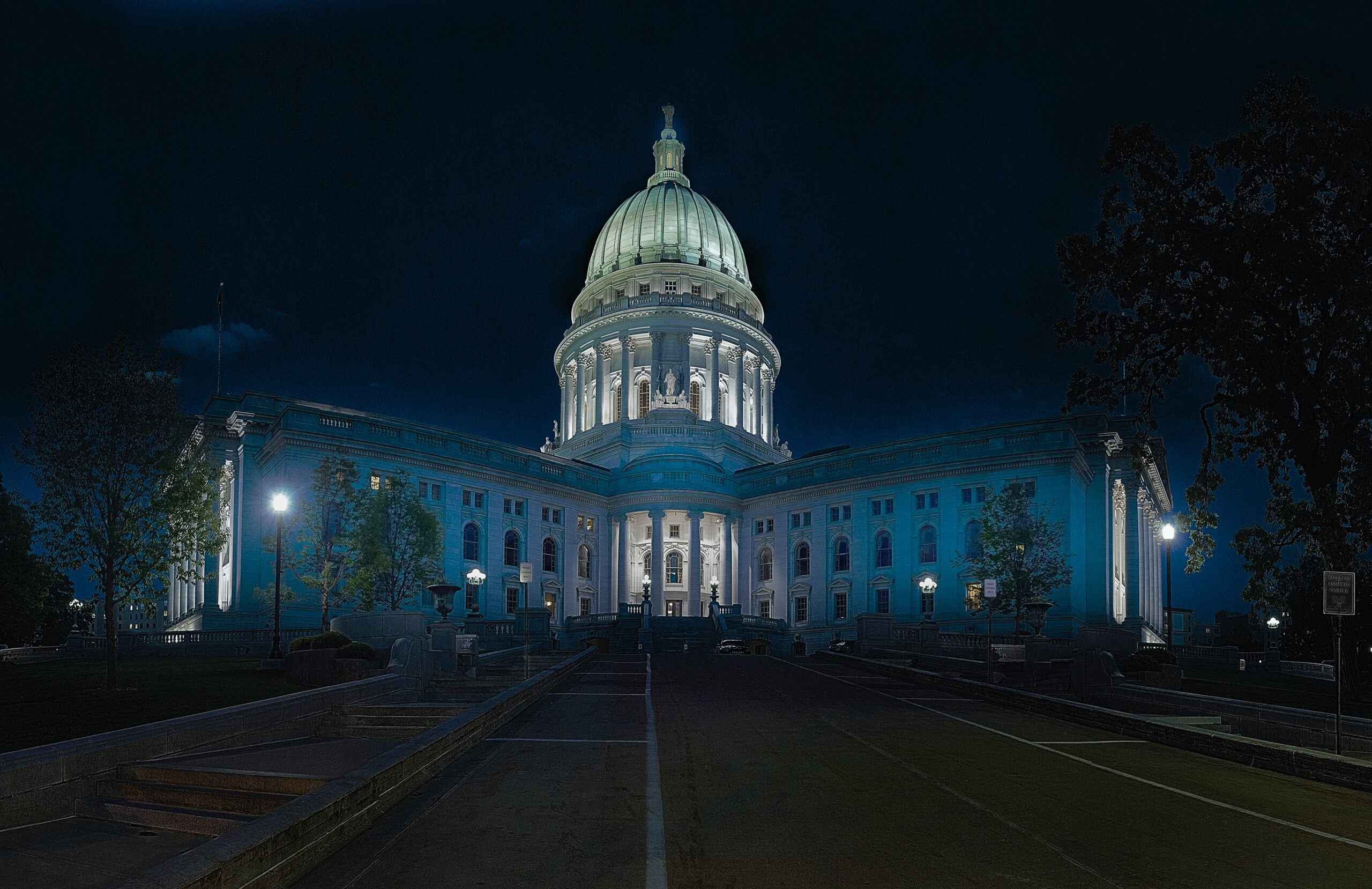 Legislative Session Recaps
2020 Legislative Session Recap
Climate and Energy
Offshore Drilling
Since 2018, states along the East and West Coasts have considered legislation that would ban or restrict expanding offshore drilling. States have the authority to control water within three miles off the coast as well as permitting and construction of any related infrastructure. In 2019, Oregon, New York, New Hampshire, and Maine passed legislation banning offshore drilling.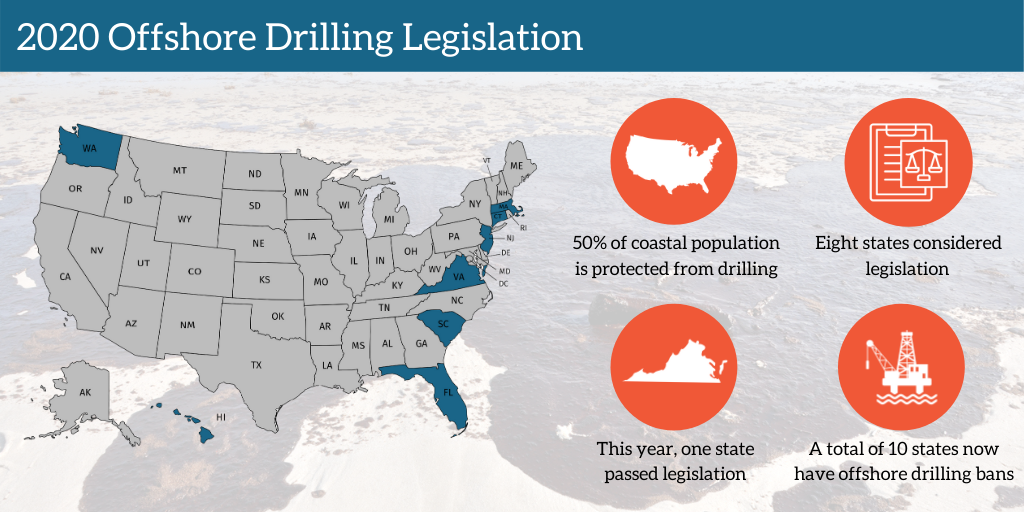 Successful Legislation
Learn more about these bills in NCEL's policy spotlight.
Carbon Pricing
States continue to pursue options to put a price on carbon. This year, bills in both Massachusetts and Hawai'i made progress. Possibilities to price carbon have also extended to the Transportation Climate Initiative (TCI). This program would create a cap-and-trade market on emissions from transportation fuels among 12 Northeast and Mid-Atlantic states.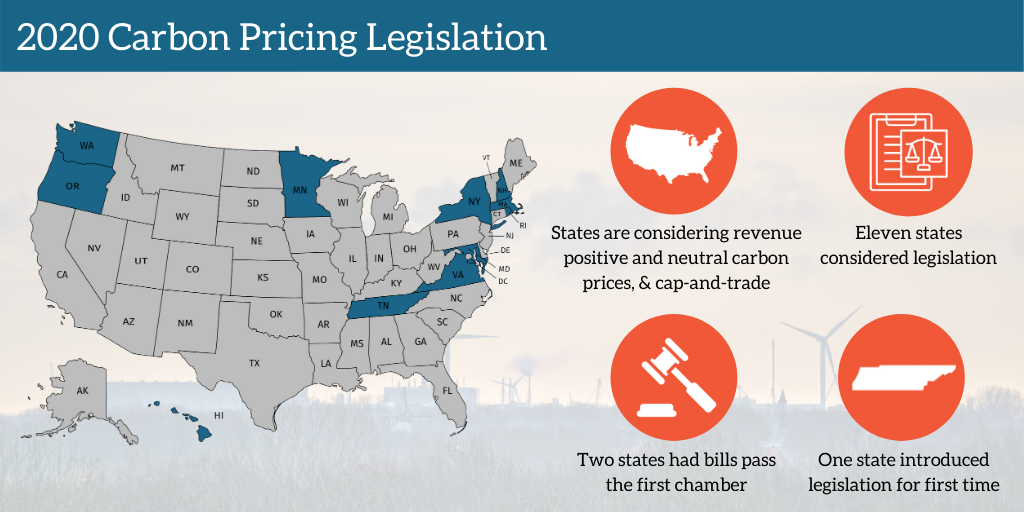 Successful Legislation
Massachusetts S 2500 passed the Senate and House and is currently in conference. The bill requires the Governor to implement some form of carbon pricing mechanism in order to meet the state's established 2050 greenhouse gas emissions target.
Hawai'i S 3150 passed the Senate. The bill would have set a price at $40 per metric ton of carbon on fossil fuels, increasing to a price of $80 by 2030.
Clean Energy
As states experience the impacts of climate change – from drought, flooding, and extreme weather – more are looking at ways to make a just transition to clean energy. In 2015, Hawai'i led the nation by committing to transition to 100%. This year, the first southern state committed to 100% clean energy.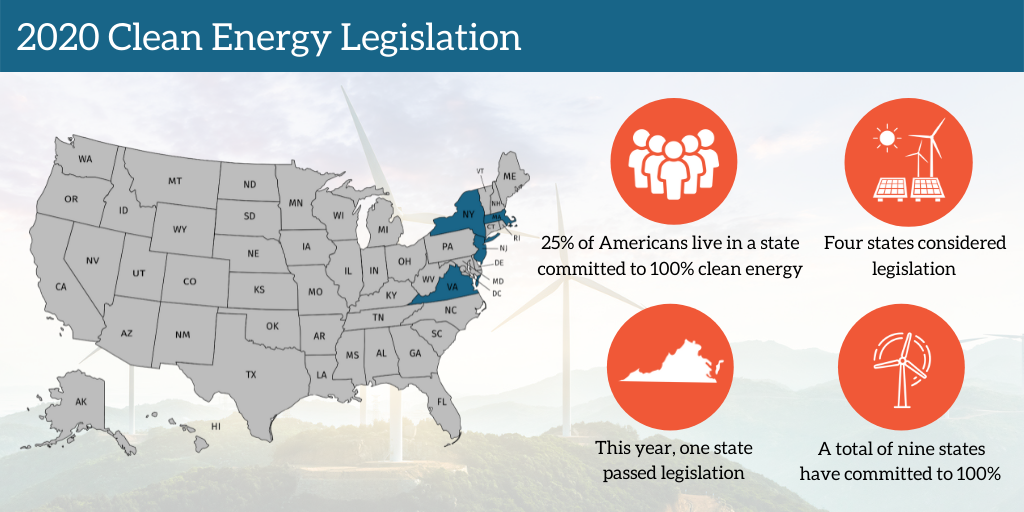 Successful Legislation
Virginia's HB 1526, also called The Clean Economy Act, implements the goal of 100% clean energy and joins the state with RGGI.
Conservation
Wildlife Corridors
Wildlife corridors and crossings are vital and cost-effective ways to maintain resilient ecosystems. Corridors take the form of natural connected areas of land or water, and wildlife crossings are natural bridges, underpasses, or culverts that intersect busy highways and allow wildlife to travel across or underneath without the threat of collision. The effort to plan, recognize, and establish corridors has gathered strong bipartisan support and resulted in the enactment of a number of wildlife corridor and crossing measures.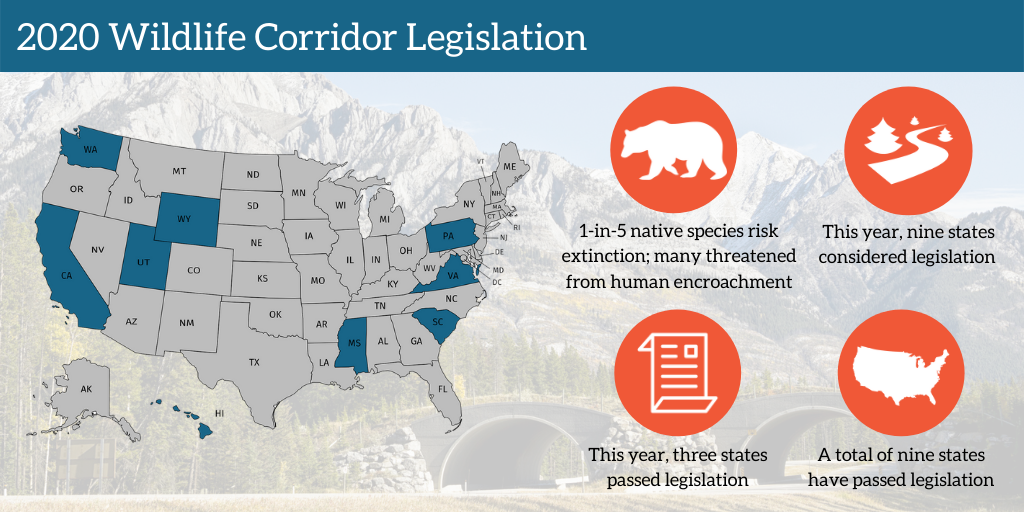 Successful Legislation
Virginia HB 1695 directs the Department of Game and Inland Fisheries, Department of Transportation, and the Department of Conservation and Recreation to create a Wildlife Corridor Action Plan including identifying wildlife corridors and recommending areas for wildlife crossings.
Utah HCR 13 is a concurrent resolution supporting the protection and restoration of wildlife corridors.
Wyoming SF 0018 creates a wildlife conservation account. The funds will be used to provide for wildlife conservation efforts related to transportation such as signs, wildlife corridors, wildlife crossings and game fences.
Wildlife Trafficking
Wildlife trafficking is the illegal sale of exotic and endangered species and their parts and products. Because federal restrictions on the import, trade, and sale of endangered species only apply to transactions between states, lawmakers have been working to enact bans on sales within state lines related to exotic endangered species parts and products. Eleven states have banned wildlife trafficking, following the passage of New Mexico's bill.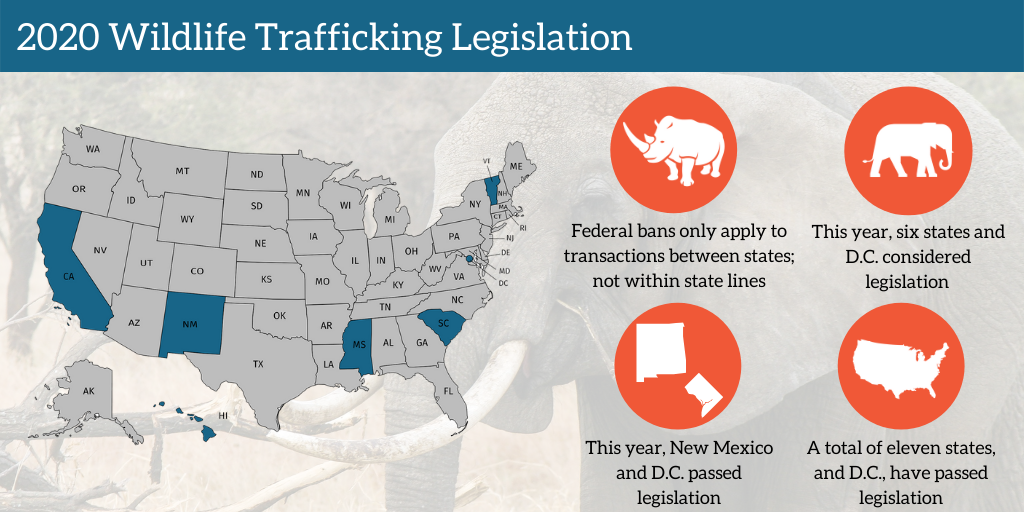 Successful Legislation
New Mexico SB 75 prohibits the sale of parts and products from exotic species within the state.
Vermont H.99 prohibits the sale of parts and products from exotic species within the state.
Washington, D.C. B23-0034 prohibits the sale of parts and products from exotic species within the District.
Endangered Species
Endangered species are going extinct at an alarming rate, threatening the ecosystems and societies around them. In addition to international and national protections, states have the ability to create their own ESAs. These laws are regionally specific and give states the power to set priorities for species within their states, filling in any gaps that exist at the federal level. In 2020, at least 21 states considered legislation to protect endangered species.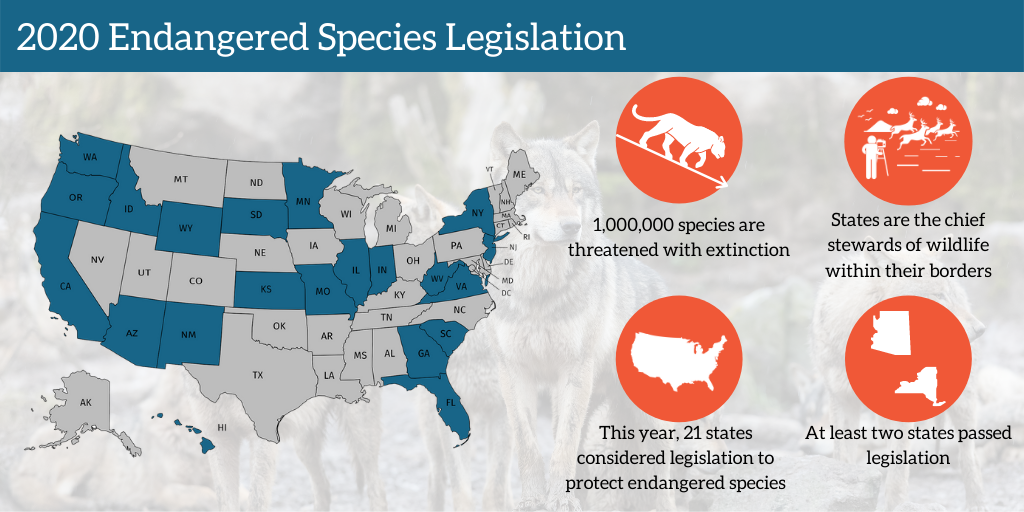 Successful Legislation
New York A. 4077 keeps a federally listed species on the state list and subject to state protections even if removed from the federal list.
Arizona HB 2749 keeps private landowner endangered species information confidential.
Outdoor Recreation
Science continues to document the benefits, both physical and mental, of spending time outdoors. In the midst of a historic pandemic, officials continue to encourage time outdoors whether for a walk, hike, or bike ride. In 2020, state legislators across the country continued considering legislation that would encourage outdoor recreation through grant programs, health remedies, or establishing offices of outdoor recreation.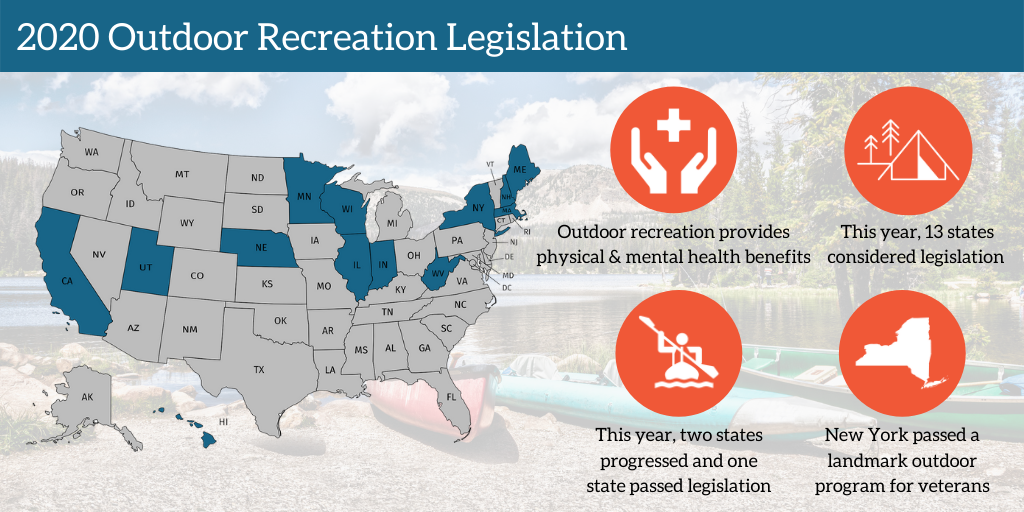 Successful Legislation
New York A8094A establishes an Outdoor Rx program connecting veterans to outdoor recreation opportunities.
Hawai'i SB 2061 passed the Senate. The bill would establish a No Child Left Inside grant program.
Nebraska L.R.465 encourages children's access to nature from an early age due to the educational, recreational, cultural, and health benefits offered by the outdoors.
Environmental Health
Plastic Pollution
States carried the momentum from 2019 into the 2020 legislative session with 35 states considering over 230 pieces of legislation related to plastic pollution. Bills included reducing polystyrene, prohibiting single-use plastic bags, limiting single-use straws, enacting comprehensive bans, and improving waste management. This year, Maine introduced legislation to establish an extended producer responsibility system that holds brands responsibility for the waste created by their single-use packaging. Maine's bill offers states a strong example for states considering innovative EPR models.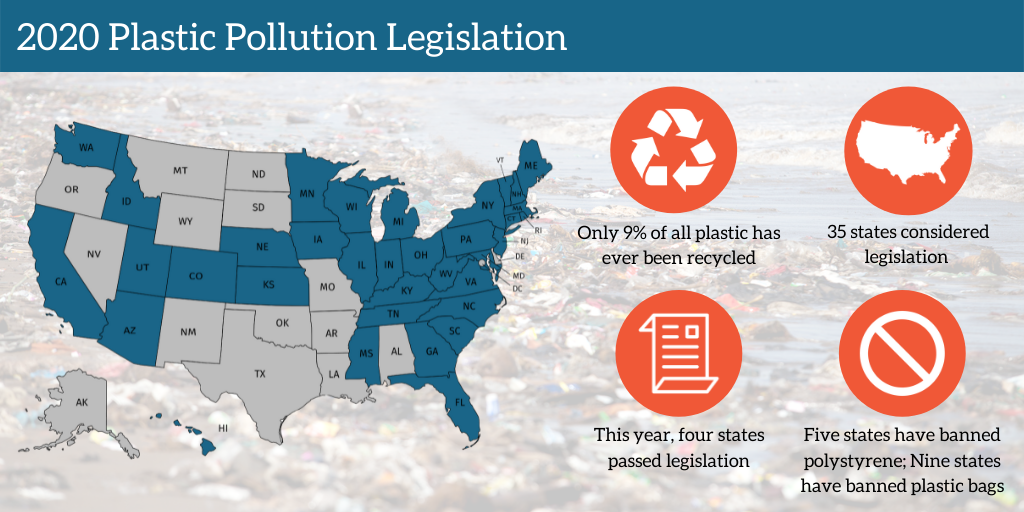 Successful Legislation
Toxic Chemicals
Action on toxic chemicals ranged from efforts to ban flame retardants to addressing concerns over PFAS, also known as "forever chemicals." States across the country are implementing new regulations for PFAS chemicals as more information and awareness about them continues to grow.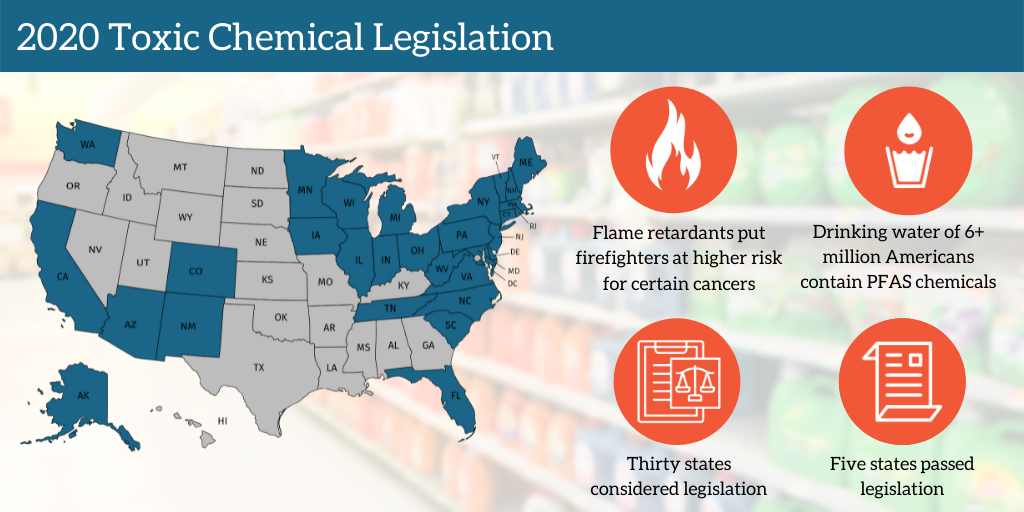 Successful Legislation
Flame Retardant Legislation
New York A 6296A/S 501B requires children's product manufacturers to notify the state and retailers of dangerous chemicals. The bill bans the sale of children's products that contain dangerous chemicals.
Maryland SB 447 prohibits the sale of any upholstered children's furniture containing flame retardants.
PFAS Legislation