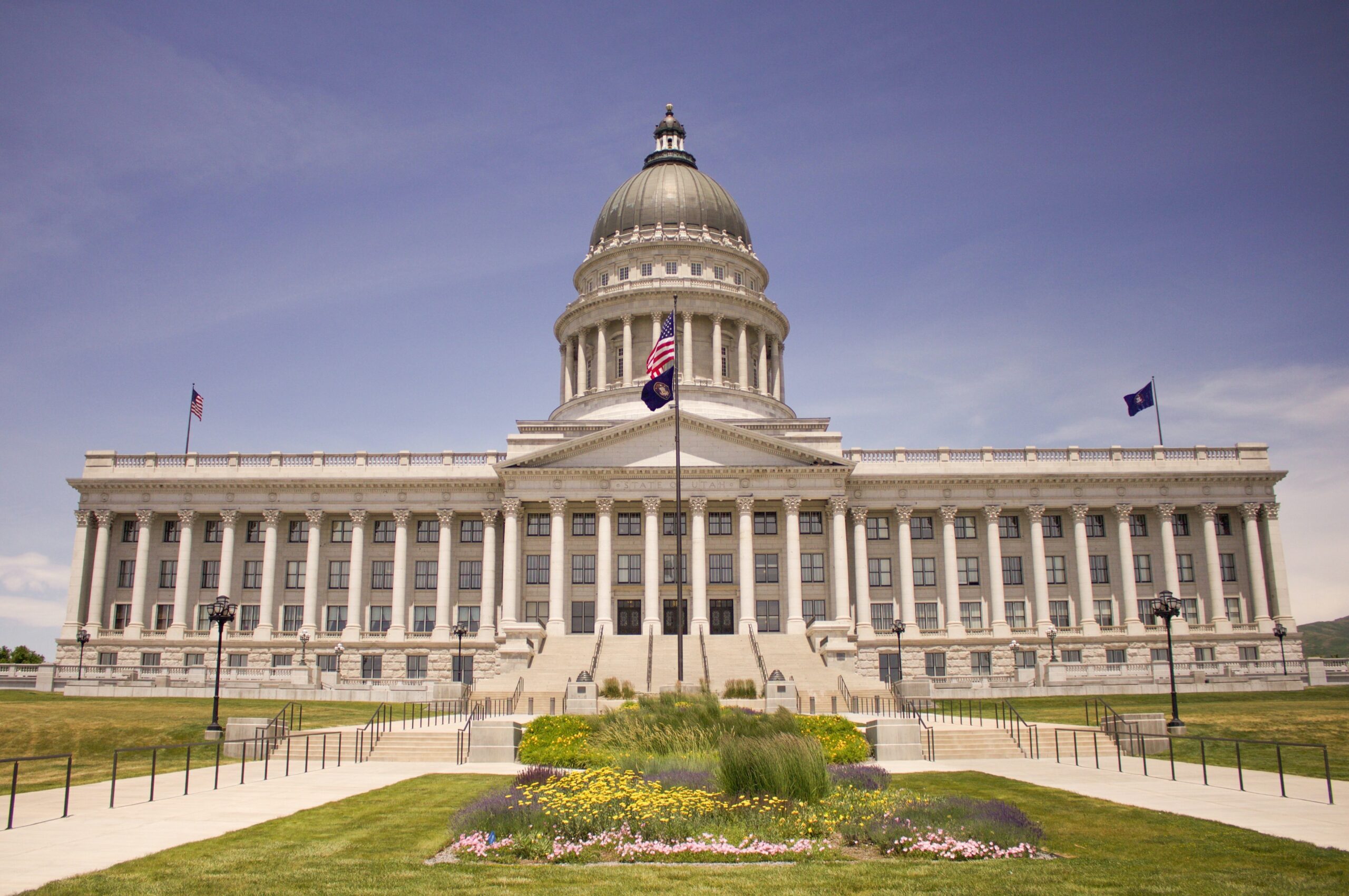 Legislative Session Recaps
2019 Legislative Session Recap
Overview
The 2019 legislative session saw a wave of state legislation aimed at tackling some of the greatest environmental threats facing the US. Environmental state legislators won historic victories, as with enhanced renewable energy standards, united rebukes against offshore drilling, and precedent-setting plastic pollution legislation. These are just some of the environmental victories from states this year.
Offshore Drilling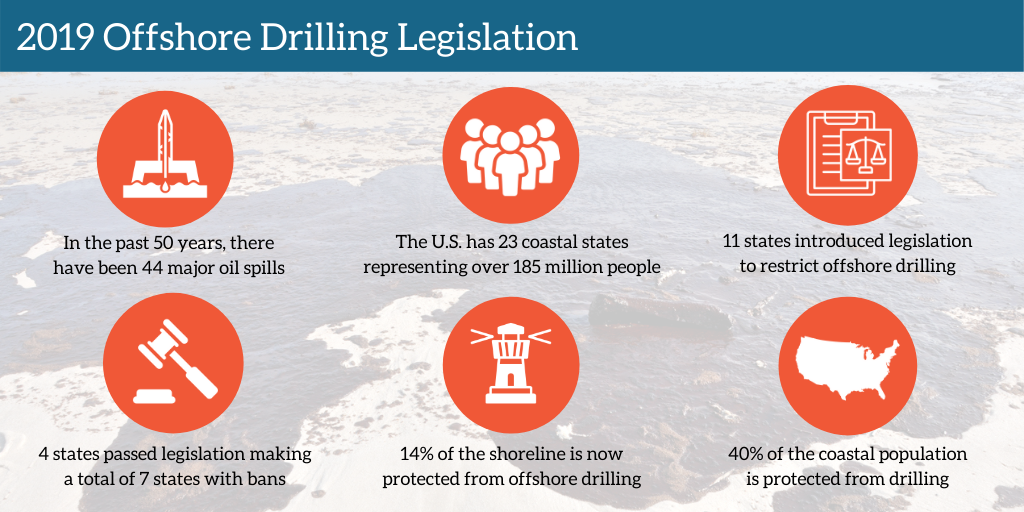 Eleven states introduced bills that would ban or restrict expanding offshore drilling. States have the authority to control water within three miles off the coast as well as permitting and construction of any infrastructure. In 2018, California, Delaware, Maryland, and New Jersey passed legislation implementing a ban or restriction.
Successful Legislation:
Clean Energy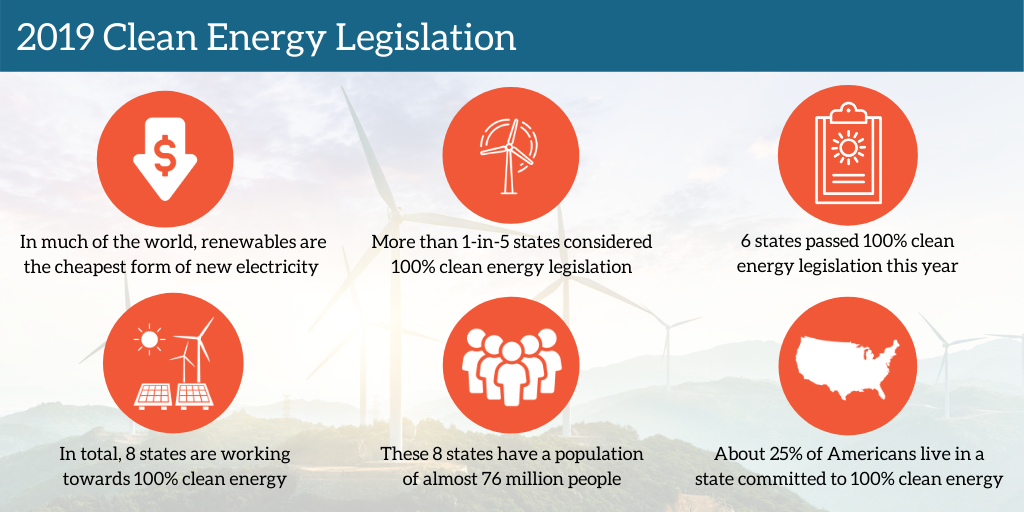 Out of the 12 states considering bills, five states enacted legislation. Puerto Rico also passed a 100% bill this year. Colorado's bill includes a 100% renewable energy goal instead of a mandate.
In addition to increasing renewable energy standards, states have looked at other ways of increasing renewable energy usage and decreasing emissions. South Carolina passed a landmark solar bill that eliminates the cap on net metering and promotes the continued growth of solar. Washington State passed a bill to reduce emissions from large buildings through building efficiency.
Successful Legislation:
Carbon Pricing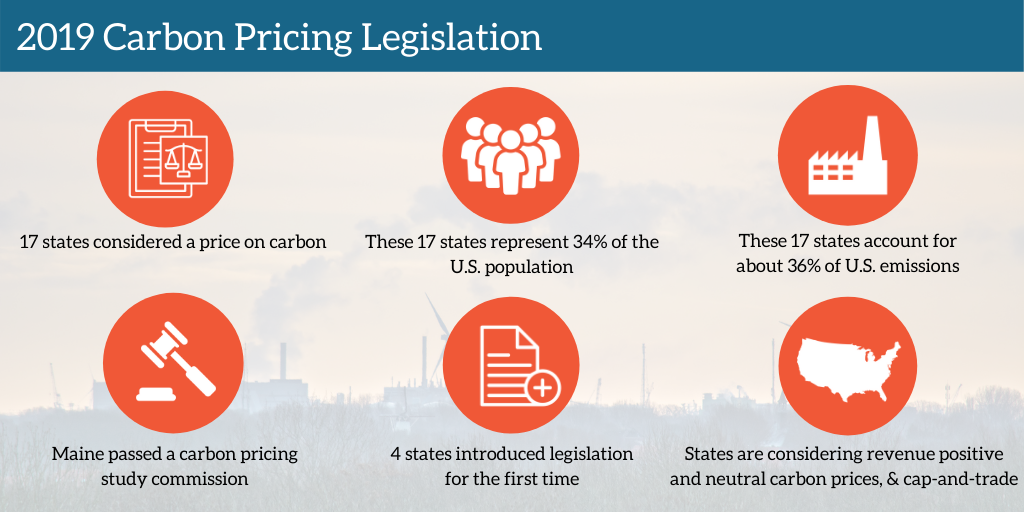 Momentum around state carbon pricing continues to grow each year. The 2019 legislative session saw 44 bills introduced in 17 states, compared to 33 bills in 13 states in 2018. Maine, Montana, and Texas all introduced a carbon pricing bill for the first time. This year, all eyes were on Oregon as they pushed to pass HB 2020, a cap and invest bill. HB2020 would place a cap on greenhouse gas emissions, making them the second state to do so. Oregon's House of Representatives passed the bill, however it did not pass the Senate.
Successful Legislation:
Conservation
Wildlife Corridors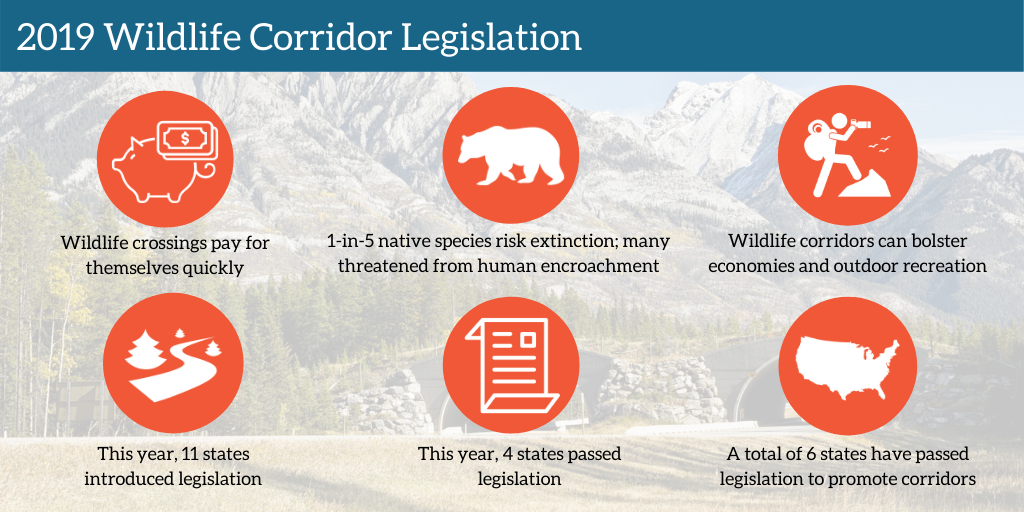 Wildlife corridors and crossings are vital and cost-effective ways to maintain resilient ecosystems and to protect public health and safety on roads. This year saw 11 states consider legislation with four states passing legislation thus far.
Successful Legislation:
Outdoor Recreation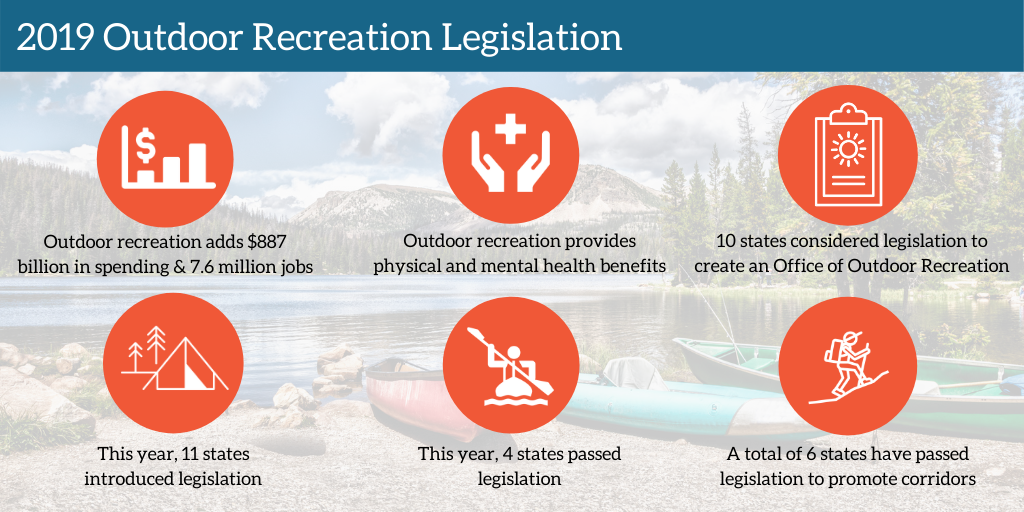 The benefits of time outside are becoming harder to ignore. A connection between nature and health outcomes has been repeatedly demonstrated and continuously built upon. Two of the major policy areas states pursued include establishing offices of outdoor recreation and encouraging outdoor recreation through grant programs.
Successful Legislation:
Pollinators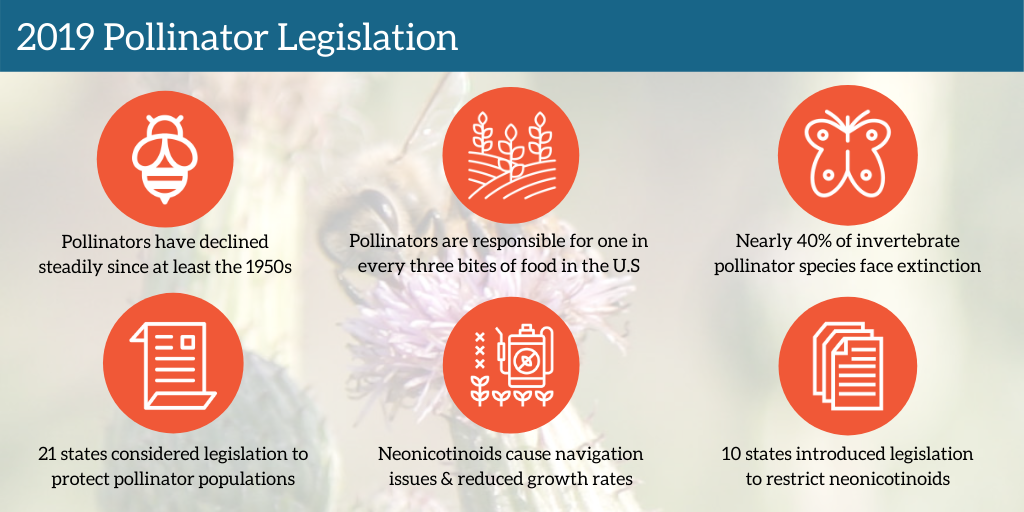 States continue to make strides towards protecting pollinators. Minnesota passed numerous pollinator protections including a grant program to encourage pollinator friendly yards, establishing a state bee. Many other states, such as Pennsylvania and New Mexico also introduced and passed pollinator bills.
There has been a national movement, led by states, to limit the use of neonicotinoids which have been shown to cause bees to struggle with simple navigation and experience reduced growth rates. There were 10 states considering legislation to restrict the usage of neonicotinoids. Both Vermont and Hawaii passed their bills.
Successful Legislation:
Environmental Health
Plastic Pollution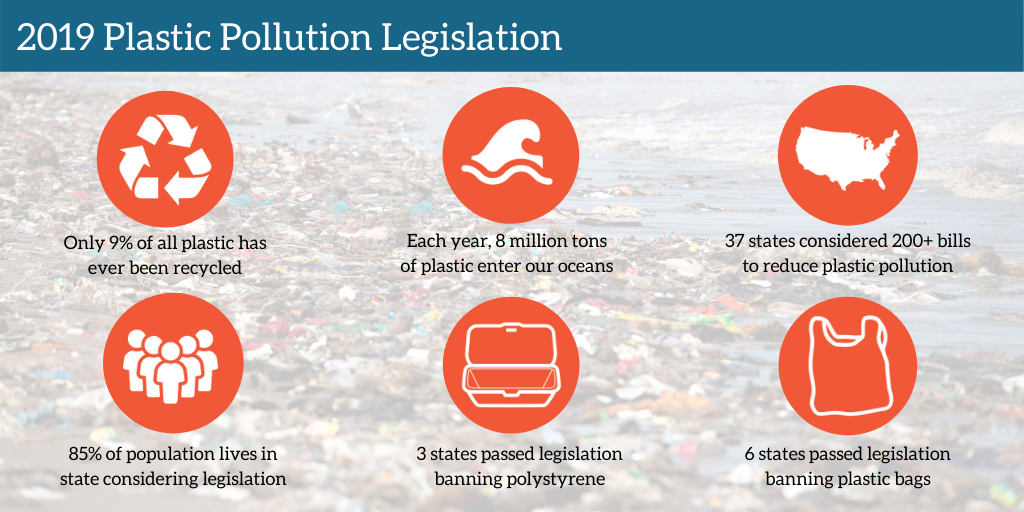 This year saw a boom in legislation to combat plastic pollution. There was a growth of knowledge around the issue of plastics in 2018, and this new-found public concern was evident by the number of bills introduced. There were more than 220 bills introduced in 37 states aimed at tackling plastic pollution from different angles – banning plastic bags, plastic straws, and styrofoam; creating task forces; and establishing extended producer responsibility.
Successful Legislation:
Toxic Chemicals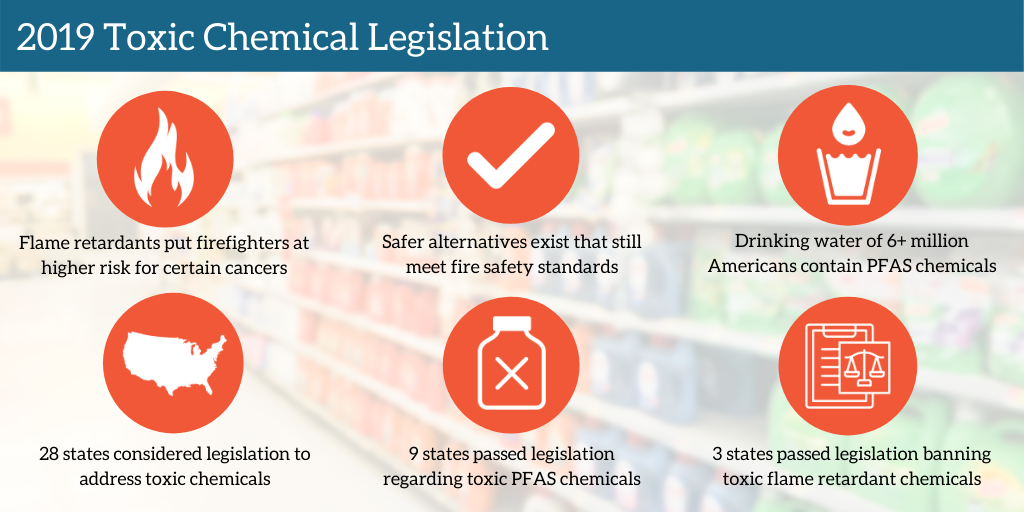 State action on toxic chemicals ranges from efforts to ban flame retardants to addressing concerns over PFAS, also known as "forever chemicals." Concern, awareness, and action on PFAS chemicals continue to grow each year. While flame retardants were created to help reduce the risk and spread of fires, they have been found as ineffective and harmful to human health.
Successful Legislation: